Helicopter makers power ahead on favorable policies
Share - WeChat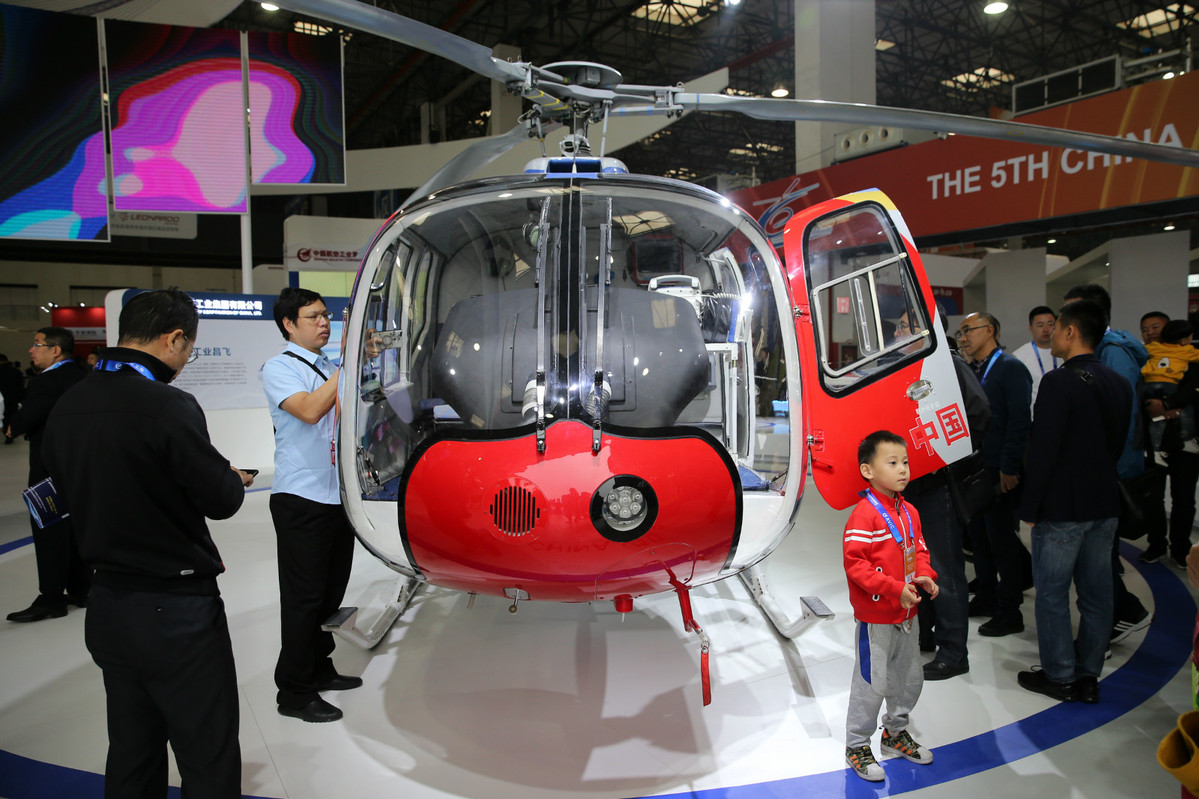 Favorable policies to boost China's general aviation industry have provided ample growth opportunities for foreign or joint venture helicopter businesses in China, company officials said at the recently concluded China Helicopter Exposition in Tianjin.
Jacinto Monge, managing director of Bell North Asia, told China Daily that the company is bullish on the market thanks to the "government's continuing investment, preferential policies and support from authorities".
The company, which is the second-largest helicopter manufacturer in the Chinese market, is expected to sustain its sales with double-digit growth during the next five years in China, he said.
Since 2017, China has released some 60 preferential policies in the general aviation sector, which aim to meet the ever rising demand for short-term aviation, emergency rescue, entertainment and private flights.
In light of this, the world's first fly-by-wire helicopter, the Bell 525 super mid-size helicopter, is set to make its debut in China soon, and Bell expects it to boost the development of safe, effective advanced helicopter operations.
"There are approximately 180 Bell helicopters operating across China. That number is expected to grow in the coming years as Bell is scheduled to deliver a number of new helicopters to China based on more than 200 orders that have been signed since 2017," he said.
Echoing Mongo, Nicolas Chabee, vice-president, marketing, Pratt & Whitney Canada, said: "In recent years, China has issued policies to drive the development of a national SAR (search and rescue) and EMS (emergency medical services) network and the demand in all market sectors such as offshore oil and gas, corporate transportation, tourism, have grown significantly."
The company's helicopter engine products have, to date, powered up to 40 percent of the civil turbo-shaft engine fleet in China, including helicopters from Airbus, Bell, Leonardo and Sikorsky, in the past two years.
Wen Quan, vice-president, Sino-Russian Helicopter Co, told China Daily that the new emergency rescue policies under the general aviation sector in China have helped the company's growth in the past two years.
The 12-year-old joint venture saw a sales slump from 1 billion yuan ($141 million) to 100 million yuan due to its business restructuring with partners and research and development efforts in the past five years. However, the new orders from the EMS market, are expected to boost sales by 20 percent, he said.
Twenty helicopters will soon be delivered to the Chinese market from the company's Russian manufacturers to serve seven pinpointed medical service projects under the National Health Commission and more such orders are in the pipeline.
Apart from the burgeoning market, Monge, said: "The industry is expecting more open policies in low air space reforms, more human capital and ever improving infrastructure in China."
Du Guihe, general manager of State Grid General Aviation Co, said foreign-made helicopters have helped meet the aviation demand gap in plateaus of 5,000-meter-high and above.
"The opening of low air space reforms is not a priority for the industry, but the maintenance level and an optimized maintenance system is crucial for the market and more efforts should be devoted to the field," he said.