Market for air taxis set to take off
Share - WeChat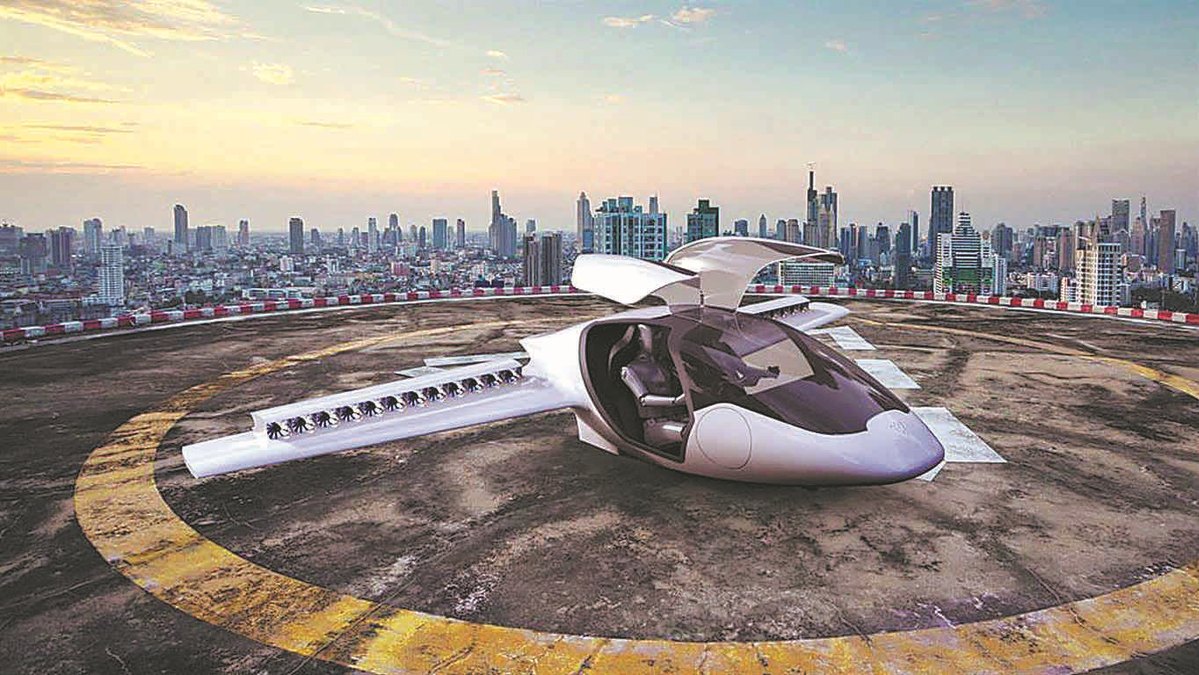 For a show that first aired almost 60 years ago, The Jetsons was impressively prophetic about future technology.
The cartoon about a family living in 2062 predicted jetpacks, holograms, smartphones and 3-D printing — and now approximations of the Jetson family's nifty "aerocar" can be added to the list.
Several major transportation businesses, including Boeing, Airbus and Uber, are conducting test flights of all-electric flying machines that promise to revolutionize urban travel through ride-sharing air taxi services.
A handful of startups populate the increasingly crowded market, including Volocopter and Lilium, two German companies backed by Chinese investment.
Hangzhou-based automaker Geely led a $55 million funding round for Volocopter, which held a demonstration flight for its dronelike passenger carrier in Stuttgart in late September.
Lilium, which is partly financed by Chinese tech giant Tencent, made the debut flight in 2017 of its two-seat aircraft, which looks more like a small plane than a helicopter. The company also recently completed a test take-off and landing for a five-seat prototype.
The technology is in such an advanced stage that most air taxi companies are predicting commercial launches between 2022 and 2025.
But there are a host of barriers that the industry will need to overcome before these inventions carry passengers.
Regulation, costs and public acceptance stand in the way of widespread use of air taxis, according to Tim Schwanen, director of the Transport Studies Unit at Oxford University.
"It's not only about the technology, and in some ways, technology is the easy part," Schwanen said. "There are issues around regulation, there are issues around markets. Do we want these services? Do we need them?
"Visions like The Jetsons where people are flying everywhere, an explosion of flying taxis — that won't happen for a very long time. We're talking decades."
If and how existing air traffic control systems will incorporate air taxis is also a sticking point, as is the limited availability of landing pads in many major cities.
A recent report from London-based industry analysts L.E.K. Consulting predicted that a substantial uptake in air taxi services will not occur within the next 10 to 15 years.
Whatever the time scale, governments seem to be getting on board with the idea. This year, the United States Federal Aviation Administration expressed support for trials, and the European Union Air Safety Agency published guidelines for manufacturers of electric vertical takeoff and landing, or eVTOL, aircraft.
In China, Guangzhou-based air taxi company Ehang began conducting supervised tests with the Civil Aviation Administration of China this year, while Geely's and Tencent's investments suggest they believe there is an appetite for the technology in China.
Veteran car designer Frank Stephenson, who designs Lilium's aircraft, said companies must make safety their top priority.
"The moment one of these things has an issue, you're going to lose a lot of public confidence and trust," he said.
Lilium said its service will be affordable, and it expects that early routes will run between airports and city centers.
"The intention is absolutely not to make it for the elite," said Stephenson. "It's mobility for everyone — from the student or the teenager who needs to visit his grandma ... all the way up to the VIP."
Uber predicts its service Uber Air will initially cost $3.60 per passenger kilometer, and the company aims to get this down to $0.27 per passenger kilometer, making it competitive with car ownership.
But Schwanen of Oxford University doubts that such low prices will be achievable early on, even in today's business environment replete with money-losing companies that value growth over profit.
Schwanen said he thinks service will be "on a limited scale for the super-rich. It's going to be people who are able to afford this, and who may have properties where they can land."
Removing pilots from the equation will help drive down costs, and the majority of companies say they will eventually switch to automation.
With more than a dozen companies working on air taxis, determining which operators emerge as market leaders will largely come down to design, efficiency and range, according to Stephenson, who believes Lilium is ahead of the pack on all three counts.
Lilium says its aircraft will have a range of 300 kilometers, around double the distance offered by most of its competitors.
The company also says its planes will use around 90 percent less energy than drone-style aircraft, due in part to wing-assisted flight.
The wings on the Lilium plane contain rows of ducted fans mounted in flaps that swivel 90 degrees, pushing air down during takeoff and landing and backward while cruising.
"Wings give you lift, so it's a lot more energy efficient," Stephenson said.
"You need a lot of electrical power to go up and down, but not that much to go horizontally."
Lilium aims to have people in the air by 2025 — outdoing the Jetson family by a generation.