Retailers, restaurants take lead in race to woo unmarried consumers
Share - WeChat The singles economy - call it, if you will, the marketplace geared to serve the growing number of single consumers with customized products and services - has taken off in China, and two segments appear to be taking the lead, in terms of imagination and effectiveness.
One is the market segment serving up individualized, small-scale and refined home appliances. The other one comprises restaurants that target single diners.
What's stoking the rise of the singles economy is demand for certain products and services from an increasing number of appearance - and quality-conscious young singles in China, market insiders said.
Some e-commerce platforms have integrated niches that stock a large number of single-friendly products like small foldable water boilers with volume of just 0.6 liter and mini rice cookers with a diameter of 20 centimeters. Such products look elegant, cute, save space and are convenient to use.
A mini rice cooker model (volume 1.6 liters) from China's cookware company Supor sells on Alibaba's e-commerce shopping website Tmall for 159 yuan ($22.4). Over 60,000 units of it were sold in September alone.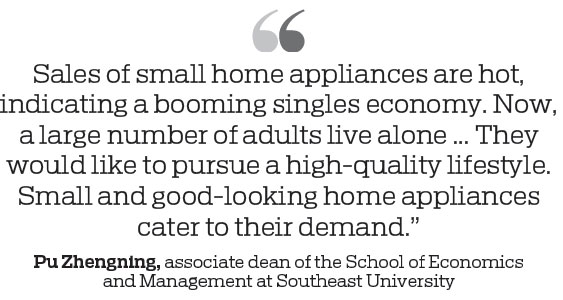 Despite its small size and cheaper price tag, the rice cooker offers multiple functions like the ability to cook both porridge and soups. Many consumers, it is said, find such rice cookers suitable for singles.
In addition, small washers and dryers have become more popular. Some miniature-looking washing machines, which require no more than half a square meter of space, can wash about five garments at a time.
"Sales of small home appliances are hot, indicating a booming singles economy. Now, a large number of adults live alone, and some others live in different cities with their partners. They would like to pursue a high-quality lifestyle. Small and good-looking home appliances cater to their demand, and show that one can live very well alone," said Pu Zhengning, associate dean of the School of Economics and Management at Southeast University in Nanjing, Jiangsu province.
"The trend will become more prominent as the number of singles increases, changing notions of tradition. In some developed countries like Japan, such spending phenomenon of singles has become quite mature," Pu said.
He also said fast-paced work and life, and less spare time, appear to have become a norm for most city dwellers. So, home appliances' functions will become easier to use and help save more time. In the next few years, small-sized home appliances will become more exquisite and well-designed in China.
When not cooking at home, singles may like to order food deliveries, or go out to eat. To make the most of this trend, some barbecue and hot pot restaurants in the country have introduced single pots and single diner-friendly seating arrangements.
A search for "barbecue for one person" and "hot pot for one person" on Dazhongdianping, a Chinese customer review app similar to Yelp, produced hyperlinks to about 70 restaurants in Beijing, which seem to offer convenient and cozy seats for single diners. Most consumer reviews are positive about the experience of dining out at such places.
Meanwhile, retailers are launching small packaged foods like a bag of 100 grams of rice, and a bottle of 200-milliliter red wine, in a throwback to marketing strategies used in the 1970s and '80s by consumer good multinational corporations in developing countries, to match the purchasing power of local lower-income households.
Only, this time, it is a different reason at work. "Being alone doesn't mean being lonely. More singles are quite well-educated and some choose to stay single. A small portion of food designed for one person makes single diners feel good, helping them to enjoy their dining experiences," said Neil Wang, president of consultancy Frost & Sullivan in China.
"Restaurant operators should grab such business opportunities and provide eating environments that make single diners feel safe, comfortable and less lonely. Besides, for the food delivery segment, restaurants can be more considerate by offering food in smaller portions or in the form of combos, and thus enable single diners to try more kinds of dishes."
Without family burdens and pressures, singles take themselves as the core of their one-member family when they spend money and make decisions. Their consumption motivation is pretty much self-oriented. They spend money on making things more convenient, pleasing themselves, or investing for the future, according to a recent research report of Sinolink Securities Co Ltd that surveyed singles nationwide born between 1985 and 1995.