Driving thousands of miles to reach Third Pole
Share - WeChat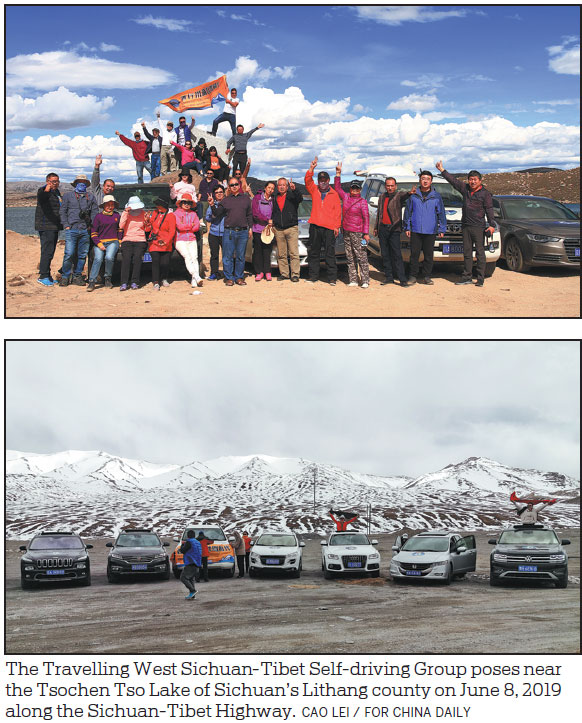 Self-driven cars are making a beeline for China's Southwest Tibet autonomous region to take in its breathtaking landscape and unique cultures.
Tibet is a major attraction for tourists from around the world. According to the region's tourism development department, it received over 13 million visitors in the first half of this year, a rise of 20 percent over the same period last year. Another difference was in the manner in which many of these tourists arrived. Group and independent tours are popular among many middle-and high-income groups among young and middle-aged people. But a sampling survey by an independent travel monitoring point in Tibet's Bomi county found more than 643,400 self-driving tourists visited the county in the first half of the year, an increase of 54 percent year-on-year.
With the National Day holiday approaching, many more are expected to drive thousands of miles to Tibet, also known as the globe's Third Pole.
Shi Xiaojun, a self-driving tourist from Anyang city in China's Henan province, has made three trips to Tibet in the past five years, two of them self-driven.
The first time, in 2015, Shi arrived by train, and was fascinated by the region's scenic landscape and touched by the Tibetan people's honesty.
For his second visit in 2018, Shi chose to self-drive, setting off on his 9,000-kilometer journey from Anyang. It took his team 23 days, driving through Henan, Shanxi, Shaanxi, Gansu, Sichuan provinces, to reach Tibet.
On his third visit this year, Shi came with 16 team members, seven of them women, in four SUVs. They set off from Anyang on Sep 7 and arrived in Lhasa nine days later.
On Sep 17, the team set off for Tibet's Ngari prefecture. Their next destination is Kashgar in the Xinjiang Uygur autonomous region. They are expected to conclude their 13,000km trip in 30 days.
The South Line is a popular one between the region's capital of Lhasa and the region's Ngari prefecture. Scenic sites along the line include the world heritage Potala Palace, the Zada ruined fortress, Guge kingdom ruins, Mount Kailash, Mapham Yutso Lake, the Sakya Monastery, the Pala Manor, ancient city of Gyalze, Rongphu Glacier and Yardrog Yutso Lake.
"Tibet is one of the most beautiful places in China. It is remote, boundless, and challenging," said Shi, who never seems to get enough of it. "All the beautiful scenery on the road, the friendly Tibetan people, exciting driving, that's why I keep coming back."
Cui Chengxue, operator of the Tibet Tiaojiao International Travel Agency, said the number of self-driving tourists has been increasing lately, as they don't like the arranged package tours anymore. "More and more tourists want to make independent travelling trips, so they can make their own decisions and choices," Cui said. "Freelancers such as businessmen are the main groups who choose to drive. For them, touring quality holds sway over cost and time," he said.
Jia Xianping, the secretary general of the Tibet Self-driving and Caravan Camp Association, said the region had eight self-driving lines, not to forget many unexplored lines.
"The number of self-driving tourists has been increasing in the last few years," Jia said. "But many tourists only reach tourism spots that are nearer to the road, or sites that are marked by signboards. That's a pity. Tibet is enriched by a very unique culture. It's better to provide the self-driving tourists more information about every line, so that they can learn more about its culture. I hope the region's tourism development department will work with travel agencies to provide better services to the self-driving tourists. It will not only benefit the tourists, but even residents will benefit financially."
Contact the writer at palden_nyima@chinadaily.com.cn