Ambassador Liu Xiaoming Gives Exclusive Live Interview on Sky News Tonight
Share - WeChat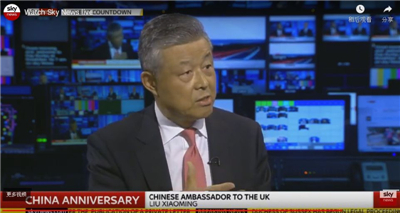 On October 1st, H.E. Ambassador Liu Xiaoming gave an exclusive live interview on Sky News Tonight with Dermot Murnaghan on China's development and issues of Hong Kong, Xinjiang and Huawei. The full text is as follows.
Murnaghan: With me is the Chinese Ambassador to the UK, Liu Xiaoming. Very good to see you, Ambassador. Can I start with those celebrations in Beijing of the 70 years of foundation of the state? We saw the-state-of-the-art military hardware, inter-continental ballistic missiles, thousands of troops and the President say no force can stop China marching forward. Should the world feel a little bit threatened by all that?
Ambassador: Not at all. In the President's speech, he said that China will continue to follow the path of peaceful development, and we would like to share the opportunities of China's development with the rest of the world. I think people, especially the media here, when they talk about the celebration, they only focus on the military parade. In fact, military parade is part of the celebration. There are 15,000 military personnel participating in the military parade, but there are 100,000 ordinary citizens participating in the parade. There are about 70 floats describing the great achievements China has made in the past 70 years.
Murnaghan: It is an amazing achievement: from basically a peasant society to a most advanced economy in the world.
Ambassador: Not just peasant economy! The People's Republic of China was established after 100 years of countless wars --
Murnaghan: Indeed.
Ambassador: and foreign aggression, bullying......
Murnaghan: I want to ask you, Ambassador, about how that history forms China's attitude to the future, particularly the foreign bullying, foreign occupations and foreign induced wars. What does China want for the next 70 years? I have been talking to Ai Weiwei. His analysis is that China wants respect but it does want domination over the next 70 years.
Ambassador: Not at all. China has no intention to dominate the world. China is still a developing country. We have daunting challenges in developing our country. Like President Xi said, we should consolidate our achievements and we should develop our country well. That is the fundamental task in front of the Chinese leaders and the Chinese people. China was a victim of foreign invasion, aggression, bullying and humiliation, and we certainly will never ever transfer this to other countries.
Murnaghan: When we see these things in Hong Kong today, one of the protesters was shot at very close range in the chest. People are saying, well, this Chinese crackdown isn't showing a respect for civil rights.
Ambassador: I cannot agree with you describing what happened in Hong Kong as crackdown at all. We strongly condemn the violent rioters. The violence has been going on for several months. It challenged the bottom line of the "One Country Two Systems", it challenged the rule of law in the country, and it brought damages to --.
Murnaghan: Why not engage and hold talks to discuss some of the democratic demands of the protesters?
Ambassador: You have to separate peaceful demonstration from violent rioters. You talk about the police using live ammunition. It is because their life was in serious threat. The rioter who had been shot on his left shoulder was the one who was using an iron club to attack the police. So, I would ask what would happen if the same thing happens in the UK. What will be the response of the British police to such rioters?
Murnaghan: They wouldn't shoot an unarmed protester with a weapon.
Ambassador: If their lives were in serious danger
Murnaghan: The British police are not armed.
Ambassador: I don't think so. How would the British police respond if the Westminster Hall were stormed by the rioters? I think we should condemn this violence. Hong Kong is based on rule of law. I think rule of law and "One Country Two Systems" can ensure the future of Hong Kong.
Murnaghan: Can you tell me that if these protests continue and they continue to escalate in terms of the violence -- there is no doubt there is extreme violence on both sides -- then more fire arms will be used by the authorities?
Ambassador: I do hope things will calm down.
Murnaghan: What if not?
Ambassador: I would not answer hypothetic questions. I think things have been improving somewhat in the past few weeks since the Chief Executive started conversation with various sectors. And she also set up a dialogue office and engaged sincerely with people from all walks of life. I think people should give an opportunity to Hong Kong SAR government to address their concerns. We acknowledge there are some deep-seated problems, like housing and opportunities for the young people. But demonstration or violence offers no solution to these deep-seated problems.
Murnaghan: Can I ask you about the plight of the Uygur people in Xinjiang? Our correspondent, Tom Cheshire, has been there recently and reported from there recently about hundreds of thousands of or millions of people being held in prison camps there.
Ambassador: That is not true. You know, Xinjiang is the largest province in China. It enjoys prosperity.
Murnaghan: How many people are held in those camps?
Ambassador: They are not prison camps. They are vocational education and training centres. The measure being taken is for the prevention of terrorism. You know, Xinjiang has been a victim of terrorism and extremism for the past twenty years.
Murnaghan: If you just look at those pictures, you say they are re-education centres, are these people going there voluntarily? They are bound, blindfolded and being marched by police. Are they going into these re-education camps voluntarily?
Ambassador: No, that is a different story. This is transfer of inmates. The media pick up some clips, but this has nothing to do with the education training centre. The measures were taken exactly for the safety of the majority of Xinjiang people. They are part of the UN early prevention action to prevent terrorism.
Murnaghan: So when they are re-educated, are they free to leave?
Ambassador: Of Course. The basic purpose is to educate these young people so that they could get rid of the extremist ideas. They will learn some skills and they can earn their living. They can earn a living by commanding a skill. On the whole, they will not be intoxicated by the extremist ideas.
Murnaghan: Lastly, Mr. Ambassador, can I ask you about the issue of Huawei? As you know, many nations, including the United States, believe that Huawei has very close links with the Chinese government, so much so the US is banning Huawei's involvement in developments of many of its networks. In the UK, it's stills involved in our 5G network. But we've just done an interview today with the US Secretary of Commerce Wilbur Rose who says that the United Kingdom should be very wary of Huawei. If the UK pulls out, what would Chinese attitude be?
Ambassador: First, I would reject totally the accusation against Huawei. This is a good company. It is a private company. It has nothing to do with the Chinese government. It is a leader in 5G telecom communications. I think they are here for win-win collaboration with the British counterparts. They are contributing to the development of communication industry in the UK. I do hope that the UK government will make a wise decision based on the national interest of the UK.
Murnaghan: But President Trump is putting a lot of pressure on Boris Johnson. We know they talked about it together. If the UK did ban Huawei, what would China's attitude be, for instance, to a trade deal with the UK post Brexit?
Ambassador: I think if UK got rid of Huawei, it would send a very bad, negative message. UK is regarded as a most open, business friendly country. But if Huawei were shut down, it would send a negative message worldwide. It would also send a bad message to Chinese businesses, Chinese investments here in this country. So I do hope that the UK government will make its decision based on UK national interests and the interests of China-UK collaboration with China.
Murnaghan: Ambassador, thank you very much indeed.