China-Russia relations exemplary, Wang says
Share - WeChat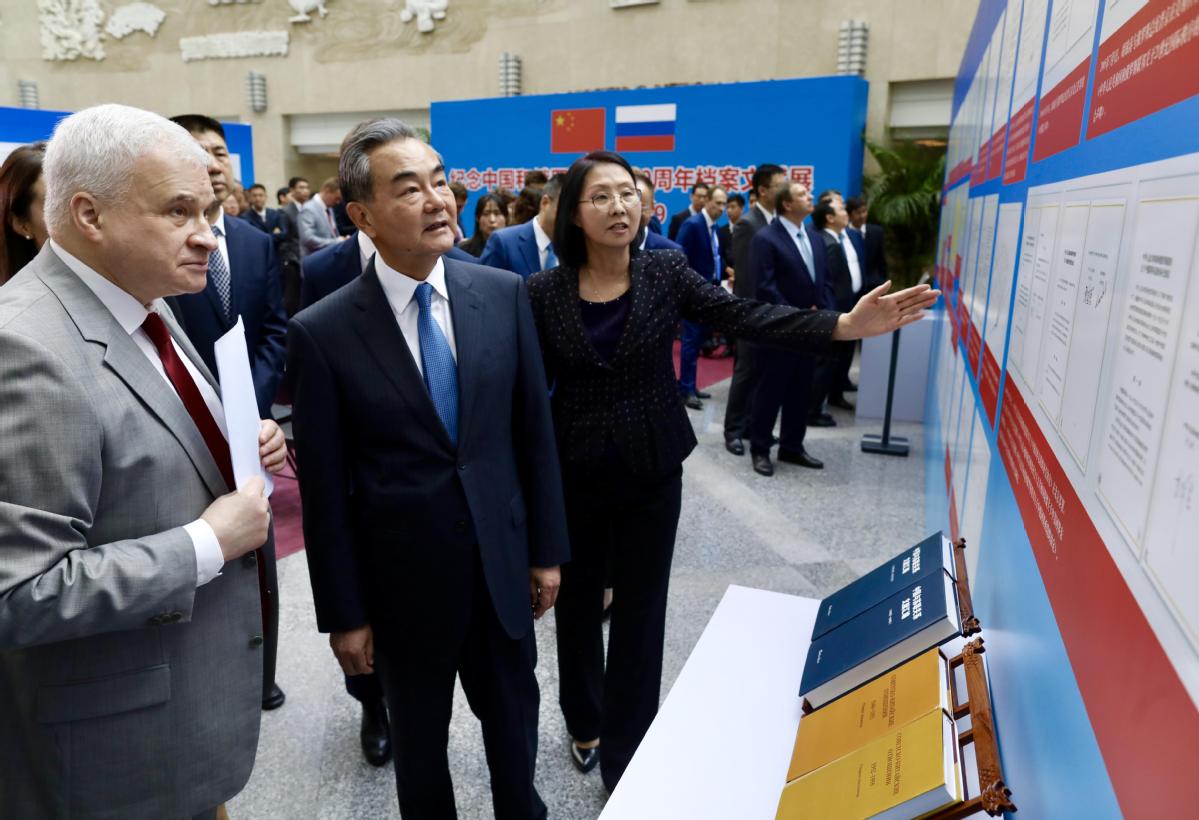 China-Russia ties — featuring non-alignment, non-confrontation and non-targeting of any third party — have set an example for the new type of international relations, State Councilor and Foreign Minister Wang Yi said on Sunday.
Wang made the remark at an exhibition of archives and documents in honor of the 70th anniversary of the establishment of diplomatic ties between China and Russia.
As both countries are United Nations Security Council members and influential in the global community, they should strengthen coordination to shoulder the common responsibilities for upholding multilateralism and the purposes and principles of the UN Charter in the face of an uncertain and instable international situation, Wang said.
The exhibition comes as the nation prepares to celebrate the 70th anniversary of the founding of the People's Republic of China. The former Soviet Union became the first country to form diplomat relations with the New China the day after it was founded.
Some valuable archives were on display, including the first credentials that the two countries' newly appointed ambassadors presented to each other's head of state after they established diplomatic relations.
The bilateral ties are at their best in history, and the two countries announced their upgrade to a comprehensive strategic partnership of coordination for a new era when President Xi Jinping visited Russia in June, Wang said. They also agreed on strengthening global strategic stability during Xi's visit.
Andrey Denisov, Russian ambassador to China, recalled the relations between Russia and China over the past decades and hailed their ties as a "great harvest".
"Particularly over the past decade, Russian-Chinese relations and pragmatic cooperation in various sectors made great headway," Denisov said.
On Saturday, Denisov, together with other Russian embassy staff members, visited a revolutionary memorial site in the Fragrant Hills in suburban Beijing-the headquarters of the Communist Party of China as it led the people to win the War of Liberation and the New Democratic Revolution-becoming the first foreign embassy delegation to visit the site since it opened earlier this month.
Denisov said it is important to visit the site where the CPC's original aspirations come from before the New China's 70th founding anniversary.
Russian-Chinese relations have been tested by the changing international situation over the past 70 years, he said, and looking forward, the two countries should keep their original aspirations in mind and work together to cope with the common challenges the world is facing.