China welcomes ties with Kiribati
Share - WeChat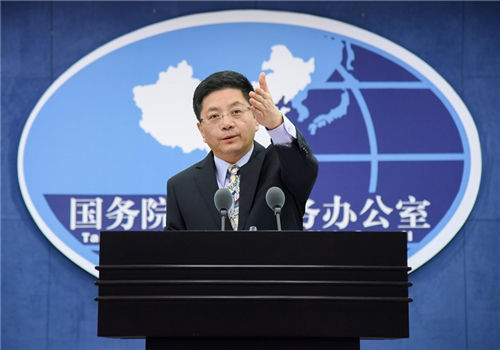 China said on Friday it "highly appreciates" the decision of Kiribati's government to sever its official ties with Taiwan and resume diplomatic relations with China based on the one-China principle.
"We support Kiribati in making such an important decision as a sovereign and independent country," Foreign Ministry spokesman Geng Shuang said at a regular news conference in Beijing.
According to Taiwan media, Taiwan's so-called foreign minister Joseph Wu announced at a news conference on Friday that Kiribati had cut its "diplomatic ties" with Taiwan authorities.
This came after the Solomon Islands broke official ties with Taiwan on Monday, leaving only 15 countries that recognize Taiwan.
This once again "fully testifies to the fact that the one-China principle meets the shared aspirations of the people and constitutes an irresistible trend of the times," Geng said.
Saying that relations between China and Pacific island countries are maintaining a momentum for rapid development, Geng said the people of China and Kiribati have always held friendly feelings toward each other despite some setbacks in bilateral ties.
"China welcomes Kiribati's return to the big family of China-Pacific island cooperation on the basis of the one-China principle at an early date," Geng said. "We stand ready to work with Kiribati to open a new chapter in the bilateral relationship."
Geng also said the establishment and development of diplomatic relations with China, the world's second-largest economy with more than 1.4 billion people and a bright future, "will surely bring unprecedented development opportunities for Kiribati".
When asked whether China has managed to "win back" Kiribati with the promise of financial support as Taiwan said, he said such remarks fully reveal how they have presumed others' behavior by their own pattern.
Geng said some people in Taiwan had used the same words to create confusion and distort the facts after the Solomon Islands made the same decision to cut official ties with Taiwan.
"Those who have been accustomed to buying diplomatic allies with money may not understand that principles cannot be bought with money, neither can trust," he said.
China and Kiribati established diplomatic relations in 1980. This relationship, however, was disrupted in 2003 after the Pacific island country established "diplomatic ties" with Taiwan authorities.
In a statement on Friday, Ma Xiaoguang, spokesman of the State Council Taiwan Affairs Office, condemned the Democratic Progressive Party, the ruling party of Taiwan, for making "groundless accusations" regarding the Kiribati government.
"It is the usual way of the DPP to make up lies that aim to divert attention and deceive the Taiwan compatriots," he said.