Big prospects for Sino-US service trade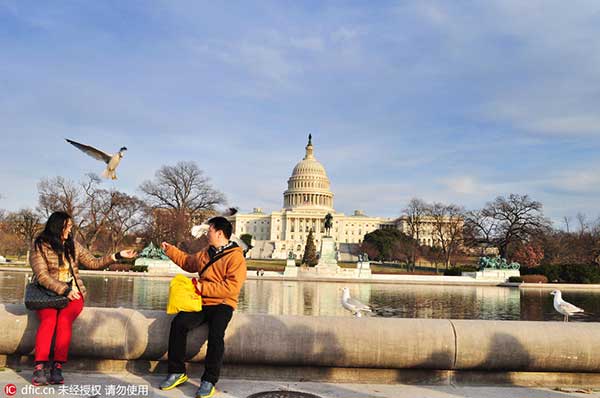 China and the United States have great potential for cooperation in services trade, and need to further expand their common interests in the field, according to a top government think-tank report released on Thursday.
Trade in services refers to the sale and delivery of intangible products such as those related to transportation, tourism, telecommunications, advertising and computing.
Sino-US services trade has been growing, and unlike the situation in goods trade, the US has run a trade surplus in services with China, according to data from the Global Services Trade Development Index Report 2019.
The US' services trade surplus with China stood at $38.8 billion in 2018, which accounted for 15 percent of the US total trade surplus in the area, and was the highest percentage compared to other countries, the report said. The Chinese Academy of International Trade and Economic Cooperation, a research body by the Ministry of Commerce, prepared the report.
The report said the Sino-US trade imbalance in services does not mean gains or losses for either party, but reflects the differences between the needs of the two sides or their stages of development. China-US services trade is a win-win situation, and both sides have the common goal of promoting extensive cooperation in the field, it said.
Li Jun, director of the international trade in services institute of CAITEC, said: "You can't say one side suffers a loss because of trade surplus, and vice versa." Trade imbalance between two countries, either in services or goods, is a result of their comparative advantages, he told reporters on the sidelines of 2019 Global Trade in Services Summit.
China's services trade surplus can naturally shrink, if services industries further improve their competitiveness, Li said. "It (decline in service trade surplus) is a natural outcome during the process, not the only goal that we are seeking after."
Last year, trade in services between China and the US grew 2.7 percent year-on-year to $75.5 billion, accounting for 11.4 percent of total Sino-US trade, according to the report. Their services trade mainly covers tourism, transportation, intellectual property, and finance.
China's huge expenditure on service trade has improved its balance of international payments, the report said.
It said China and the US need to avoid lose-lose thinking, and constantly expand the common interests in the field of services trade. Services trade should play a unique role in Sino-US economic and trade relations and inject new vitality into it, the report said.
Gu Xueming, head of CAITEC, said the development of China's services trade has created tremendous opportunities for countries around the world. He said the country welcomes entrepreneurs from all over the world to actively cooperate with China in trade and investment in the services industry and share the fruits of China's development in the field.