UK military rugby team criticized for visiting Japanese shrine
Share - WeChat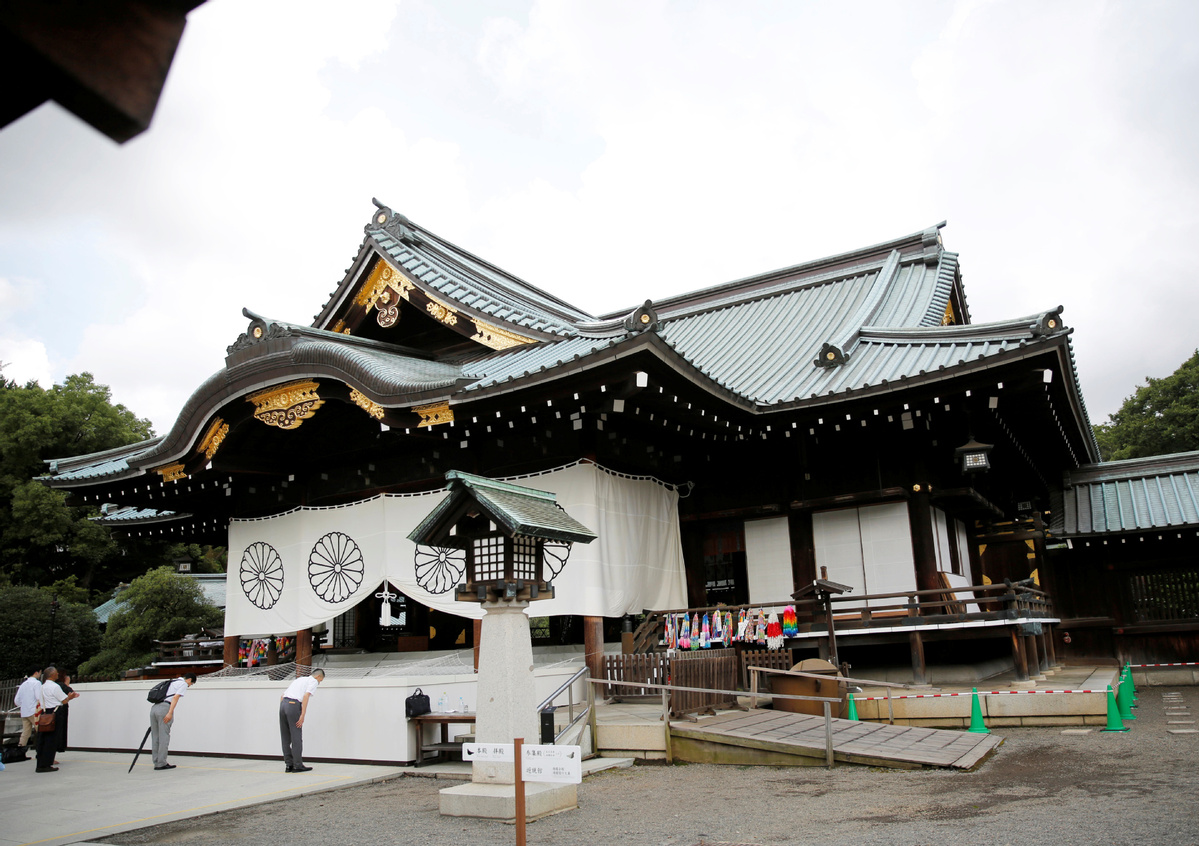 A rugby team drawn from members of the United Kingdom's armed forces has been criticized for reportedly visiting a highly controversial shrine in Japan that honors dead Japanese soldiers, including mass murderers and war criminals.
The 27-man team included players from the Parachute Regiment and crew members from the aircraft carrier Queen Elizabeth, according to The Times newspaper, which said they were told off by the UK's ambassador to Japan, Paul Madden.
The players had not been aware of the controversy that surrounds the Yasukuni Shrine, which honors all of Japan's war dead, including convicted criminals, as if they are so-called Shinto gods.
The UK Armed Forces rugby union team is currently in Japan competing in the International Defence Rugby Cup.
The paper said the team hastily removed an online post it had made about the visit and took down a photograph of players smiling in front of the building, which houses a museum that boasts an original Zero fighter plane, a kamikaze submarine, and one of the locomotives from the Thailand-Burma "Death Railway".The 415-kilometer railway celebrated in the museum was built in 1943, when Japanese hegemony saw it colonize much of Asia. The line was constructed by between 180,000 and 250,000 Southeast Asian forced laborers and around 61,000 Allied prisoners of war. The slave laborers were subjected to horrific conditions and around 90,000 civilian laborers and more than 12,000 Allied prisoners died on that project alone.
The Mail Online news website said the visit almost caused a "diplomatic incident".
The paper said a team organizer said: "It was very, very naive".
"We've been told not to visit any more shrines, just in case," the unnamed source said.
Many nations, especially in Asia, see the shrine in central Tokyo as extremely distasteful.
It was built in 1869 and since been used to commemorate those who have died in the service of Japan. It currently lists the names, origins, birthdates, and places of death of 2,466,532 men, women, and children. Among them are 1,068 convicted war criminals, of whom 14 are A-Class war criminals, which means they were convicted in a court of law of planning, preparing, initiation, or waging war.
In recent years, visits to the shrine by Japanese leaders have attracted criticism and it has been shunned by most international visitors.
In 2014, Canadian singer Justin Bieber was criticized for visiting the shrine, especially by fans in China and South Korea. He apologized and said he had not realized the significance of the site.
In January 2014, a poll by the rightwing newspaper Sankei Shimbun found that only 38.1 percent of respondents thought Prime Minister Shinzo Abe was right to visit the shrine. Some 53 percent disapproved of such visits.
Many rugby players and fans are in Japan at the moment for the Rugby World Cup, which runs from Sept 20 to Nov 2.