Chinese artist promotes traditional opera among Egyptian audience
Share - WeChat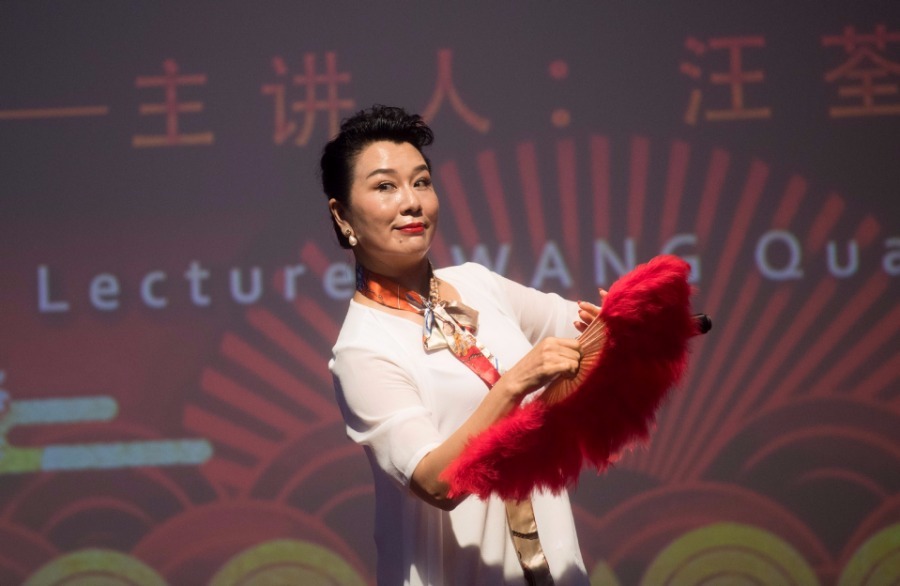 Chinese renowned opera artist Wang Quanzhen, head of Henan Opera House, held on Wednesday evening a lecture at the Chinese Cultural Center in Cairo (CCC) to promote Henan Yu Opera in Egypt as part of cultural exchange between the two countries.
Wang charmed the Egyptian audience at the CCC theatre hall with her pure voice and vivid performance of two opera songs at the beginning of her lecture, dubbed "the Beauty of Chinese Yu Opera," which she held to introduce Yu Opera that was originated in China's central provine of Henan a couple of centuries ago.
"This is my first time to come to Egypt. I know that Egyptians don't know much about Yu Opera, but I believe that music and art have no boundaries," the Chinese artist told Xinhua at the CCC.
During the lecture, the Chinese artist explained that Yu Opera is one of the five major forms of opera in China, including Peking Opera, noting that it was originated as local popular songs that developed in time with some local music instruments and popular tunes until it reached its present shape.
"The purpose is mainly to promote Yu Opera and I hope that more Egyptians will understand Chinese traditional opera through my explanation of the arias, movements and performance techniques," Wang said.
Wang explained that Yu Opera, which is also known as Henan Opera, depends on loud voice and live expressions that combine harmony and consistency between movement and voice.
The Chinese artist will stay in Egypt for seven days, during which she will provide three training sessions for Egyptian trainees.
Mohamed Selim, an architect, said that his daughter is a student of Chinese language and a singer at Cairo Opera House.
"My daughter can sing in Chinese too, so I was very interested to attend this lecture about traditional Chinese opera," Selim said.
"The Egyptian and the Chinese civilizations are among the oldest on the Earth, yet language is a communication barrier. But such events are supported by translation, so they bring the two cultures and the two peoples closer," the man told Xinhua, describing Wang's lecture as "very valuable."
Al-Sawi al-Sawi, a philosophy professor at Egypt's Benha University and former dean of the Faculty of Arts at Suez Canal University, also said that he liked the lecture and the songs which Wang performed to introduce Henan Opera.
"Art is a bridge of cultural communication just like language. I didn't know much about China in the past, but through these cultural activities, I learned more about the country," Sawi told Xinhua.