Business expert: 'huge uncertainty' over trade rules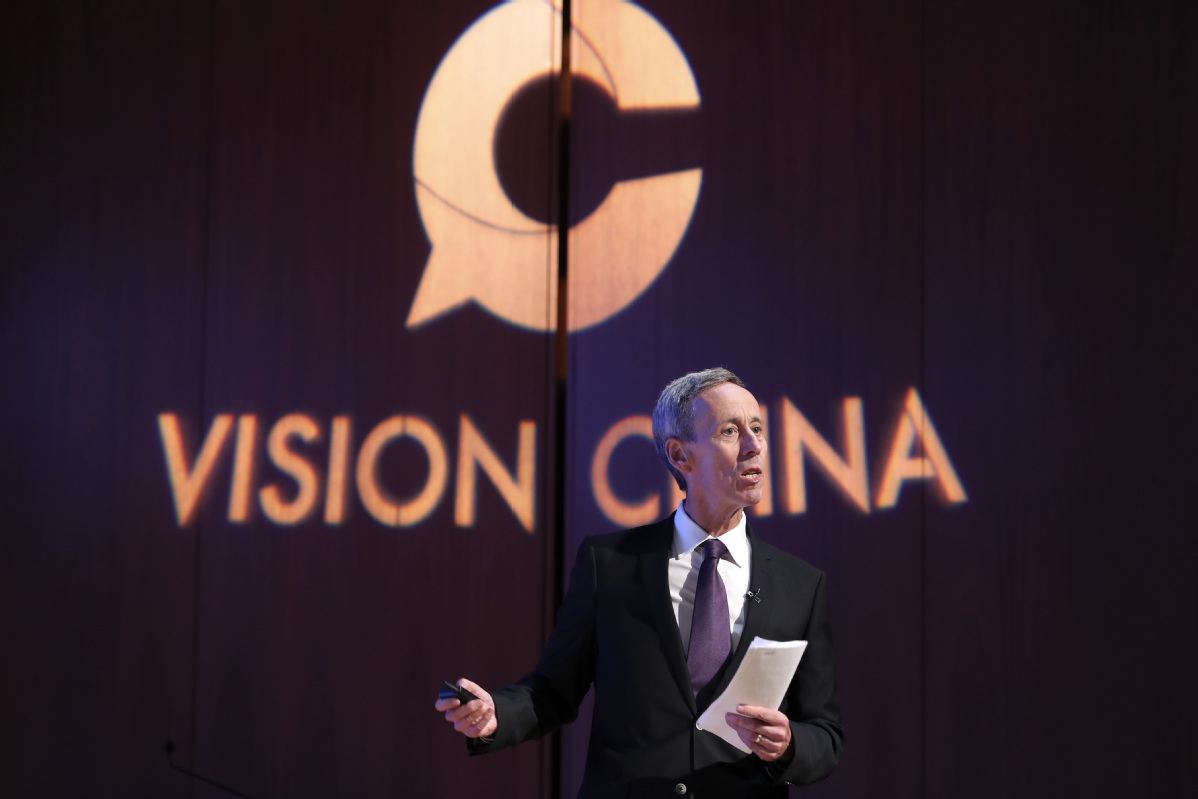 American and Chinese companies are facing a world of uncertainty due to the lengthy trade dispute, according to an international business expert.
"We are in an era of such a huge uncertainty right now over the trade rules. It's not good," said Craig Allen, president of the US-China Business Council.
"Companies need certainty. Without certainty, how can we do business?" he asked. That said, Allen said business was still strong for American companies operating in China.
Allen spoke at a Vision China event —"China-US Relations: 40 Years & Beyond"— on Tuesday in New York at the Asia Society. It was hosted by China Daily and Bank of China.
"We have a glorious history. We have a mutual responsibility to ensure that the success of the past continues into the future," said Allen, a former US ambassador to Brunei Darussalam.
Even with the trade tensions, US companies are still looking to China for its markets, talent, capital and rising middle class.
"China is 20 percent of the global population. It's growing over 6 percent," he said.
"And China this year will graduate about 1.8 million STEM (science, technology, engineering and mathematics) workers. That is a magnificent number," he said.
"It (China) is a very dynamic and innovative market," he told China Daily before the event.
The US-China Business Council (USCBC) is a nonprofit organization of more than 200 American companies doing business in China.
Allen said that more than 90 percent of its member companies are reporting profitability in the Chinese market in 2018.
"Thus far in 2019, it's been a pretty good year too," he said.
According to a member survey this year, the bilateral trade tensions are overwhelmingly the top concern of American companies operating in China in 2019.
US companies report that trade tensions are having a measurable impact on their competitiveness in the Chinese market, especially with domestic Chinese companies.
More than 80 percent of American companies report that trade issues have affected their business operations in China, an 8 percent increase from the previous year.
"One worry is that the overall Chinese market seems to be slowing a little bit. Not dramatically, but there are weak parts of the Chinese economy that some of them are feeling more acutely than others," he said.
"The tariffs and the bilateral trade tensions are concerns for many of our companies, those who have supply chains going either from the US into China or from China into the US. Almost all of them would be affected by the tariffs," he said.
Allen said it's natural that some companies are shifting supply chains out of China.
"However, more and more companies are investing in China where there are a lot of opportunities," he said.
"We encourage both governments to get back to the table to resolve the trade differences," he said. "Both of our governments are signatories to the WTO. We have a common framework; we have a common language. Let's resolve the problems in accordance to our commitments," Allen said.
"We believe we are not far away from that, but we just need to focus on the core problems and resolve them in a respectful, positive and constructive manner," he said.
"The US and China have got to reach a new understanding under which both countries can continue to prosper and to expand," he added.