Ping-pong champ had inside view of relations' thaw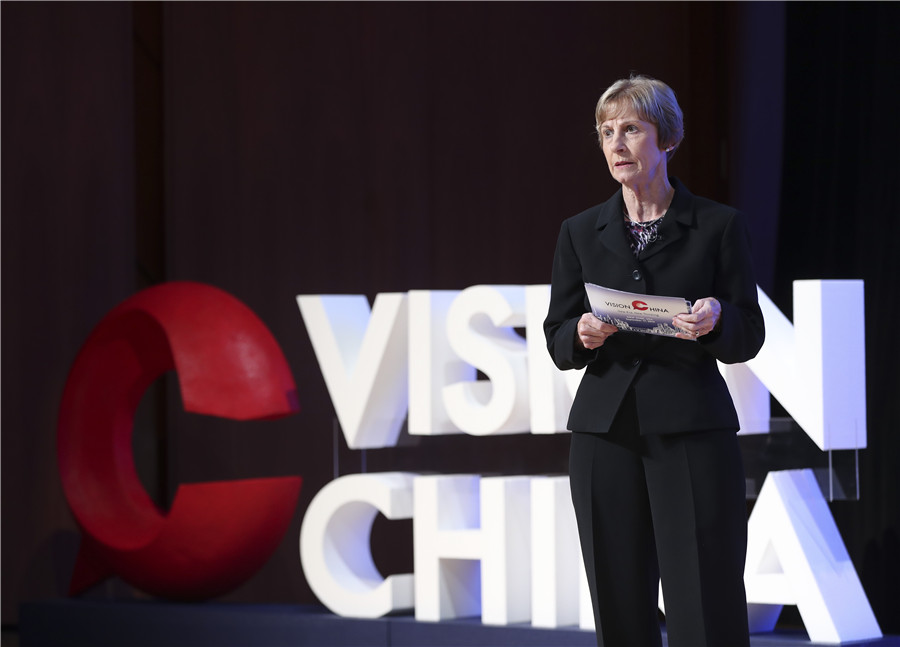 "China: A Whole New Game" was the headline on the cover of the April 24, 1971 issue of Time magazine. Right beneath it, a group of Americans beamed for the camera atop China's Great Wall. One of them, a young woman in the center wearing a headscarf, was Connie Sweeris, the then-US women's singles and doubles champion.
Yesterday, the Time magazine cover appeared on a big screen as Sweeris spoke to a 300-strong audience at the Asia Society in New York, looking back on her weeklong tour in China 48 years ago, an event that unveiled a new chapter for the Sino-US relationship.
Sweeris was a featured speaker at a Vision China forum, "China-US Relations: 40 Years & Beyond", hosted by China Daily and Bank of China.
"In April 1971, on our last day of competition at the 31st World Table Tennis Championships in Nagoya, Japan, we were told that we had been invited to visit China," she said. "But no American had been allowed to go into China for 22 years."
On April 10, having flown from Japan to Hong Kong the day before, the Americans crossed the bridge connecting Hong Kong and the Chinese mainland, where they were more than happy to venture out on their own.
"Everyone was either walking or riding a bicycle, and before we knew it, we had a crowd following us. People were very friendly and always tried to talk to us," said Sweeris.
A real thrill came when Sweeris played against Lin Huiqing, who won three golds at Nagoya, in front of 18,000 people at Beijing's Capital Stadium. The showing of the video footage at Asia Society last night was met with thunderous applause from the listeners.
Another fond moment is the meeting with the then-Chinese premier Zhou Enlai. "When I shook hands with the premier, he seemed very personable and gracious," said Sweeris. "The premier asked Graham Steenhoven, president of the USA Table Tennis Association, if he had any criticism of the trip. And he responded by saying, 'You feed us too much food!' Everyone laughed."
Sweeris said that she was made aware of the importance of her trip to China before it officially kicked off.
"At the train depot in Hong Kong, we were barraged by reporters from all over the world wielding cameras."
The media sensed right. History was unfolding fast: In February the next year, US President Richard Nixon would visit China, followed two months later by a Chinese table tennis team's reciprocal tour of the US in April 1972.
Connie Sweeris was among the hosts, together with her husband and fellow player Dell Sweeris, who appeared in historical footage jumping high and slashing at the ball. He attended the event Tuesday.
"In 1972, Lin and I got a chance to live our memory as were played matches in Detroit, Washington, New York, Los Angeles, Memphis, Tennessee, and a number of other cities," she said.
That memory has been given pride of place. These days, the basement floor at the couple's home in Grand Rapids, Michigan, was occupied by a table tennis table, with two giant paddles decorating one side of the walls.
A few steps away is the "ping-pong corner", where layers of glass cabinets are filled with all the trophies they won, and all the memorabilia from events known today as the "ping-pong diplomacy".
These include a red pocket book of Chairman Mao Zedong's quotes, in English of course, that was handed to Connie Sweeris upon her entering the Chinese mainland across the bridge.
Then there were the pictures and the media reports, among them the Time magazine cover story that ran for several pages. One of the inside page headline pronounced: Ping heard around the world.