Ne Zha set to replicate its box-office success in top markets
Share - WeChat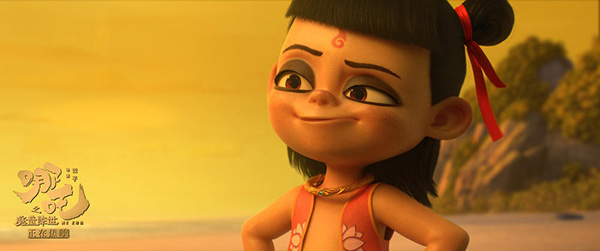 LOS ANGELES - Chinese box-office juggernaut Ne Zha, the highest-grossing animated film ever by China, brought in more than $363,000 in its third weekend in North America, pushing its North American collections to $3.3 million.
According to Box Office tracker Box Office Mojo, the film, adapted from an ancient Chinese myth, grossed $363,432 from 126 locations in the United States through Sunday with a modest $2,884 per-theater average, ranking the 23rd on the weekend box-office chart.
Well Go USA Entertainment released the Mandarin-language film with English and Chinese subtitles in select 3D IMAX theaters across the United States and Canada on Aug 29, followed by other theaters on Sept 6.The film collected $1.49 million from 66 locations with a strong $22,528 per-theater average in its North American debut weekend.
Jason Pfardrescher, executive vice-president of Well Go USA, told Xinhua News Agency earlier that the company had lofty expectations for the North American release of Ne Zha, adding that the film had the potential to reach $10 million at the box office in North America.
Movie analyst Paul Dergarabedian at Comscore said that the success of the film in strategically planned limited release in its opening weekend was encouraging. He added that it would be hard to predict whether the film could win the hearts of nationwide audiences if expanded onto a significant number of screens.
Earlier this year, Chinese homegrown science fiction blockbuster The Wandering Earth grossed $5.87 million in North America, the highest-grossing Chinese film in the region for the past five years.
Ne Zha rose to No 2 in the box office earlier this month for all films ever screened on the Chinese mainland, second only to Wolf Warrior 2. Data from China's movie-ticketing platform Maoyan showed that Ne Zha grossed around 4.9 billion yuan ($691 million) to date since its July 26 debut on the Chinese mainland.
Directed and written by Yang Yu (stage name Jiao Zi) in his feature film directorial debut, this homegrown animation features a popular young hero from ancient Chinese legends and classics such as Journey to the West.
In the story, Ne Zha, born with unique powers, finds himself an outcast who is hated and feared; destined by prophecy to devastate the world, the boy must choose between good and evil to break the shackles of fate and become the hero he wants to be.
In a video clip tweeted by Well Go USA, Jiao Zi shared his excitement with American moviegoers about the film's release in the United States.
"A hero from the East has come across the ocean," he said, encouraging animation fans to go and see the film.
Reviews from a few local critics were quite positive. Michael Rechtshaffen, a film critic for the Los Angeles Times, wrote that the film brought "an empowering message to America".
"Grafting familiar Disney and DreamWorks tropes onto a tapestry of traditional Chinese legend and lore, the adventure entertains with a title character who could be the spawn of Chucky and Stitch, from Lilo& Stitch," he added.
"Ne Zha leads up to a soaring finale, both with glorious large-scale action that may remind you of The Matrix Revolutions and with an emotional 'oomph' that makes sure that the fireworks matter. The whole thing is a visual spectacular (the dragons are amazing), with glorious imagery that popped on the IMAX 3D screen," commented film critic Scott Mendelson for Forbes.
On the US review aggregator Rotten Tomatoes, Ne Zha held an approval rating of 82 percent and an audience score of 98 percent as of Tuesday.
Liu Yukun contributed to this story.