A snapshot of life as the end looms
Share - WeChat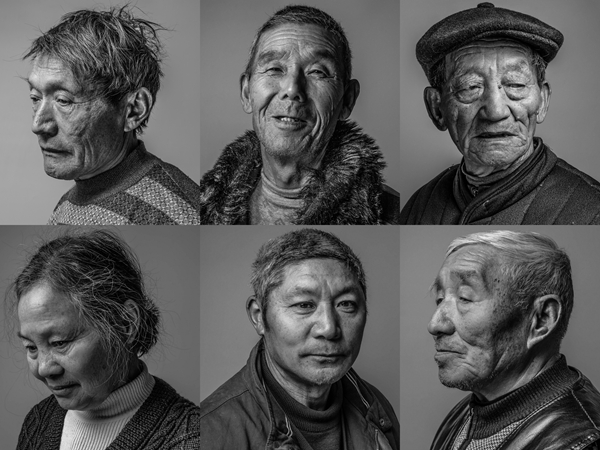 Doctor takes photos of patients and their families to help them negotiate the final journey, Li Yingxue reports.
One doctor's medicine is more than prescribing painkillers or drugs, vital though they are.
As the day shift at his hospital ends at 6 pm, Yao Shuai picks up a piece of equipment few other physicians would use. The office he uses has been converted into a simple photo studio. He takes pictures of patients set to embark on their final journey, often with family members close at hand.
Before he takes photos of his patients or their families, he asks a question that may seem at first glance insensitive but in actual fact is of immense benefit: "Are you afraid of death?"
Yao, a resident doctor in the department of cardiology at Tongzhou district hospital of traditional Chinese medicine in Nantong, Jiangsu province, believes the direct approach is more humane and truthful.
Since Aug 2016, Yao has taken portraits of his patients and their families in his spare time. So far, he has taken more than 10,000 photos of more than 400 people. He plans to hold a photo exhibition or publish an album to record their stories.
His images depict his patients' deep, or shallow, wrinkles, their facial expressions, messy hair or even their fleeting delicate smiles.
He invites patients and their families to the studio, which is actually a corner of his boss' office where Yao quickly sets up a light, reflector and unfolds a screen to give a white background.
Before taking the photos, Yao talks with each of his patients, but instead of talking about their fatal illness, they talk about a subject that is too often ignored: The end of their days.
"Are you terrified of mortality?" he asks.
"Sad, helpless, frank, happy, or indifferent, each patient has a unique state of mind to deal with it differently," says Yao.
"Many people say they are not afraid of death, but when it's coming, they often are."
Yao realizes mortality is part of life. He thinks Chinese people lack sufficient education or understanding of this and know little about how to face it.
"Especially medical staff. We confront death often, but we haven't actually been taught how to deal with it.
"I still don't know how to prepare to face death, but I know it will come," Yao says.
Most Popular