NEV charging demand to increase
Share - WeChat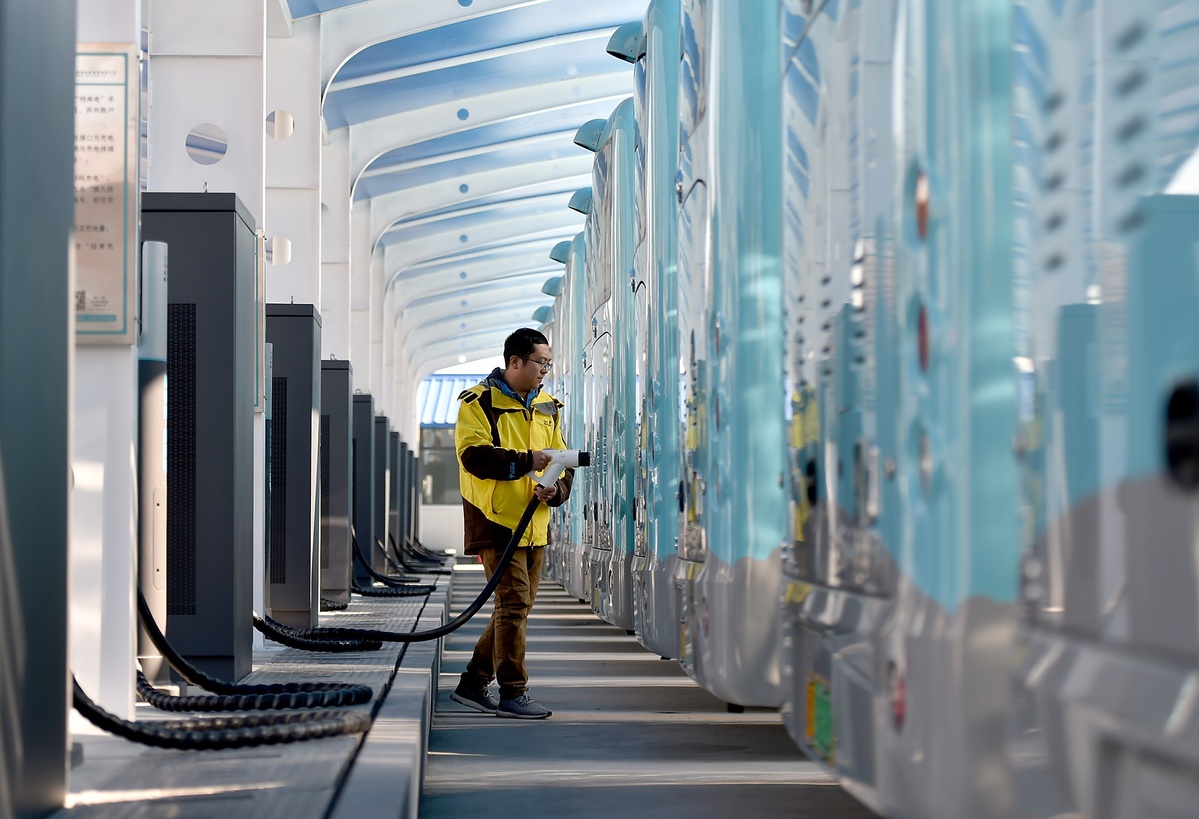 Policy support, confidence in industry driving interest in facility construction and management
Before founding major Chinese new energy vehicle maker Nio Inc in 2014, Li Bin, founder and CEO of the company, organized a survey online in which the majority of respondents said short range and lack of charging facilities were the top barriers against an electric car purchase decision.
Five years later, while ranges of mainstream NEVs have been largely improved, difficulty recharging NEVs remains a concern for drivers with no private charging piles at their residence.
As of the end of July, China had 1.05 million charging piles, a rise of 71.9 percent from the same period a year earlier, according to the China Electric Vehicle Charging Infrastructure Promotion Alliance.
Approximately 447,000 of the charging piles are in public places, growing by 14,000 per month on average from August 2018, with a year-on-year growth of 62.5 percent at the end of July.
Yet that is far from meeting the goals on charging infrastructure set by the Chinese government.
In 2015, a government development guideline for charging infrastructure construction said China should build more than 4.8 million new charging piles by 2020.
The guideline was jointly issued by the National Development and Reform Commission, the National Energy Administration, the Ministry of Industry and Information Technology, and the Ministry of Housing and Urban-Rural Development.
Liu Yongdong, director of the center of standardization under the China Electricity Council, said the severe imbalance between supply and demand has prompted widespread efforts from both the government and business community to strengthen charging facility construction and operation.
"Developing new energy vehicles is a national agenda, and the industry is promising," he said.
"As the total number of NEVs in China is set to grow, demand for charging will continue to explode, and it is natural that more enterprises are crowding into the sector, trying to take a share in a promising business."
Policy support also boosts charging infrastructure development, as subsidies in the NEV industry have shifted from sales to charging infrastructure development with detail-oriented rationality, according to Qiu Kaijun, an industry observer and founder of Evobserver, an influential social media platform in the NEV industry.
A recent report by China EV100, an industry think tank, and the Natural Resources Defense Council, has classified current local subsidies into four types.
In cities including Beijing, Chengdu in Sichuan province, and Xiamen in Fujian province, subsidies will be equal to a proportion of investment in charging infrastructure.
A flat rate subsidy has been introduced in cities like Jincheng, Shanxi province, where the local government offers 1 million yuan ($140,300) for building bus charging stations, 600,000 yuan for setting up infrastructure with direct current for quick charging, and 3,000 yuan for constructing charging infrastructure with alternating current.
In addition, there are also cities like Shenzhen where local governments offer subsidies to NEV charging infrastructure builders based on the equipment's efficiency. While cities like Shanghai offer subsidies on NEV charging infrastructure's operations.
Thanks to the policy boost and mounting confidence in the future of the NEV industry, even companies primarily operating outside the NEV industry are attaching greater importance to charging facility construction and operation.
Real estate giant Evergrande Group teamed up with State Grid Corp of China to launch a smart energy services company in Shenzhen in July, expanding its investment to charging services.
With an agreement signed, the joint venture will install charging piles in residential communities not only developed or operated by Evergrande Group, but also three of its major competitors, Country Garden, China Vanke Co Ltd, and Sunac China Holdings Ltd.
That amounts to 5,468 communities, covering an estimated 31 million residents, according to Xinhua News Agency.
In August, British oil major BP and China's car-hailing platform Didi Chuxing announced they have agreed to form a new joint venture to develop a network of NEV charging hubs across the country for both Didi drivers and the public.
As for NEV makers, in March, Xpeng Motors officially put 30 supercharging stations into operation in five cities across China - Beijing, Shanghai, Guangzhou and Shenzhen in Guangdong province, and Wuhan in Hubei province.
Nio has launched a series of services to enhance charging experiences of Nio NEV owners, including the construction of so-called supercharging stations, and opening up of its widely praised app-based on-call charging service to NEV owners of other brands.
The high-power charging stations are for exclusive use by Nio NEV owners, in places where charging demand is high, but no third-party charging piles are available, the company said.
The latest news is that the company had incorporated the app on-call charging service into Baidu Inc's map services in August.
Despite fierce competition and a lack of profitable business models, the future is what these companies have their eye on, according to Liu.
Charging is a frequent demand from NEV drivers, and thus it is easy for charging service providers to get solid user loyalty. On the basis of user loyalty, the service givers could easily expand their business with more value-added services, such as car maintenance, battery status surveillance, and insurance, he explained.
A charging station could also be a facility that helps attract consumers to hotels, shopping malls, and other entertainment service providers, or become a touch point for the internet-plus economy, he said.
Qiu observed that investments flooding into charging infrastructure construction and operation are much more rational than those seen a few years ago, as investors pay close attention to locations and operation efficiency enhancement, eyeing future operational returns rather than government subsidies.
However, low utility rates and difficulty making a profit remain the top concerns hampering the healthy development of charging infrastructure, experts said.
According to the report by China EV100 and the Natural Resources Defense Council, the utilization rate of EV charging infrastructure was lower than 10 percent on average in 2018 in China.
Qiu observed operators of public charging piles in public places have to innovate business models with more value-added services to increase their profitability, if their main consumers are private NEV drivers.
It has been proved profitable for operators to provide charging services to commercial NEVs, which have larger-scale and more predictable service demand than private NEVs, he said.
Liu said charging infrastructure construction and operation is a heavy-asset business that needs not only a large amount of investment, but also an intricate layout of charging stations based on data analysis.
Both of the experts said market forces should play a bigger role to balance the demand and supply of charging services through better allocation of resources.
A recent report by the Guangdong Testing Institute of Product Quality Supervision also revealed safety concerns, as about 70 percent of charging piles from a total of nine local producers failed to pass its quality check.
Major problems were higher-than-expected output voltage and loose electric locks for charging cables.
Han Xiaoping, chief researcher at energy analysis website China5e, said: "Seeing the market potential of charging infrastructure, there are many small-and medium-sized businesses rushing to the industry but they lack sufficient technology and financial support.
"The situation will be gradually improved with a surging number of safety check products."