Campaign to save sight, win hearts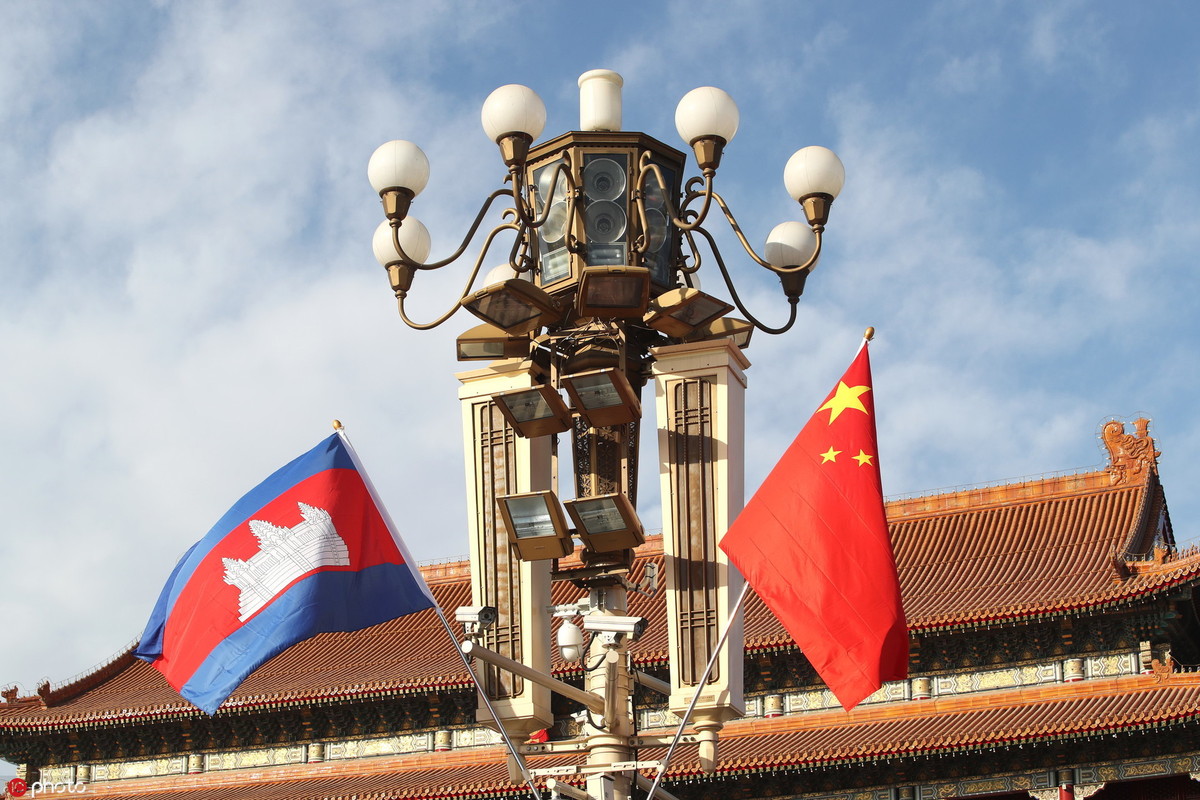 Chinese doctors provide free cataract surgery for Cambodians, boosting ties
In around 15 minutes, Ork Sambath, who had suffered from cataracts for more than a decade, regained his eyesight after receiving surgery from a Chinese medical team.
"I am really happy that I can see things a lot clearer now," said Ork, a 60-year-old retired teacher from Chbar Ampov village in Kampong Cham province, in eastern Cambodia.
"Now I can explore new things in life, like traveling long distances by myself, something that could have been dangerous for me due to the condition of my eyes. I can also find a new job or do some small business."
Ork was among more than 4,600 patients in Kampong Cham province who received surgery under the Belt and Road Cataract Blindness Eradication Campaign.
Initiated by the Belt and Road Hong Kong Centre, the campaign is jointly carried out by the Asian Foundation for the Prevention of Blindness and Cambodia's Ministry of Health, together with support from Hong Kong-based charity organization New Home Association, the Guangxi Zhuang autonomous region, and the Hong Kong Business Association of Cambodia.
By bringing medical volunteers from the Chinese mainland and Hong Kong, along with two large vehicles equipped with modern medical equipment, the campaign that began in May aims to provide free cataract surgery to about 8,000 patients in Kampong Cham province in about 18 months.
With its population of 1.6 million, Kampong Cham is one of Cambodia's most populous provinces. Cataracts are a leading cause of blindness in the vast farming province.
Mostly related to aging, a cataract is a clouding of the lens of the eye that prevents clear vision, according to the World Health Organization. The treatment is surgical and very successful in restoring sight. However, in many countries, especially in remote areas, it is still difficult for patients to access surgery due to various barriers.
Ork's eyesight began to deteriorate more than 10 years ago. As the symptoms worsened, he had to rely on a magnifier to read. But due to the cost of medical treatment and transportation, he never considered seeing a doctor.
The average cost of cataract surgery in Kampong Cham province is about $100 per eye, which can be a heavy burden on the province's large rural population.
"It was not until late August when the local health center came to my village to promote the campaign did I realize that I might have cataracts," Ork told China Daily.
It only took Ork five days to decide to have his surgery carried out by a medical team consisting of six doctors and nurses from the People's Hospital of Guangxi Zhuang autonomous region. He took a free bus arranged by the campaign to Kampong Cham Provincial Hospital, where the medical team would carry out the operation.
"As doctors, the most fulfilling moment is when we see the patient's eyesight improve after the surgery," said team leader Zhong Haibin. The ophthalmologist told China Daily that due to a lack of proper eye care, over time many patients' symptoms become quite serious.
Having arrived in Kampong Cham on Aug 19, Zhong's team was the ninth medical team to arrive. The team treated a record number of 620 patients before they headed back to China on Sept 12.
The medical personnel also work closely with staff in the local hospital. For example, before the campaign started, all doctors and nurses in the Kampong Cham Provincial Hospital's ophthalmology unit went to Guangxi for training.
Por Norin, head of the ophthalmology unit of Kampong Cham Provincial Hospital, is one of the two eye doctors in the hospital and the entire province. After the training in Guangxi and through cooperation with Chinese doctors, he can now perform cataract surgery.
"In our hospital, the cataract surgeries used to be done manually only, but now with the equipment provided by China, the result of the surgery can be greatly improved," Norin told China Daily.
The Belt and Road Cataract Blindness Eradication Campaign is an important part of Cambodia's national policy in blindness eradication and key to improving the overall eye health of its people, said Or Vandine, secretary of state at Cambodia's Ministry of Health. Development of the health sector is a government priority, she added.
Noting that Cambodia has been a firm supporter of the Belt and Road Initiative since 2016, Vandine gave a high appraisal of China-Cambodia cooperation, especially in the health sector. She said this kind of cooperation brings benefits to local people and touches their hearts.
The health sector has been a key focus of China's cooperation with Cambodia.
"The cooperation between China and Cambodia can set an example for the world," said Vandine.