ABB breaks ground on robotics factory in Shanghai
Share - WeChat Swiss conglomerate ABB Group on Thursday kicked off construction of its "largest and most advanced" robotics factory in Shanghai, the latest demonstration of the company's "big commitment and confidence" in China.
With a $150 million investment pact signed last year, the 67,000 square-meter manufacturing and research facility in Shanghai's Pudong New Area is where robots make robots, thanks to the aid of technologies like machine learning as well as digital and collaborative solutions.
The facility is slated to open in 2021, and its goal of producing 100,000 industrial robots per year remains unchanged, according to Peter Voser, chairman and CEO of ABB.
"This substantial investment demonstrates our strong commitment to Shanghai and to China, and our confidence in the future of the Chinese economy," said Voser during a news conference following the ground-breaking ceremony in Shanghai.
Voser said the new factory is poised to make "an important contribution to China's goal of sustainable, high-quality and high-tech growth and development" by incorporating digital technologies and artificial intelligence into the solutions that will be developed and made available to customers.
"It will also strengthen ABB's ability to support Chinese enterprises -- our customers -- that are engaged in the Belt and Road (Initiative) projects," he added.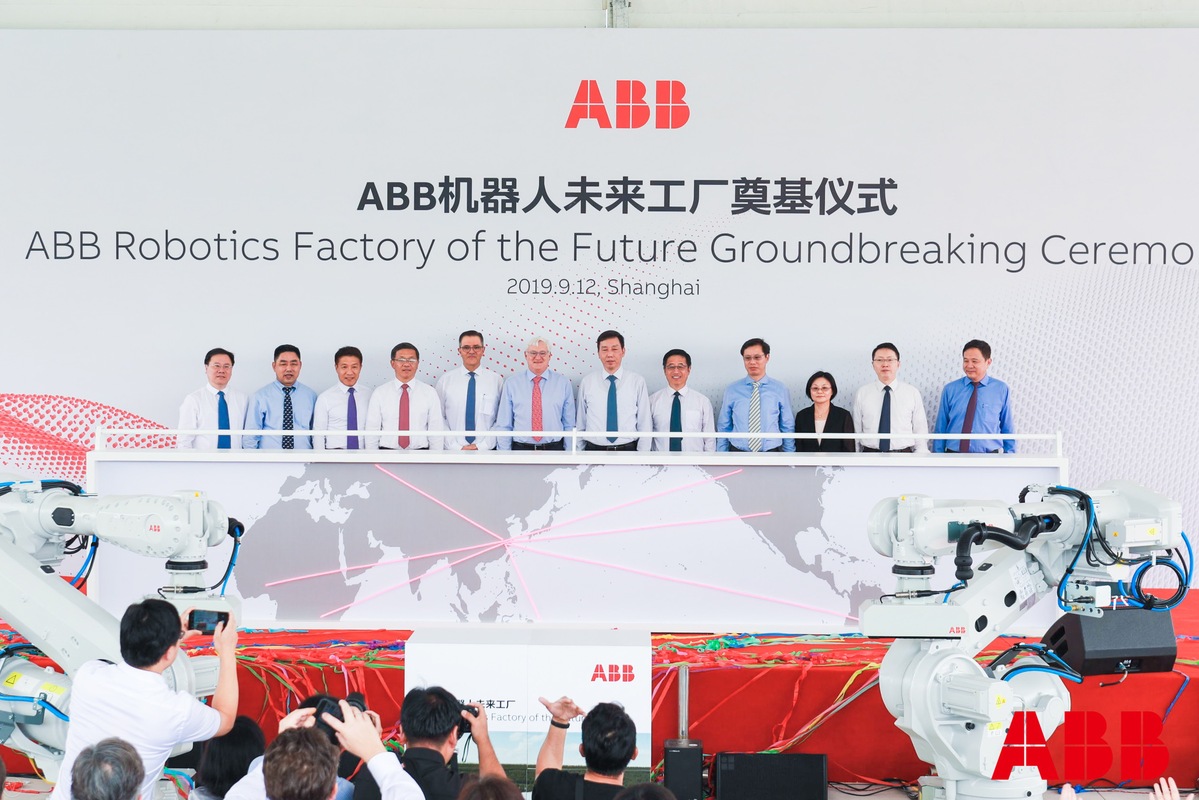 ABB's global leading position in automation and technologies like AI will coincide with the "Made in Shanghai" initiative through which the metropolis aims to strengthen its high-end manufacturing might, said Chen Mingbo, deputy secretary-general of the Shanghai municipal government.
"In order to make this initiative a reality and a success, we need to put together global resources," Chen said during the ceremony. "I have full confidence that in the next few years to come, the ABB factory will become a hallmark of the 'Made-in-Shanghai' initiative."
According to a company press release, production in the highly automated factory will be based on cells of automation rather than on a fixed assembly line, which will allow robots to move from station to station for greater customization and more flexibility than in traditional, linear production systems.
Besides, the factory will be a complete digital manufacturing ecosystem, employing a "digital twin" that will give everyone from managers and engineers to operators and maintenance teams data insights and machine learning capabilities to improve performance and maximize productivity.
The ongoing trend toward mass customization, a rising shortage of skilled labor, as well as China's goal of a global manufacturing hub featuring high quality will give rise to increasing needs for automation, said Sami Atiya, president of ABB's Robotics and Discrete Automation business.
Voser emphasized the importance of the long-term vision of the investment despite the current economic downturn globally, and praised the role of China in helping foster ABB into the successful global technology leader it is today.
China is ABB's second-largest market, with no country-specific revenue being disclosed. The company said it has accumulated a compounded annual growth rate of 20 percent in the country from 2000 to 2018.