Shanxi to further green efforts
Share - WeChat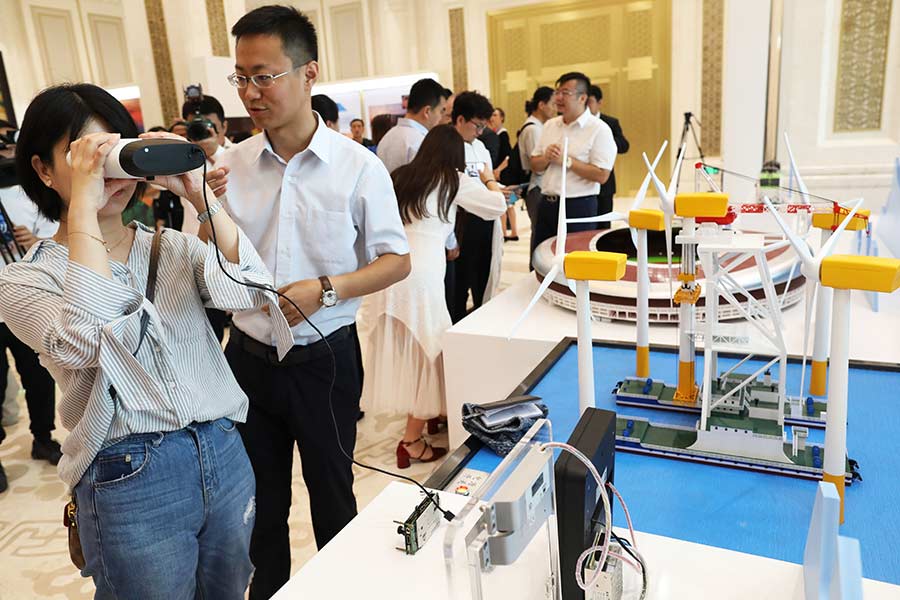 Northern province takes steps to reduce reliance on energy-intensive resources
Shanxi province has embarked on a path of economic transformation and high-quality development in accelerating its structural adjustment to boost productivity by fostering policies of green and sustainable development, the province's leaders said.
"The major goal of Shanxi's new transformation is to build a national demonstration area in the transformation of a resource-based economy, become a pioneer of China's energy revolution, and explore new horizons for opening up as an inland province," said Luo Huining, secretary of the Shanxi Provincial Committee of the Communist Party of China.
"We strive to promote transformation with reforms and innovation, aiming to restructure the economy into one that depends less on resources. We will continue to accelerate the development of advanced manufacturing and other emerging industries and build a modern industrial system in Shanxi," the official said.
Luo made the remarks on Thursday at a State Council Information Office news conference held in Beijing.
Located in North China, Shanxi has seen a significant increase in its economic growth. The province's GDP rose by 7.2 percent year-on-year in the first half of 2019, marking a six-year high. It is a key coal producing region.
Major industrial companies in Shanxi reported a total profit of 135.6 billion yuan ($19 billion) in 2018, compared with a loss of 6.8 billion yuan in 2015.
The service industry is leading the province's economic development, becoming the main force of growth in the area. In 2018, the added value of the tertiary industry in Shanxi hit 898.8 billion yuan, up 9.1 percent year-on year. Its share of GDP stood at more than 70 percent last year.
In the past two years, the research and development investment of large State-owned enterprises in Shanxi has increased by 18.5 percent annually.
Shanxi Governor Lou Yangsheng said the province will deepen reforms and open wider to the outside world to foster a business-friendly environment governed by a sound legal framework.
To lighten the burden on businesses, the province cut 57.3 billion yuan in taxes and administrative fees in 2018.
More efforts will be needed to better join the Belt and Road Initiative and actively take part in the transfer of industries from the costal China region, Luo added.
In 2018, the actual utilized foreign investment increased by 39.7 percent, official data showed. In the first seven months of the year, the province signed 1,476 investment projects with a total planned investment of 911 billion yuan.
"In recent years, the government has guided the orderly relocation of industries from the east to the west,"Cai Fang, deputy head of the Chinese Academy of Social Sciences, told a macroeconomic seminar in Beijing.
"Buoyed by the government's regional development strategy, major obstacles to economic growth have been removed, offering favorable conditions for inland provinces to undertake industrial transfers," Cai added.
The Blue Book of China's Provincial Competitiveness (2016-17) released in April by the Fujian Normal University and Social Sciences Academic Press calculated a competitiveness score and found China has achieved a more balanced regional development. Among all regions, Shanxi has witnessed the biggest jump in its score as it rose four spots on the list.