New pilot FTZs to inject vitality in Chinese border provinces
Share - WeChat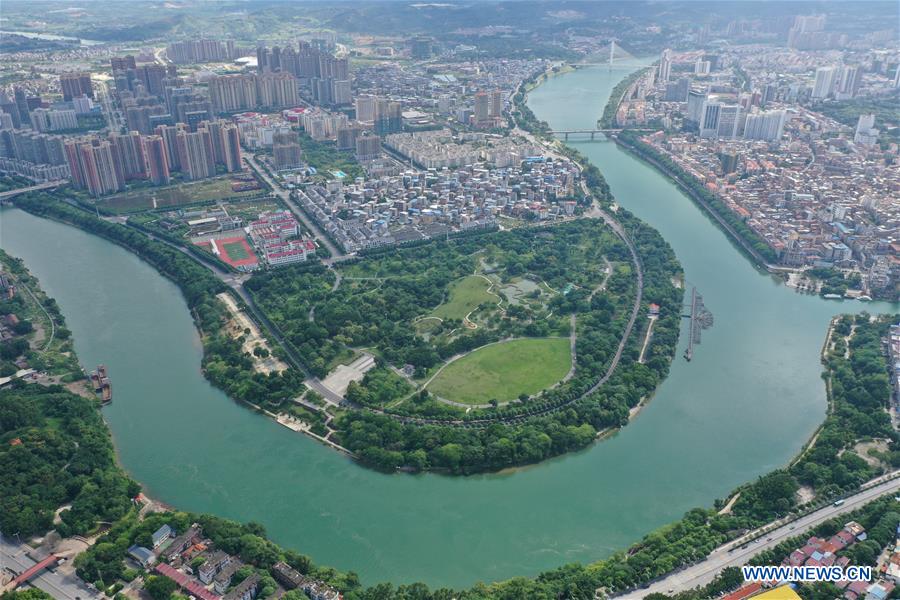 KUNMING/NANNING - Two new pilot free trade zones (FTZs) in Yunnan and Guangxi were officially launched last Friday, marking the first time China has set up pilot FTZs in border regions.
The two are among a batch of six new pilot FTZs in Shandong, Jiangsu, Guangxi, Hebei, Yunnan and Heilongjiang, which brings the total number of the country's pilot FTZs to 18 since China started piloting FTZs in Shanghai in 2013.
The pilot FTZ of Yunnan covers parts of Kunming, the provincial capital, Honghe Hani and Yi autonomous prefecture that neighbors Vietnam and Dehong Dai and Jingpo autonomous prefecture, which borders Myanmar. It will innovate modes of cross-border economic cooperation and strive to build itself into China's open front to South Asia and Southeast Asia.
Guangxi's pilot FTZ will focus on modern financial services, smart logistics, the digital economy, emerging manufacturing industries, port shipping logistics, international trade, components of new energy vehicles and cross-border tourism.
"The new pilot FTZs are conducive to cultivating new growth engines in the southwest region. They will boost the development of the western region and the coordinated development across regions, and further deepen China's cooperation with South and Southeast Asian countries," said Zhou Xining with the Yunnan International Trade Association.
"A prominent feature of the new round of development is balanced opening-up, which will be extended to the central and western regions," said Ge Hongliang, a researcher at the China-ASEAN Research Center at Guangxi University for Nationalities.
Linking China with South Asia and Southeast Asia, Guangxi and Yunnan have maintained close economic ties with neighboring countries for decades.
Members of the Association of Southeast Asian Nations (ASEAN) have been Guangxi's largest foreign trade partner for 17 years in a row. Guangxi's Beibu Gulf is an important transit route in the New International Land-Sea Trade Corridor that connects western China and Southeast Asia. Shipping routes link the gulf with over 200 global ports, including all the major ports in ASEAN.
According to Kunming customs, Yunnan's trade with ASEAN increased 13.6 percent year-on-year to reach 44.2 billion yuan ($6.4 billion) in the first five months of this year. Its trade with South Asian nations also surged 75.4 percent to over 1.5 billion yuan in the same period.
"The pilot FTZs, which involve Guangxi and Yunnan provinces, are a reflection of China's policy of continuously expanding reform and opening-up, and is conducive to continuously stimulating the development potential of the border areas," Ge added.
Trieu A Lien, a 57-year-old Vietnamese, has been trading cloth in Pingxiang, a Chinese border city since 1992.
"China's manufacturing industry had just begun accelerating its development back then. I usually took the train from Nanning to Shanghai to purchase cloth and then came back to Vietnam through Pingxiang," said Trieu.
"The opening of the China-ASEAN Expo in 2004 was a watershed and Guangxi has undergone tremendous changes since then," recalled Trieu. "The establishment of new pilot FTZs in Guangxi and Yunnan, which are adjacent to Vietnam, is a good opportunity for the northern border areas of Vietnam," she said.
Bai Yunfeng exports agricultural products through Yunnan's Hekou port, the largest land route of Yunnan in its trade with Vietnam and also the most convenient southwest China port leading to Southeast Asia.
"The establishment of the pilot FTZ will further promote interaction and exchange with neighboring countries, and will also bring more preferential policies and a freer trade environment," said Bai.