Import expo serves as key platform for global trade
Share - WeChat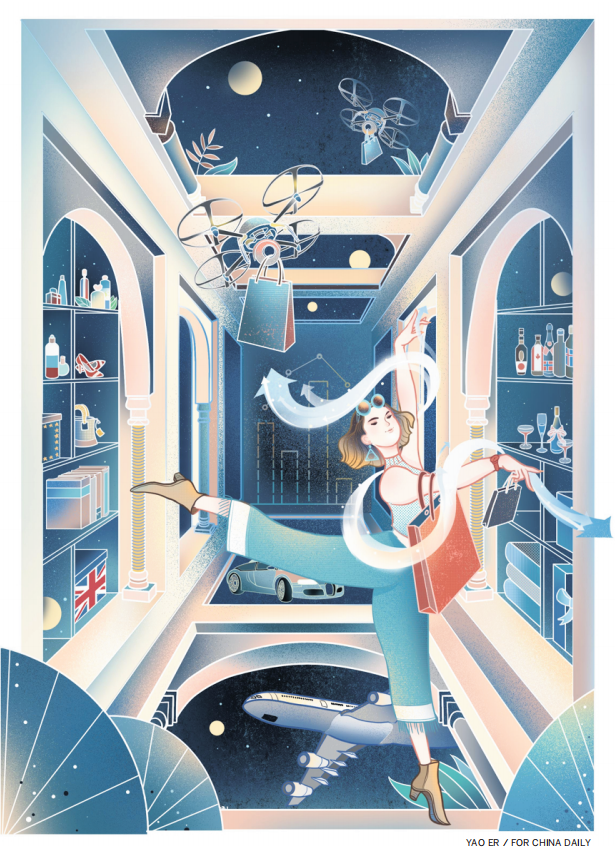 More than 3,000 companies from 150 countries and regions will show their products at this year's CIIE
Editor's Note: This is the first in a series of special reports by China Daily on the second China International Import Expo, which will open in Shanghai in November. Proposed by President Xi Jinping in 2017, the expo marks China's new round of advancing high-level opening-up and further expanding its market access to the rest of the world.
Designed to be a major platform for the country's import expansion, the China International Import Expo, or CIIE, which is now in its second year, has received a warm welcome from companies at home and abroad.
Proposed by President Xi Jinping in 2017, the inaugural expo was held in Shanghai in November and was a great success in promoting trade and business with the value of transactions and intended deals topping $57.8 billion.
According to the organizer, many exhibitors from the first expo have signed up for the second year, and by the time registration ended in May, more than 3,000 companies from 150 countries and regions had confirmed their attendance and will come to showcase their products.
"Due to the enthusiastic response, we launched registration for the third expo in August, and have already received many inquiries and reservations," said Zhou Lingyan, deputy general manager of the CIIE exhibition department of the National Exhibition and Convention Center (Shanghai).
"The expo is unique in that it requires all exhibitors to be overseas companies, and their goods must be produced overseas," she said.
The business exhibition is divided into seven sectors, covering industries including automobiles, manufacturing equipment, food and agriculture, medical equipment and consumer goods.
New elements, such as autonomous driving technology and elderly care services, will also be added, and the total business exhibition area has increased from 270,000 square meters to 300,000 square meters.
"This expo is so diverse that we can meet people from different industries and discover various opportunities," said Ma Zheng, vice-president of Cargill China, adding that the agriculture and food conglomerate signed contracts worth $2.4 billion during last year's expo with Chinese clients importing a variety of goods such as cotton, soy beans and beef.
"Because Cargill offers a wide range of products, the expo gives us a stage for an all-around display of the company to let people know us better," he said. "We have booked an exhibition area two times bigger than last year."
Besides returning exhibitors like Cargill, there will also be many first-time exhibitors in the upcoming expo. Among them is KPMG, one of the world's Big Four accounting firms.
"As CIIE will foster more trade, connectivity and trust building, it will create many opportunities for us," said David Ko, head of audit at KPMG China.
"CIIE provides a great platform for us, it will provide strong exposure for the firm through meetings with high-level government officials, influential trade professionals, including lots of existing and potential customers," he said. "KPMG will bring the latest digital innovations and technology to this year's expo in audit, tax and advisory services."
At the start of the 100-day countdown to the second expo, Sun Chenghai, deputy director of the CIIE Bureau, said: "The number of exhibition areas, new product releases and Fortune 500 companies and industry-leading companies for the second year have all exceeded those of last year's expo." He added that the expo will invite more buyers from the private sector, especially small and medium-sized enterprises, as the registration for professional visitors has been extended by one month compared with last year, and will be open through Sept 30.In order to attract more domestic buyers to the expo, road shows have been running in more than a dozen major cities since June. Each includes an introduction to the expo and presentations by a few exhibitors that dovetail with the major local industry.
The road show held in early August in Changchun, capital of Jilin province, focused on the healthcare and automobile industries. "There is a great demand for medical equipment among local companies," said Gao Feng, chairman of the Jilin business chamber of healthcare. "We estimate that the number of local medical companies to participate in the expo will be four times more than last year."
Bordering Shanghai, Kunshan in Jiangsu province is home to many manufacturing factories, and it hosted a CIIE road show focused on manufacturing equipment on Aug 22.
Zhou Xudong, mayor of Kunshan, said the city will actively participate in the expo, and leverage its proximity with Shanghai to hold related activities that will help local businesses purchase advanced equipment and technology to serve the high-quality development of the city's manufacturing industry.
During the expo, a country pavilion will be set up to display the achievements in trade and investment of about 60 countries.
The Hongqiao International Economic Forum, which focuses on open economy, innovation and cooperation with four parallel forums, will also be held as part of the expo.
Dong Yan, a researcher of international trade at the Institute of World Economics and Politics of the Chinese Academy of Social Sciences, said: "The import expo is an example of China's further opening of its market, and it will serve as a new platform for global trade."