Future of high-tech may rely more on brain power
Share - WeChat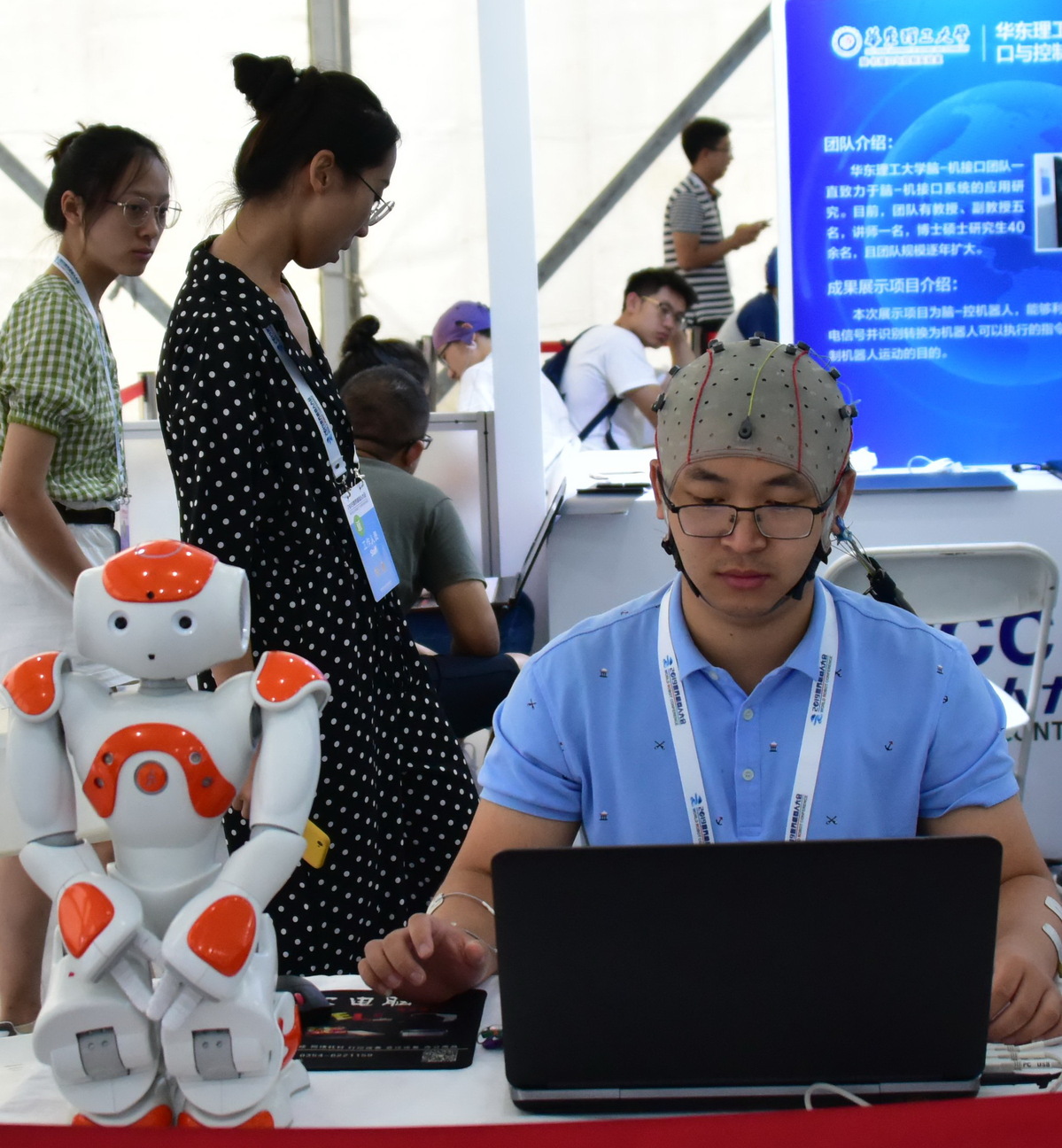 When electric car and reusable rocket entrepreneur Elon Musk made a splash recently by announcing that his startup Neuralink had made breakthroughs in a brain-computer interface (BCI) - enabling a monkey to control a computer with its brain - a Chinese startup was already racing to take the lead in commercializing the technology.
BrainCo, founded by Harvard University graduate Han Bicheng, developed a technology that can detect and translate human brain signals into computer commands by using advanced sensors and complex algorithms.
Unlike the invasive brain-computer interface technique used by Musk's Neuralink, which requires implants, BrainCo has come up with a noninvasive technique, picking up brain signals through electrical sensors placed on a person's scalp.
The company is already applying the technology in education by helping students enhance their concentration.
Yu Lei, chief operating officer of BrainCo, said the company's Focus 1 device, which was launched over six months ago, has been used in hundreds of schools in 15 countries and regions to help around 50,000 students.
One of them, a 17-year-old surnamed Deng from Hengshui High School in Hebei province, said: "I feel much more focused after 21 days of using the device. Now I am able to immerse myself quickly into my studies."
The company is also targeting the medical rehabilitation sector with special artificial limbs for disabled people. By decoding muscle signals on the arm transmitted by the brain, a smart prosthetic device understands the user's intent and takes corresponding action.
"BCI involves technology even more advanced than artificial intelligence. It has just started to grow," Yu said. "Although it is so far largely unknown to the public, there is huge potential."
According to a report by business consulting firm Grand View Research, the global BCI market size was valued at $806.8 million in 2015 and is forecast to reach $1.72 billion by 2022 - average annual growth of 11.5 percent.
The Chinese market is expected to see the fastest rise, the report said, with growth projected to come from increasing demand in military enduse as well as gaming and entertainment industry.
BrainCo is headquartered in Hangzhou, Zhejiang province, and has offices in Beijing, Shenzhen and the United States. Its team is the first from China to join the Harvard Innovation Lab.
Musk - the CEO of electric carmaker Tesla, who is also known for developing reusable rockets - isn't the only technology bigshot who's interested. Facebook founder Mark Zuckerberg has also trained his eye on BCI.
Facebook said in July that it's working on a headset that can decode brain activity and transfer a person's thoughts directly onto a computer screen.
"Although Facebook is a giant in the internet sector, it is a startup in the BCI sector," Yu said. "In this sense, we are standing at the same starting line."
Gao Shangkai, a professor of department of biomedical engineering at Tsinghua University School of Medicine, said there are still a lot of challenges facing the technology before it can widely be applied in various industries. The challenges include scientific, technological and also ethical.
For example, while non-invasive technique is generally considered safe but less effective, the invasive one requires the development of highly reliable electrodes to be implanted into the brain to interact directly with neurons.
However, there are billions of neurons in a brain, which makes the process very difficult. Moreover, how to collect signals from the numerous sensors is also a matter of difficulty, Gao said.