Cybersecurity system on the way for industrial internet
Share - WeChat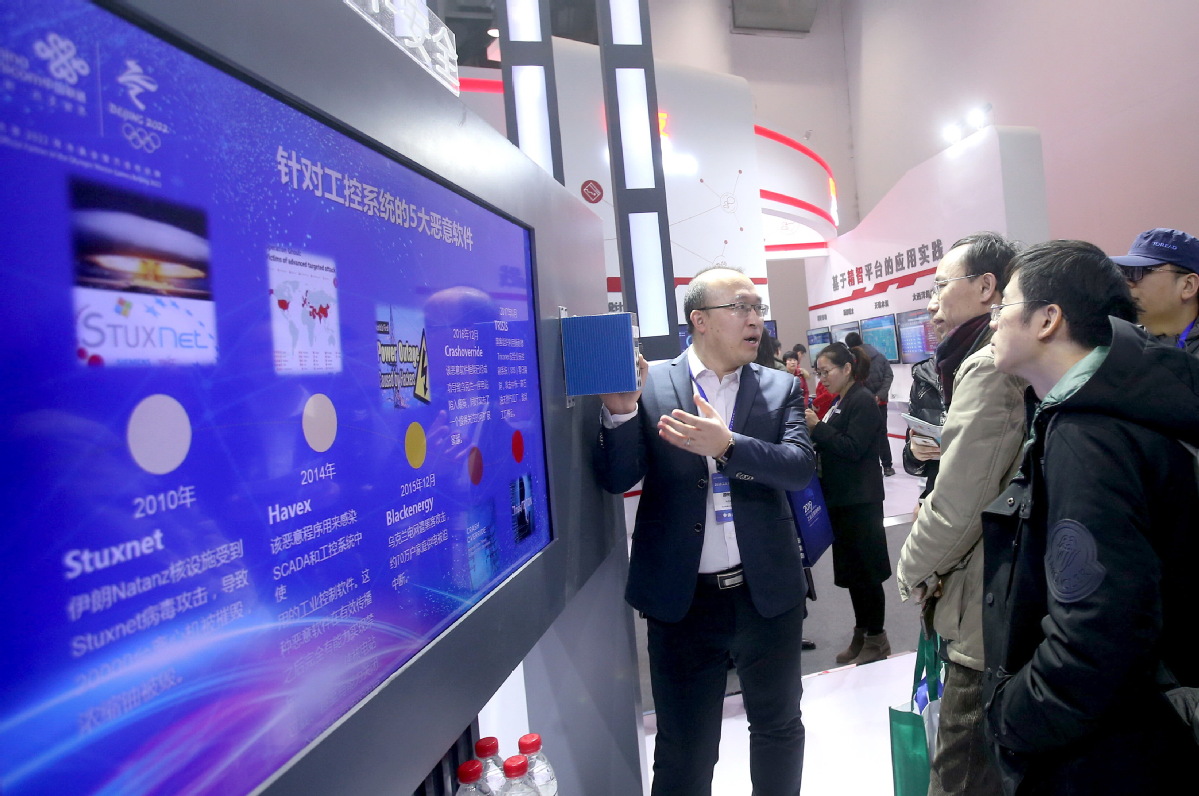 Ministries plan alliances to enhance, improve level of security management
China aims to lay out a primary cybersecurity system for the industrial internet by the end of 2020, with at least 20 innovative products and solutions developed as pilot projects to safeguard information security for areas including automotive, aerospace and energy.
The goal was unveiled by 10 ministries and departments including the Ministry of Industry and Information Technology on Wednesday. It is part of a broader plan to build a sound and complete cybersecurity system by 2025 to promote the development of the industrial internet in the country.
The industrial internet is a frontier where countries around the world are scrambling to establish a beachhead and it is an essential part of China's industrial upgrade drive by boosting the marriage between cutting-edge digital technologies and the manufacturing sector.
The ministry said it will partner with other ministries to build industrial internet security management systems to inspect and share information on cybersecurity vulnerabilities and establish mechanisms to deal with cyber emergencies.
Efforts will also be made to formulate at least 20 cybersecurity standards for the industrial internet by the end of 2020, the country's top industry regulator said in the guideline. Crucial sectors including automotive, electronic information, aerospace and energy will be the focus of the wider application of industrial cybersecurity products and solutions.
The industrial internet refers to a network of combined, advanced machines with internet-connected sensors and big-data analytics, which is of great significance to boosting the productivity, efficiency and reliability of industrial production.
Li Haihua, an expert at the China Academy of Information and Communications Technology, said it is of vital importance to promote the industrial internet, which is a key element in bringing new vitality to China's sprawling manufacturing sector.
"The industrial internet is now being used in a wide range of sectors in China, including rubber and food. But more attention needs to be paid to cybersecurity issues," Li added.
A 2018 report from China Industrial Control Systems Cyber Emergency Response Team showed that over 90 percent of the more than 3,000 industrial control systems connected to the internet had security loopholes.
The latest move came after the State Council unveiled a guideline in November 2017 that aims to build three to five industrial internet platforms, which will reach international standards by 2025, and lead the world in key areas by 2035.
Data from the ministry show that China has cultivated around 50 industrial internet platforms that have regional influence by the end of 2018, with a large quantity of industrial equipment connected to the internet.
Qi Xiangdong, chairman of Chinese security company Qi An Xin Group, said in an earlier interview that compared with consumer internet applications such as e-commerce, the industrial internet is far more complex and more vulnerable to sophisticated cyberattacks.
"Once the industrial internet is attacked by 'bad guys', it not only compromises information, it also harms the whole enterprise, or the entire industry," Qi said.