Culture blossoms at Beijing Garden Expo Park
Share - WeChat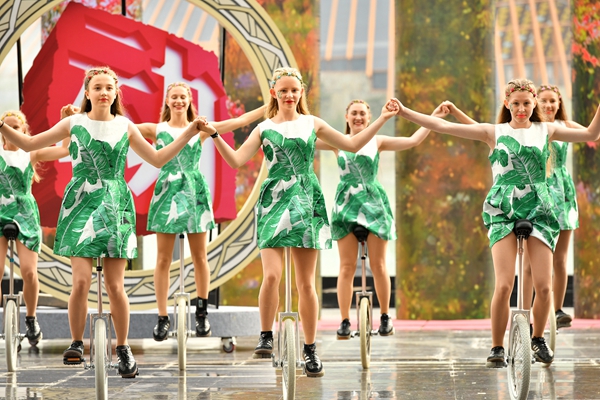 Peruvian students from the Juan XXIII Peruvian-Chinese School brought Pallas de Corongo, a local dance style that is treasured as a folk culture heritage. The female dancers were lavishly dressed, each wearing a circular head garment, big sleeves and multiple layers of petticoats, adorned with embroidery, lace and brooches.
Although easy on the eye, the outfits were not as easy on the body. Several student performers said that the head piece was painful to wear, but the physical toll did not dampen their enthusiasm for being a part of this exchange event.
"We study in a Peruvian Chinese school, so we have known a lot of Chinese people and have heard a lot of beautiful things about China. I love this experience," says Brenda Escajadillo, one of the students.
Another student Fabiana Mena adds: "We get to experience and learn about Chinese culture. It is so different from reading about it in the news or hearing stories from other people."
While traditional art forms are a major part of the festival, many countries also brought elements of pop culture, or performance art that holds a special appeal to youth, such as street dance from South Korea.
With their professional techniques, teenagers from Einradkids Hamburg, a unicycle club in Germany, proved that persisting in childhood hobbies can also help performers shine on the big stage.
"The unicycle club is a pretty big deal where we live, and a lot of young girls start unicycling at a really young age. Most of my friends started doing it when they were around 4 or 5 years old. We just stuck with it. It's fun," says Pauline Scholl, who has been practicing unicycle for 14 years.
The festival also included a variety of activities offering students the chance to learn about diverse cultures. They performed at the Beijing Museum of Natural History, traveled to Beijing's iconic historical landmarks, and went on field trips to study traditional Chinese cultural elements such as calligraphy.
"We hope that young Chinese people can act as messengers to promote our culture. Meanwhile, teenagers can come to our event to communicate with peers from around the globe and, in this way, develop a holistic world view," says Guo Haixia, founder of the exchange week.
Most Popular