Dongfeng seeks possible sale of its stake in PSA
Share - WeChat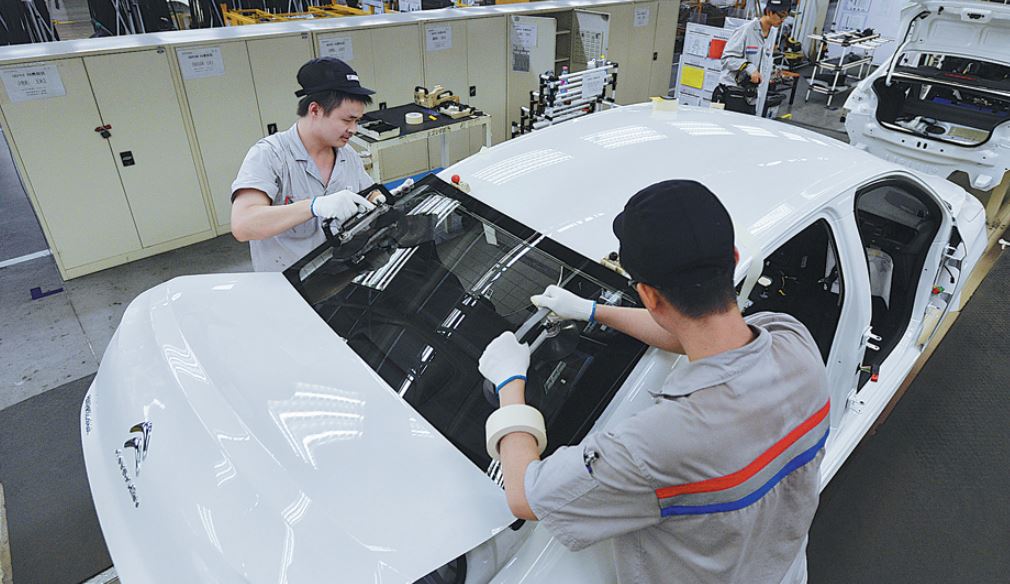 Chinese carmaker looks at options as joint venture continues to underperform
China's Dongfeng Motor may sell its shares in PSA Group as sales of French vehicles continue to flag in the world's largest auto market.
Last week, Bloomberg quoted an anonymous source saying that Dongfeng is reviewing its 12.2 percent holding in PSA and is exploring options on what to do with its $2.5 billion stake, including a potential divestment.
Five years ago, Dongfeng invested 800 million euros ($895.8 million) in PSA shares, becoming one of its largest stakeholders.
With Dongfeng's debt levels tight and its joint venture with PSA underperforming, an exit could make sense for both parties, Bloomberg reported.
In the 2018 fiscal year, operating cash flows of Dongfeng's listed subsidiary turned negative to the tune of about 1.25 billion euros, a relatively rare event for carmakers that are not in the grip of a financial crisis or corporate scandal.
Losses at Dongfeng's PSA venture were already running at the equivalent of $251 million in 2018, and considering the current climate in China's auto market it would hardly be surprising if they were worse this year.
A representative for Dongfeng Motor said the company doesn't have any information regarding its plans at the moment.
Representatives for PSA, the Peugeot family and the French finance ministry declined to comment.
Independent auto analyst Zhang Zhiyong said that it is hard to tell if it will happen or not.
With China's automotive market continuing its downward slide, foreign carmakers will make strategy adjustments, such as reducing costs, slashing jobs and invigorating assets, he said.
Yale Zhang, managing director of Shanghai-based consulting firm Automotive Foresight, said that anything is possible, as PSA has already performed badly in China in recent years.
Last year, the joint venture between Dongfeng Motor and Peugeot owner PSA Group sold 253,000 units, falling 33 percent year-on-year.
In the first six months of 2019, the company sold 63,000 units, accounting for just 26.8 percent of its this year's sales target.
Zhang said that its exterior and inner decoration and design style are lagging behind even competing with Chinese independent brands.
In European countries, customers have less demand for technologies compared to Chinese customers, he said, adding that there is also less competition.
A recent PSA report showed that its sales in China only accounted for 6.7 percent of its global sales in 2018, totaling 262,000 units.
John Zeng, managing director of LMC Automotive Shanghai, said that the main reason of PSA's bad performance in China is its slow reaction to the market change.
China's auto market has fallen since last year and is yet to show signs of recovery.
He added that the company didn't take effective measures to respond to the market downturn and maintain relationships with car dealers, who will not sell their cars even when they launch new models.
"In the depressed market, such joint ventures are encountering big pressure from first-tier joint ventures and Chinese auto brands.
"If PSA can't enact effective measures, the company will be marginalized," Zeng said.
PSA has five factories in China - three in Wuhan, one in Chengdu and another in Shenzhen, which produce vehicles of Citroen's DS brand under PSA's another joint venture in China - Changan PSA.
According to the Financial Times, PSA's plant with Changan produced just 102 cars in the first half of the year, meaning capacity fell to below 1 percent.
Its other joint venture with Dongfeng Motor ran at 22 percent capacity.
Factories generally need to operate at above 80 percent capacity to break even, sparking fears some manufacturers will be forced to quit the China market, according to an industry analyst.
The heads of PSA once said that they considered making cars in China for the United States market and renting out capacity, so this could be an option to tackle the issue.
In addition to the joint venture between Dongfeng and PSA, French carmakers haven't performed well in recent years.
Last year, PSA's other joint venture, Changan PSA, had a 33.9 percent decline in sales to 3,867 units. Dongfeng Renault decreased 30.6 percent year-on-year with 50,100 units sold last year.
The market share of French vehicles was 1.29 percent in 2018, the lowest in the past decade.
In the first six months of this year, its market share fell to 0.7 percent.