Takeda CEO: Patients to benefit from innovation drive
Share - WeChat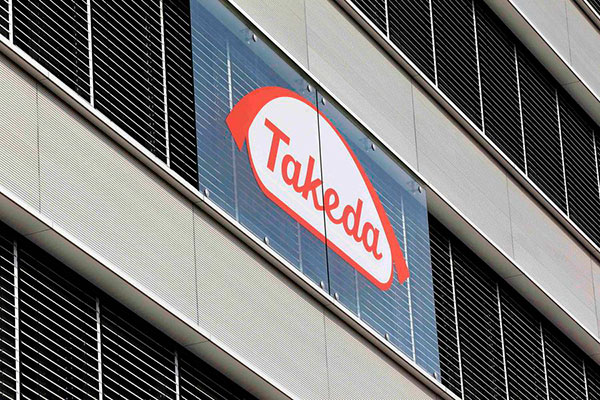 Japanese biopharmaceutical company Takeda Pharmaceutical Co Ltd completed the purchase of Shire Plc in January, making rare diseases another key business area in addition to oncology, gastroenterology, and neuroscience among others in the company's global business blueprint.
In an interview with China Daily when participating in a summer camp in Shanghai for children suffering from rare diseases from all over the country last month, Chief Executive Officer Christophe Weber said the company plans to make significant investments over the next five years in research and development in China, focusing on unmet medical needs in the country.
The combination of China's continued healthcare reforms and the government's focus on encouraging innovation, along with the company's robust plan to accelerate innovation in the country, will result in the availability of 10 of Takeda's innovative medicines in the coming years, including three for patients suffering from rare diseases.
What's Takeda's next-step development goal in the area of rare diseases?
Rare diseases are now a strategic area for Takeda. It's an area where we invest a lot in our R&D based on the innovative pipeline already in place. We intend to launch and introduce new medicines for patients in China. Some are already available in the Chinese market, and we are accelerating the launch of some others.

Currently, we are preparing five new drug applications in this area in China. Next year, we are expecting the approval of three such products.
For example, one drug that had been approved in the United States and Europe is to treat hereditary angioedema, a severe genetic disease creating immune reactions. So far there is no innovative therapy available for this disease, only palliative treatment.
We're also expecting drugs for patients suffering from Fabry (a rare disorder that arises from a deficiency of a particular enzyme) and Gaucher disease (a rare genetic disorder that results in serious bone damage and even death).There is no innovative therapy to treat Fabry in China, and for Gaucher, there is one drug introduced more than a decade ago.
The country's regulators have streamlined and accelerated new drug approvals for those with urgent clinical demand or treating rare diseases. How do you interpret such changes and how will they have an effect on the future performance of Takeda?
I'm impressed by the tremendous developments in China regarding the registration of new drugs, which has become much faster. The drug approval process today compared to even three years ago, is completely different. For an R&D-driven company like us, we now have the opportunity to bring our innovative portfolio to China.
In the next few years, we're planning to launch 10 new medicines across our portfolio in China, and the number is larger than the sum of new products launched in the past 15 years. And this shows that the measures introduced by the Chinese authorities for medical supervision have been transformative.
Another example is that Takeda launched an innovative medicine for the treatment of multiple myeloma, a type of blood cancer, last year. It was brought forward from the original estimated time frame of the 2019 financial year. Takeda received regulatory approval for the new drug in April 2018, and made the product available to patients three months later, almost a whole year in advance.
In the past year the drug has been used to treat a large number of patients in China.
How would you describe China's position in Takeda's global blueprint?
China is strategic and important, and it's a key priority for Takeda for various reasons. One is that now there is a clear policy that we've witnessed in which China aims to provide innovative medicines to patients, and our focus is innovative medicines, and therefore there is good convergence.
Also, the country's medical market is huge based on its vast population.
And Takeda is a global biopharmaceutical company that originated in Asia, and Japan and China are neighbors. Actually, Takeda began as a family business in 1781, originally focusing on traditional Chinese medicine.
Is there any detailed plan to boost investment in the Chinese market?
Across the pharmaceutical value chain in the past financial year, Takeda added more than $100 million to its investment in China, which has taken the company's registered capital in the country to nearly $200 million.
We have been increasingly investing in clinical development programs; for example, we want the development of all our new products in China to be synchronized with the progress in other regions in the world. This means China needs to be involved at an early stage in the development of new medicines.
The Takeda Development Center in Shanghai was established in 2012 to speed up the company's clinical trial efforts in China and focus on the development of innovative medicines for China and Asia. In 2017, it was upgraded as the company's R&D center for Asia. It's a strategic R&D center and it requires spending. All the products we are launching right now in the market come from this willingness to invest more.
When we develop a new medicine, we make sure that the development is suitable for four main markets - China, the US, Europe and Japan. It illustrates how strategic China is for us.
In March, Takeda invested a further 110 million yuan ($16 million) in the expansion of its Tianjin facility, which functions as the manufacturing final step for the Chinese market.
Takeda has its roots in Asia. Do you think it has an advantage in the Chinese market compared to other pharmaceutical companies, most of which are from Europe and the United States?
Our advantage may include a good relationship between China and Japan in various aspects, and geographical and cultural proximity. I think in talent development, we also have an advantage in recruiting Chinese people to work or go on exchange programs in Japan.
The Takeda Science Foundation actively strengthens Sino-Japanese medical exchanges and promotes cross-border medical cooperation and development. For the best part of the past four decades, the foundation has wholly funded more than 260 Chinese physicians to fulfill medical educational programs in Japan.
Another small advantage is that it's a short flight for me to come from Japan. I come to China every year, and I'm coming more often, especially when the environment is pro-innovation and the opportunity for growth is stronger than ever before.
The country has its Healthy China 2030 strategy and Shanghai has its goal of becoming a medical center in Asia. How do you think such initiatives will influence the development of pharmaceutical companies in the country?
Such strong ambitions to be at the forefront of innovation are beneficial for a market of rising openness and will attract more investment from businesses that focus on innovative medicine R&D.
I think it's an exciting time for the healthcare industry and for companies like Takeda at the moment because China is now, more than ever before, willing to embrace new medicines. It also provides more hope to fight against health issues for patients and doctors.
In the area of new medicine development, we are already working with and are exploring collaborations with a rising number of local partners, including established research institutions and hospitals. I do see that the research capability in China is really progressive. We are monitoring the innovative climate as we are really keen to partner with local universities and biotech startups.
Do you remember your first visit to China? How was it different from this visit?
My first visit to China was in the early 1990s when the streets were filled with bicycles, which have been largely replaced by automobiles today. I witnessed the huge economic development of China as well as the healthcare sector. It's understandable that after a country's economic development reaches a certain level, the government and society will invest more in healthcare.
I was a junior member of staff when I first visited China - a product manager looking for opportunities for market development. Over the years, I have had more opportunities to talk to local hospitals, research institutions and government officials, and feel that they have thrived on professionalism.
As a professional in the health industry for decades, what is your health advice for young people and children?
Enough physical exercise, healthy diet and good sleep are always the golden rules, and now we need to add a moderate use of digital products. That's the typical advice we should give to kids and the younger generation. Everybody should manage technology instead of being managed by technology.
Young workers should also strike a balance between work and life. It's easy these days to lose the balance as people may stay on call around the clock or be dragged into unhealthy lifestyles. Every one should be responsible for his or her lifestyle.