The magic of finding an ancient civilization in your backyard
Share - WeChat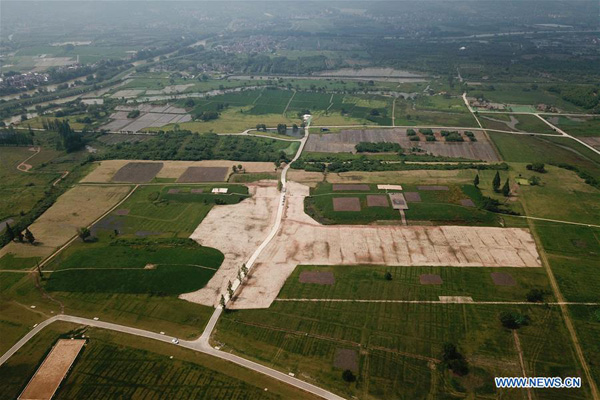 It's one thing to see history on display behind a museum glass and another to experience it right beneath the soles of your hiking shoes, just as my husband Jun and I did one afternoon while wandering the hills within sight of the family home in rural Zhejiang.
That ridge, one of a chain of undulating hills that encircled the village, looked like every other we had climbed before. It had the usual assortment of bamboo, pines and rhododendrons in its canopy. And the sinuous trail we followed swept through the same tangles of bracken ferns, satintail grasses, mugwort and clover we always walked through on our hikes.
But at a small clearing on top, we discovered an astonishing marble historical marker, etched with Chinese characters designating the fertile ground beneath our feet the site of a civilization that flourished 4,000 to 5,000 years ago.
How could such a seemingly ordinary ridge hold such an extraordinary secret? The marker offered scant introduction to the civilization, beyond that it thrived during the Neolithic Age and occupied the crest of that hill. Still, even this historical crumb left behind by a team of archaeologists thrilled me more than gazing upon one of China's national treasures in a museum, because we had stumbled upon it right in the backyard of the village where my husband grew up.
According to Jun, nobody in town had ever mentioned the existence of an ancient find in the hills. As I surveyed the scene surrounding the marker, I wondered, what was this civilization like back in its day? How did they live? Were any of the stones visible around the area evidence of their society as well? Could these people have been Jun's ancestors?
Later, when searching for online information about the site, we learned that archaeologists had discovered a cache of broken pieces of ancient pottery there, including the legs of ding caldrons.
The team believed this site belonged to Zhejiang's Liangzhu Culture, which recently gained recognition after UNESCO added the archaeological ruins of Liangzhu City to its World Heritage list on July 6.
The scattered pottery fragments recovered by the team, shown in an online photograph, reminded me of lost puzzle pieces forgotten over time, much like the ridge top itself, whose trails were disappearing into the brush as fewer people roamed them. If the find truly represented Liangzhu Culture, it would only stand with a tiny footnote in history and could never compare to the stunning jade discs that drew countless visitors to the Liangzhu Museum in Hangzhou.
But I didn't mind that our site would never make headlines or rank as one of the greatest finds of the century, because it held a different kind of magic.
That archaeological discovery represented a part of China's glorious 5,000 years of history, and it just happened to emerge from an otherwise unremarkable hill that had quietly witnessed generations of my husband's family thrive in the village. It's not every day that we encounter such tangible traces of the ancient past in places we have called home.
But when we do, it reminds us that history is hidden all around, even where we least expect it, such as while hiking through just another ridgetop in rural Zhejiang.
Contact the writer at jocelyn@chinadaily.com.cn
Most Viewed in 24 Hours
China Views