Boris Johnson to be next UK prime minister
Share - WeChat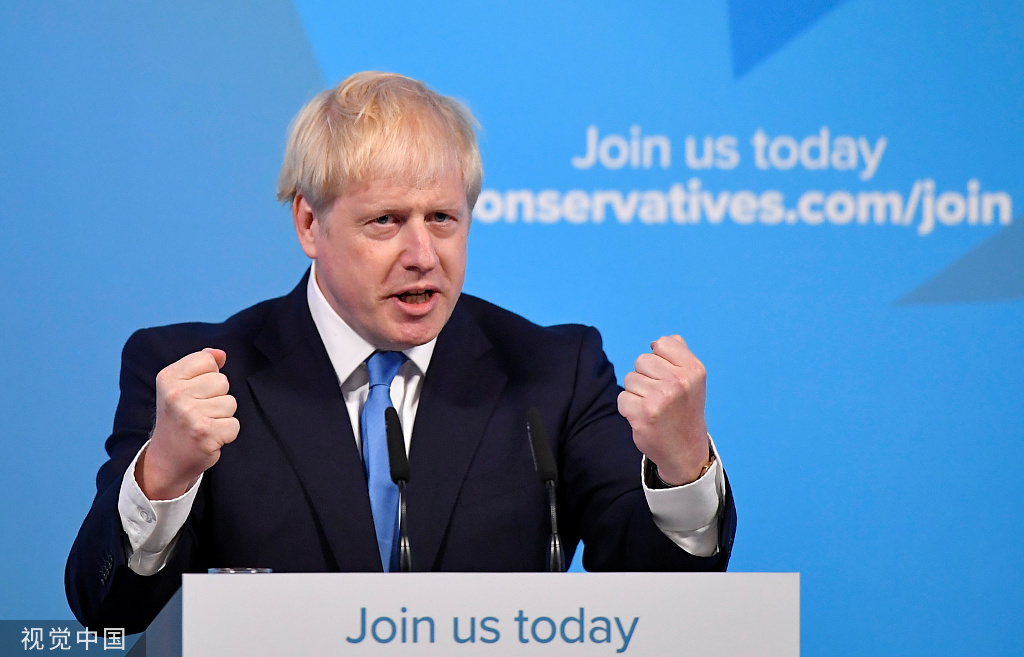 Boris Johnson has won the United Kingdom's leadership election 92,153 votes to 46,656, becoming prime minister and leader of the ruling Conservative Party.
Johnson had been widely expected to win ever since Theresa May, the nation's outgoing prime minister, announced on May 24 that she was resigning following heavy criticism of her handling of the UK's exit from the European Union.
In a short but impassioned acceptance speech, Johnson thanked his leadership opponent Jeremy Hunt and May. He said that the party will "deliver Brexit, reunite the country and defeat" the leader of the opposition Labour Party Jeremy Corbyn.
"That's what we are going to do," Johnson said. "We know that we can do it, the people in our country know that we can do it, and I know that we will do it."
Johnson and Hunt were the last people standing in the leadership battle that had initially involved 10 hopefuls and was ultimately decided in a postal vote open to the party's 160,000 members.
Johnson takes over as party leader immediately and will be sworn in as prime minister on Wednesday.
He was an outspoken critic of May and says he will take the UK out of the EU on Oct 31, with or without a deal with the political bloc.
Following the result, May congratulated Johnson and said he will have her "full support from the back benches".
"Many congratulations to Boris Johnson on being elected leader of the Conservatives-we now need to work together to deliver a Brexit that works for the whole UK and to keep Jeremy Corbyn out of government," she wrote on Twitter.
Brexit Party leader Nigel Farage wrote on social media: "I wish Boris Johnson well as Prime Minister with his do or die pledge to deliver Brexit on Oct 31. Does he have the courage to deliver?"