China's electric car charging draws worldwide competition
Share - WeChat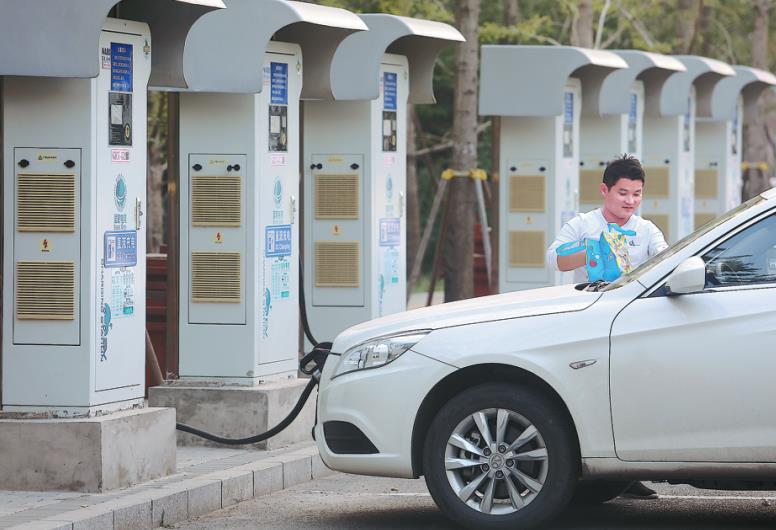 European giants BP and Royal Dutch Shell among entrants
As the largest new energy vehicle market worldwide, China is seen as a pivotal potential market for the electric vehicle charging infrastructure, leading an array of businesses to swarm into the country's charging industry.
According to the China Association of Automobile Manufacturers, at least 1.6 million new energy vehicles are expected to be sold in China this year, up from 1.2 million in 2018.
It indicates an attractive charging market valued at more than 100 billion yuan ($14.55 billion). By 2020, the demand scale of China's electric vehicle charging industry will reach 184.7 billion yuan, according to a report from cnautonews.com citing a third-party industrial research institute.
The industry with its huge market potential has lured a group of businesses from diverse industries, among which is the country's ride-sharing company Didi Chuxing Technology.
Joining hands with Hainan Province Transport Investment Holding Co and China Southern Power Grid in early July, Didi is poised to start the construction of the electric vehicle charging infrastructure.
By founding a joint venture company with the other two parties, Didi is also scheduled to develop its new energy vehicle sales and leasing business, aiming to forge itself into a comprehensive service provider of new energy vehicles.
According to the three-party cooperation agreement, each party will make use of their advantages to provide support for the joint venture, especially in terms of construction land, construction and maintenance of charging piles and distribution of electric cars.
Didi has its inherent advantage in competing in the electric vehicle charging market, said industry insiders, as it has its own new energy fleet.
The company's website shows that more than 600,000 electric vehicles have been registered on its car-sharing app.
Meanwhile, it stands to reason that automakers have an advantage in constructing the electric vehicle charging infrastructure.
As early as 2014 when Tesla first came to China, the California-based electric car giant was set to establish its own charging stations. In March this year, Tesla proposed its latest charging scheme, the V3 super charging pile, which will help improve the charging efficiency. Charging time is also expected to be reduced by 50 percent, according to cnautonews.com.
SAIC Motor unveiled its charging service in 2015. With an initial investment of 20 billion yuan, the automaker is set to establish a total of 660,000 charging piles across China by 2020.
As the leading new energy car startups in China, Nio and Xpeng are also pioneers in the electric vehicle charging industry.
Nio is engaged in offering quick charging and battery change services, while Xpeng is dedicated to establishing its own charging piles, serving not only Xpeng's electric cars, but also the cars of other brands.
In May, German auto giant Volkswagen joined hands with Chinese automakers FAW and JAC Motors to launch a joint venture, the main business of which covers the development, design, production and sales of electric vehicle charging piles.
With the electrification of the automobile industry, energy giants are prompted to make some changes in their business scope, avoiding falling behind in the evolving market.
In 2010, an electric vehicle industry alliance was established among 16 central enterprises, including China Petroleum and Chemical Corporation, also known as Sinopec, China National Petroleum Corporation, China National Offshore Oil Corporation, FAW and Changan Auto.
In 2015, Sinopec collaborated with BAIC Motor to construct charging stations and battery change stations for electric vehicles in Beijing. The first 10 stations have been put into service since the end of 2016.
Some international energy companies like Royal Dutch Shell and British heavyweight BP are also developing electric vehicle charging business in China, putting competitive pressure on Chinese companies. Royal Dutch Shell launched its first charging station in Tianjin, China last year, which features one-stop service for both charging and refueling.
The two multinational oil giants are set to reserve enough space for charging equipment at their following new gas stations in China, which will also be equipped with sufficient electric capacity and distribution facilities.
Internet technology companies always have sharp market sense in multiple industries. When it comes to the electric vehicle charging industry, there is no exception.
Chinese tech giant Alibaba Group has launched a mini-program named after the Ant Charging on its Alipay, a world-leading payment service provider. Collaborating with some 10 charging pile service suppliers, Ant Charging has integrated more than 70 percent of the country's public charging piles, according to cnautonews.com.
Electric car drivers can find the locations of the charging piles through the mini-program, and are allowed to pay for the charging service with Alipay directly, which is expected to make the experience of driving electric cars more pleasurable.
However, there are also some verdant participants diving into the electric vehicle charging industry, such as the internet company The9 and the real estate company Evergrande Group.
In May, The9 unveiled its cooperation with an electric car charging facility supplier. The two parties are poised to establish 10 to 20 medium- and large-sized charging stations in one or two cities in China this year, and 30 to 50 in three to five cities nationwide next year.
After acquiring power battery and hub motor suppliers, the Evergrande Group has even set up an charging technology company.
The crossover cooperation indicates the charging infrastructure's role in promoting the electric vehicle industry.
Some participants may know little about the industry, but many want to seize development opportunities at the very start, insiders say.