All things connected: technology helps Chinese live smarter
Share - WeChat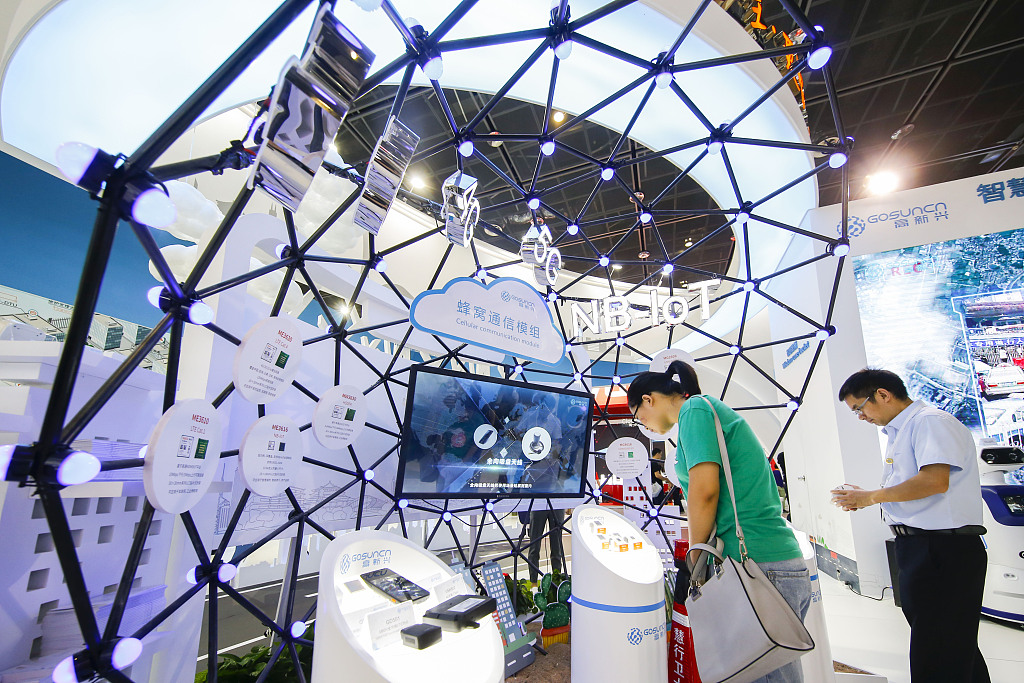 NANCHANG - A mattress that can monitor one's heart rate and alert others of emergencies, a mirror that doubles as a digital control center of a home and a wearable sensor capable of telling how focused one's mind is are all made possible by using the Internet of Things (IoT) technology.
These devices are only a sample of the mind-blowing products showcased at an international mobile IoT expo opened Thursday in East China's Jiangxi province.
The expo brought together top industry experts and representatives from leading tech firms such as Huawei and ZTE, who will discuss the latest development of the technology, its applications as well as ways to protect data security.
Jiangxi is a national-level testing ground to develop the new generation of mobile IoT and explore its applications. Many local enterprises have launched digital transformation and carried out IoT technology pilot programs to enhance innovation and realize mass customization at a lower cost.
The expo came after China granted its first 5G licenses for commercial use to a broadcasting network and the country's top three telecom operators last month, a major move expected to help boost the development of IoT.
"With advantages of low latency, high reliability and wide bandwidth, the 5G wireless technology will help explore new possibilities of the IoT," Wu Hequan, an academician with the Chinese Academy of Engineering and president of the Internet Society of China, said in a keynote speech at the expo.
Areas such as the Industry IoT, the Internet of Vehicles (IoV), virtual reality (VR), and distant medical care are likely to benefit the most from the commercial use of 5G, said Wu.
Leading IoT Market
After buying a new water purifier in February this year, Li Zhongming, a resident in the southwestern Chinese city of Chengdu, has developed a habit of checking the water quality on his smartphone before turning on the tap.
Equipped with eight sensors, the purifier can monitor the quality of water and send the data in real time to Li's smartphone through a mobile network.
"I used to check the water quality by tasting it. Now I rely on data, which offers me greater reassurance," said Li.
The water purifier, which uses IoT technology, was developed by Jiangxi-based Wat Tech. The company has sold more than 150,000 such machines to households in over 40 Chinese cities.
China is realizing the value of the IoT and transforming society through the deployment of smart home, smart industry and smart city solutions. By delivering real-time information, IoT products are making cities smarter and lives of the Chinese more convenient and efficient.
According to the Global System for Mobile Communications Alliance (GSMA), an association of global mobile network operators, China is the world's largest IoT market with some 960 million devices connected via cellular networks, accounting for 64 percent of global cellular connections.
"Backed by the government, China is now at the forefront of the development and deployment of IoT solutions based on mobile IoT technology," said Alex Sinclair, chief technology officer of GSMA.
In 2018, the revenue of China IoT business rose around 73 percent year-on-year, according to a report from the Ministry of Industry and Information Technology (MIIT). The fast growth is due to a rise in the use of smartphones, widespread usage of the internet, cost reduction, infrastructural advantage and supply and demand drive, said the report.
The country's three major telecom service operators -- China Telecom, China Mobile and China Unicom -- saw their IoT users increase by 400 million in 2018, bringing the total number of to 671 million at the end of last year.
Global participation
China's huge market potential in the IoT industry and its strong willingness and drive for innovation have attracted global firms to set up IoT labs in the country.
In February, Global management consulting firm McKinsey opened its Industrial IoT hub in Beijing to help local firms drive digital transformation.
The new center has selected 120 firms from a pool of 1,000 as its partners and developed 56 digital solutions to help companies integrate into digital transformation.
Wang Ping, a partner at McKinsey, said China has a world-class manufacturing ecosystem and a great talent pool, which will undergo a digital transformation to bring about greater productivity and creativity.
Digital transformation covers product design, supply chain and inventory management and management models, said Wang.
Months later, US tech giant Microsoft launched its new artificial intelligence (AI) and IoT Insider Lab in Shanghai.
The lab was set to enhance the deep integration of AI and IoT and help digital transformation across industries including manufacturing, retail, healthcare and the public sector.
"China has the world's largest IoT market. The AI and IoT industry have great potential in China," said Roan Kang, vice-president of Microsoft China, adding that Microsoft would provide the most comprehensive AI and IoT platform, products and solutions.
The lab will work with local enterprises and multinational companies to build prototypes through production, conduct technical training, provide a go-to market advisory and deployment and scalability guidance, the company said.