Opening-up spurs upgrading of economy
Share - WeChat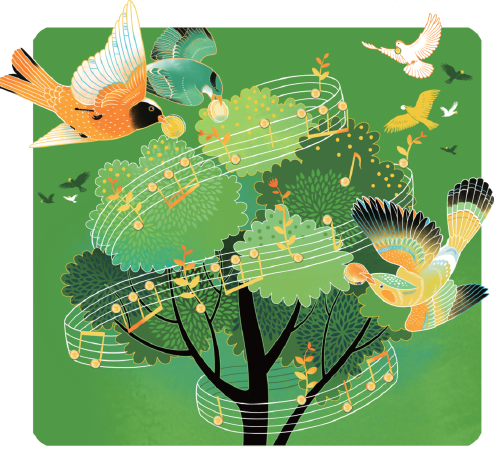 In his famous book The Rise and Decline of Nations, Mancur Olson, the late economics professor at the University of Maryland, argued that if societies don't continuously evolve their economic structures, then they will become stagnant and innovation will stop.
Industry groups will try to use protectionist policy to protect their position, thus hurting economic growth and leading to national decline, he said.
Opening up to foreign competition is an essential step toward preventing this ossification. Many historical examples show that a nation that tries to protect its industry from competition just ends up with inefficient industries and a left-behind economy.
For 40 years, China's reform and opening-up process has improved economic efficiency and upgrading by iteratively reforming economic and legal structures.
China has been able to maintain high economic growth for a very long period through this process of continuous institutional innovation. This gradual process of continuous reform while institutions are built has proven much more successful than the "shock therapy" implemented by Russia, Poland and others in the 1990s.
In the last few months, many additional reforms aimed at further opening up the Chinese economy to foreign firms and supporting the private sector have been announced. These reforms are coincidentally consistent with some of the requests by the United States in the trade negotiations.
But, they are being made for the long-term benefit of the Chinese economy. They are a natural continuation of the long trajectory of economic reform.
Key reforms have been in four areas: allowing 100-percent foreign ownership of investments in areas of the economy not explicitly excluded by a negative list, increased protection of intellectual property rights, opening up China's financial markets to foreign competition, and promoting the health of the private sector.
Wider access to foreign investors
At the recent G20 summit in Osaka, Japan, President Xi Jinping announced that China will release an updated negative list, which will further open up the agriculture, mining, manufacturing, and service sectors to foreign investment and foreign competition.
A negative list allows foreign investment except in areas where it is explicitly prohibited. So, foreign companies can now consult the list to determine what kinds of investments are allowed.
In June, the National Development and Reform Commission announced that by the end of this year, China will lift all barriers to foreign investment not included on the negative list.
In sectors ranging from automobiles to movie theaters to finance, China is also removing the requirement that foreign investors have to form a joint venture with a Chinese partner.
We are already starting to see examples. The new Tesla plant under construction in Shanghai will be the first wholly foreign-owned automobile plant in China producing for the Chinese market. ExxonMobil and BASF are establishing wholly owned petrochemical plants in South China's Guangdong province. And, foreign banks and financial firms will be allowed to create wholly owned subsidiaries in China.
Tariffs are also being cut. For example, starting July 1, the 20-to 25-percent tariffs for imported vehicles were cut to 15 percent and the duties on auto parts were lowered to 6 percent from the previous levels of 8 to 25 percent.
At the recent Summer Davos meetings in Dalian, Liaoning province, Premier Li Keqiang said: "China's guiding principle is clear: We will keep to reform and opening-up, and foster a world-class, market-oriented business environment governed by a sound legal framework."
He further said that these steps will "more effectively protect the rights and interests of foreign investors". The new Foreign Investment Law says that equality has been made one of the top priorities, as it emphasizes that foreign and domestic companies will be "treated as equals".
IPR protection
China is a highly competitive economy. In the past, some sectors have been a "wild west" where Chinese firms did not hesitate to copy each other or foreigners. But, as China has developed its own technology and moved up the value chain, protecting intellectual property rights has become a high priority for the government.
At the China Development Forum in March, Vice-Premier Han Zheng emphasized: "We will step up our efforts for IPR protection as well as law enforcement in various aspects, and establish a system of punitive punishment for IPR infringement to significantly raise the cost of violating the law."
And, President Xi announced that China will strengthen intellectual property rights protection in his April speech to the second Belt and Road Forum for International Cooperation.
Also, the removal of the requirement that foreign companies enter into joint ventures should alleviate any fears about mandatory technology transfers.
Financial market reforms
Reform of the financial sector is moving especially rapidly. China will allow full foreign ownership of securities firms, futures businesses and life insurance companies by 2020, a year earlier than was scheduled, Premier Li Keqiang told the Summer Davos Forum. Foreign institutions will be offered treatment equal to that of domestic companies in credit references, credit ratings and payments, he said.
Li emphasized that this reform is part of a broader push to force domestic firms to upgrade as they face foreign competition. "Further opening to foreign investors, we are not just providing them with opportunities to enter the Chinese market. We are also providing opportunities for the financial sector to upgrade and to improve its quality on a level playing field," Li said.
Measures to boost private sector
The Chinese government has also recently announced measures to improve the availability of credit for the private sector and reduce taxes on it.
In a discussion with foreign CEOs at the Summer Davos meeting, Li noted that small and medium-sized companies and private enterprises provide over 80 percent of employment in urban areas and 60 percent of GDP.
He also said that at the beginning of this year, China had introduced 200 billion yuan ($29 billion) of annual tax cuts aimed at improving the environment for SMEs. The government also introduced a series of measures for further tax and fee cuts in May, amounting to 1.7 trillion yuan for the whole year.
A month earlier, the government announced financial reforms designed to increase the availability of loans and cut interest rates to SMEs. Li said at Summer Davos that the government will work to cut financing costs for SMEs, which generally are higher than that for large companies, by 1 percentage point this year.
So, by the end of May, the balance of loans for small and microsized enterprises with a total credit line of up to 10 million yuan for each borrower increased by 21 percent year-on-year to 10.3 trillion yuan, according to the People's Bank of China, the central bank.
Li said tax and fee cuts are a crucial measure to motivate enterprises, which can reinvest the savings into technological innovation and stabilize employment. More measures will be taken to improve the business environment and boost investment and consumption.
Any of these steps would be a major reform. Taken together, they are a big move in the process of using both domestic and foreign competition to push upgrading of the Chinese economy.