Xiao Guan Tea aims to expand its aroma
Share - WeChat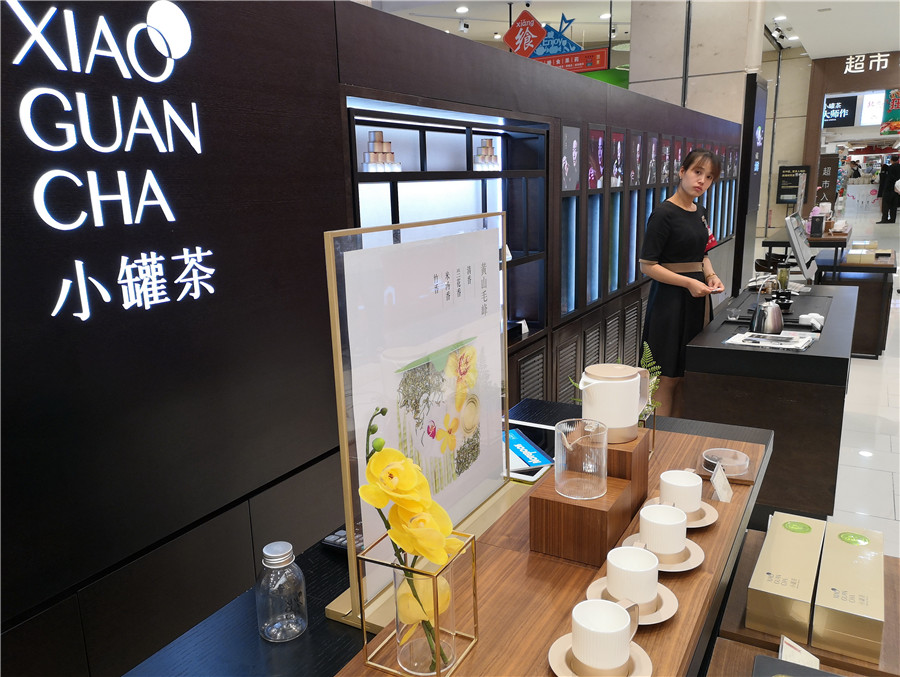 Xiao Guan Tea, which is known for offering a luxurious aluminum small-sized container to keep tea leaves for each single brew, has recently rolled out new lines of large-sized packages for multiple brewing, as part of efforts to diversify its product range and expand customer reach.
The tea maker has expanded the size of each package to 40 to 50 grams, featuring six types of teas including Long Jing and Pu'er, at a more affordable price of 150 yuan ($21.84) per package.
In comparison, its high-end product is designed at 4 grams for each brew at 50 yuan.
"The design of the bigger package is intended to offer convenience to people who have a habit of tea drinking on a daily basis at an average price and standard quality," said Mei Jiang, general manager of marketing center of Xiao Guan Tea, at the launch event on Wednesday in Beijing.
Mei said, unlike coffee, in tea selection and purchase, it is harder for consumers to tell which tea is good due to the lack of industrial standards.
The Beijing-based company has spent two years building up standards in the tea industry, from planting, harvesting, manufacturing and monitoring to control the consistent quality of each package of products.
Adopting materials and techniques from formula milk, the new package means the tea leaves will last longer in terms of taste and flavor once it has been opened, said Mei.
He added that the company is also developing colorful and fashionable wrapping for younger consumers later this year, or even tea bag products similar to Lipton tea under Unilever.
The average age of consumers buying Xiao Guan Tea online is between 18 and 35, lower than the average age of consumers of traditional tea products, Mei said.
Xiao Guan Tea's customer base is mostly female and 70 percent are under 40.
Launched in 2012, the tea maker, which focuses on a luxury retail experience at high-end shopping centers, has expanded quickly to more than 600 franchise stores and is available at 5,000 other retail stores in the country.
Its e-commerce distribution has expanded to Tmall and JD. In 2018, Xiao Guan Tea's retail sales reached 2 billion yuan, ranking as the No 1 tea brand in the country. This year, the growth is expected to be 10 to 20 percent, said Mei.
Its investment on research and development is more than 30 million yuan.
One out of five products are sold online. Its 1.5 billion yuan manufacturing plant at Huangshan Mountain is expected to go into production this year.
Zhu Danpeng, a food and beverage analyst, said the company is going to build more brands, distribution channels, consumers and retail scenarios to enhance its brand awareness and increase customer reach.