Trump rebukes British ambassador over leaked memos
Share - WeChat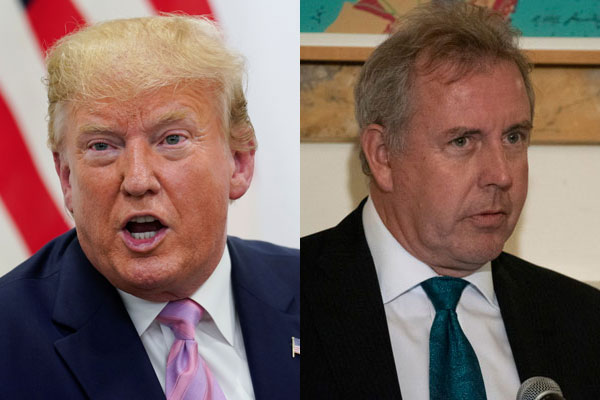 WASHINGTON -- US President Donald Trump on Monday criticized the British ambassador to the United States, claiming that the United States "will no longer deal with him," an attack coming days after the diplomat described the Trump administration as "dysfunctional."
"I do not know the Ambassador, but he is not liked or well thought of within the US We will no longer deal with him," said Trump in a tweet on Monday afternoon, referring to Kim Darroch, whose confidential assessment on the Trump administration was published by the Mail on Sunday.
The US president also voiced dissatisfaction about outgoing British Prime Minister Theresa May and her handling of Brexit. "I have been very critical about the way the UK and Prime Minister Theresa May handled Brexit. What a mess she and her representatives have created. I told her how it should be done, but she decided to go another way," he tweeted.
Darroch is one of Britain's most experienced diplomats whose posting in Washington began in January 2016, prior to Trump winning the presidency.
Darroch had said Trump's presidency could "crash and burn" and "end in disgrace," according to a cache of secret cables and briefing notes sent back to Britain and seen by the Mail.
"We don't really believe this administration is going to become substantially more normal; less dysfunctional; less unpredictable; less faction riven; less diplomatically clumsy and inept," Darroch wrote in one memo, according to the newspaper.
Britain's Foreign Office did not dispute the veracity of the memos, while the British government has launched an inquiry to investigate the leak of sensitive memos, covering a period beginning in 2017.