India facing worst water shortage
Share - WeChat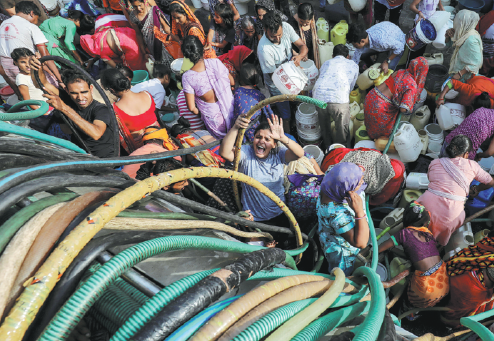 40 percent of its population may have no access to drinking water by 2030
Chennai is often called the "Detroit of India" as it is home to some of the world's top automobile brands. It is also famous for topnotch schools and hospitals, and the Marina Beach.
But the capital of India's southern province of Tamil Nadu is now making headlines for virtually running out of water, while the administration races to address the situation.
Its decision to spend $9.8 million to ferry tanks full of "drinkable water" by train from Vellore, a city 140 kilometers away, reflects the gravity of the situation.
In Chennai, a city of 9 million people, an estimated 20,000 employees have been asked to operate from home, while subway stations are operating without air conditioning to save 7,000 liters of water needed to run their air conditioning cooling plants.
Many small hotels and restaurants have shuttered, and automakers like Hyundai Motor have advised customers to "dry wash" cars.
Such reactive measures add to experts' concerns in light of a report, Composite Water Management Index - a Tool for Water Management, prepared by NITI Aayog, the premier policy think tank of the national government. The report said India is suffering from the worst water crisis in its history.
The report speculated that by 2020, as many as 21 Indian cities could run out of groundwater; and by 2030, 40 percent of the country's population may have no access to drinking water.
Unless urgent measures are taken, more than 100 million people will be affected, and India could suffer a 6 percent loss in its GDP by 2050, the report said.
"Things are ominous, not just in Chennai, but in other parts of the country as well, including Delhi," said Prasun Dutta, a senior commercial business leader in the power sector.
In many parts of the national capital, the supply of water is low. "Scores of people are seen walking several kilometers to fetch water," Dutta said.
Aditi Mukherji, principal researcher of the International Water Management Institute, cited UNICEF and World Health Organization as estimating that more than 2 billion people worldwide are subject to water scarcity, while 844 million people have no access to safe drinking water.
"What is alarming is the unchecked use of groundwater in rural India," Mukherji said. "In as many as 30 percent of the blocks (subadministrative jurisdictions), groundwater extraction is much higher than recharge. This (has led) to steady water level declines for more than a decade in many parts of India, including Chennai," she said.