Discover China: Traditional opera attracts young audience with fashion
Share - WeChat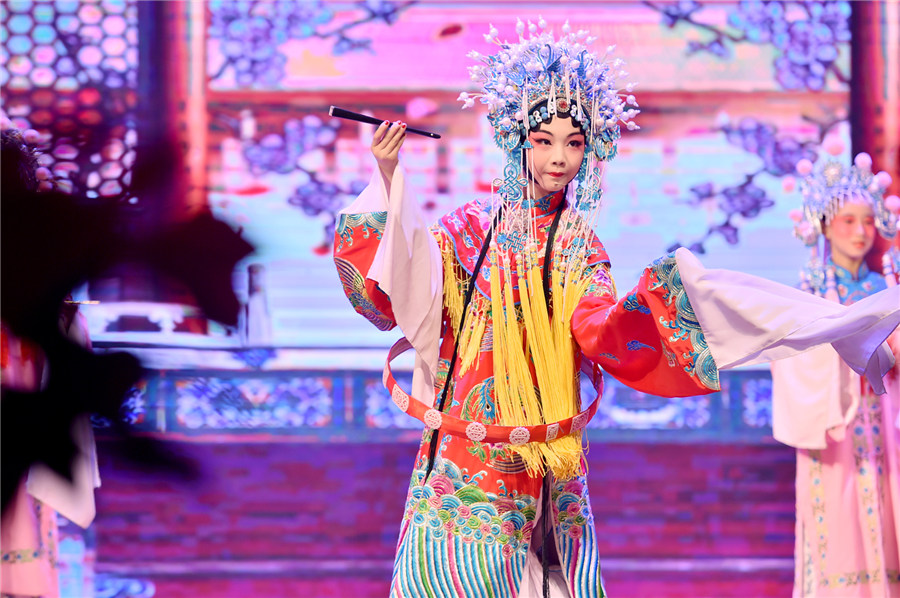 Using modern sound, light and digital stage effects, China's traditional Peking Opera is appealing to young people in a fashionable and innovative way, as the classic art faces an aging audience.
The centuries-old Tianleyuan Theater in the Qianmen area in downtown Beijing, has introduced fashionable performances of Peking Opera, or Jingju in Chinese, to promote the drama form. The opera, with a history of more than 200 years, combines instrumental music, vocal performance, mime, dance and acrobatics.
Tianleyuan reopened to the public on June 18, with a Jingju art experience section and fashionable performances. It has attracted more than 2,000 audiences members, mostly young people, according to theater staff.
Famous Jingju masters such as Mei Lanfang and Cheng Yanqiu had once performed in the theater, which was built for folk art shows in 1785. But in recent decades, the place was once used as a restaurant and a teahouse, and it even left unused for some time after its golden age in the early twentieth century.
"Good art should keep pace with the times, so does Jingju," said Zhang Zishang, a 22-year-old performer of "the Drunken Beauty," one of the classic Jingju plays performed in the theater.
"I feel today's performance is very special," Zhang said. She was born into a family of Jingju performers and has had 10 years of stage experience.
Besides the performances, the 5,000-square-meter theater has an area for people to experience the Jingju culture. People can learn about face painting, try on costumes and take pictures.
"Most young people show little interest in Jingju. The aging audience of the opera is really a big problem," said Deng Zhenning, a 62-year-old Jingju lover.
"Innovation is good, but we must also carry on the basic elements of Jingju," Deng said.
According to Su Rui, vice president of the Peking LUX Shine Culture Media, innovation is perhaps the best way for Jingju to deal with the problem of an aging audience. The company is in charge of the performances in the theater.
The company has made successful attempts to combine Jingju with local opera forms such as ballet when organizing performances abroad. "We integrate Jingju with local unique art elements, which is conducive to arouse resonance in the audience," Su said. She learned Jingju for 12 years and joined the company five years ago to focus on the innovation of Jingju and market development.
"Innovation can help traditional arts go further. We are happy to see many young faces, and some of them even come twice to experience the 'new' art," she added.
The theater also attracts foreigners.
Anna Ivanchenko, a Russian student who studies at a Beijing university, was fascinated by the story, costumes and special effects of the fashionable Jingju performance at the Tianleyuan Theater. She tried on an ancient costume and posed for photos.
"The Peking Opera is a window into Chinese culture. I expect to come again with my friends," she said.