Young talent needed to inherit puppet craft
Share - WeChat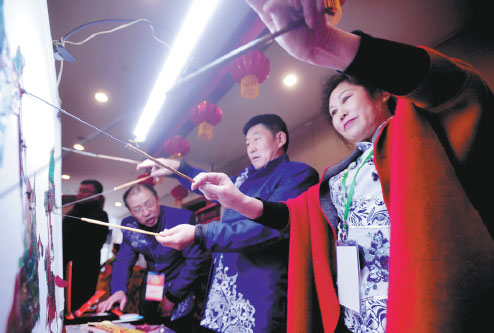 Master looks for apprentices to pass down art as current performers grow older
As the vibrant sound of string music and a powerful singing voice echo across the room, a strong young man beats a tiger to death.
This is a scene from the novel The Water Margin - one of the four great classical novels in Chinese literature - performed with shadow puppets by master Lin Shimin.
Coming from Gaizhou city in Northeast China's Liaoning province, Lin has been performing Gaizhou shadow puppetry for 41 years.
"Gaizhou shadow puppets have huge eyes, and you can tell if a puppet is a bad or a good guy simply from its appearance," said Lin, who is a fifth generation inheritor of the national-level intangible cultural heritage.
Currently, Lin is looking for young talent to inherit the art, but there is a shortage of young people willing to learn the traditional craft.
"Most performers in shadow puppetry troupes are above the age of 60," she said.
In China, shadow puppetry has a long history. Historical records from ancient China show that shadow puppet plays were first created by a Taoist during the Han Dynasty (206 BC-220 AD) to console Emperor Wu, who was heartbroken after losing one of his imperial concubines. The Taoist made an image of the concubine from stone and projected it in a tent with candlelight. The shadow looked so vivid that it helped the emperor overcome his grief.
Over the next 2,000 years, the stone figures were gradually replaced with cowhide ones, and the tents with curtains. Performers then added drum beats and Chinese opera as accompaniment to the movement of the figures, and thus shadow play was born.
Shadow play went through a hiatus during the "cultural revolution" (1966-76), but reemerged shortly after in the early 1980s, when the art was performed at marriage ceremonies, funerals and banquets in the rural areas.
However, Gaizhou shadow puppetry has a much shorter history. It originated in the late Ming Dynasty (1368-1644) and the early Qing Dynasty (1644-1911) and has unique local features. The music during the performance features a robust local singing style and a four-string musical instrument called sixianhu. The performers usually stand behind a curtain and control the puppets while singing lyrics using the local dialect and slang to depict historical stories, folklore or simply stories they make up.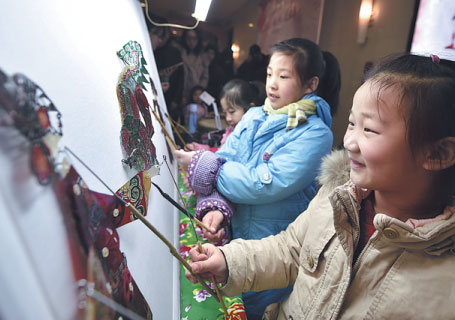 Lin started learning the art from master Wang Shengtai in 1978.
"My master taught me in the day, and I practiced repeatedly at night," she recalled. "When he was performing, I would stand behind the curtains and watch closely so I could learn the techniques."
Lin also focused on making the puppets and collecting stories for the performances. In her studio, there is a shelf filled with scripts, many of which have yellowed with age.
"These were scripts from my past performances, but they're still so precious," Lin said. "When we were performing, we would look at the scripts and sing or 'rap' while controlling the puppets."
On Lin's desk, there are many puppets' "heads" made of donkey hide, which she created through a complicated process of carving, painting and tinting.
"Carving is probably the most difficult," she said. "You have to be extremely careful when using your strength."
Every time she performs, Lin also brings her half-finished donkey-hide puppet, so that she can share with the audience how the puppets are made after each show. "I not only want to bring laughter to the viewers, but also share about the things 'behind-the-curtain'," she said.
Beginning in the late 1980s with films and television series gradually becoming major sources of entertainment, the popularity of shadow plays waned and many performers changed jobs. However, Lin stuck with the art. In 1993, she created a shadow puppetry troupe with the money she earned from performing. She also scouted for apprentices to train new talent.
Her experience of more than 40 years has made Lin an influential figure in the industry. Last year, she and her troupe performed more than 120 shows. Most of the shows were charity events for senior citizens and children.
"Hopefully through my performance, people will get to know the ancient art," she said.
Lin also said that the craft is in dire need of young people.
"The youngest performer in my troupe is 51 years old," she said. "I hope that more young people will join us so the heritage will be passed on through the generations."
Xinhua
Most Popular