Consumers wake up to sleep-aid products
Share - WeChat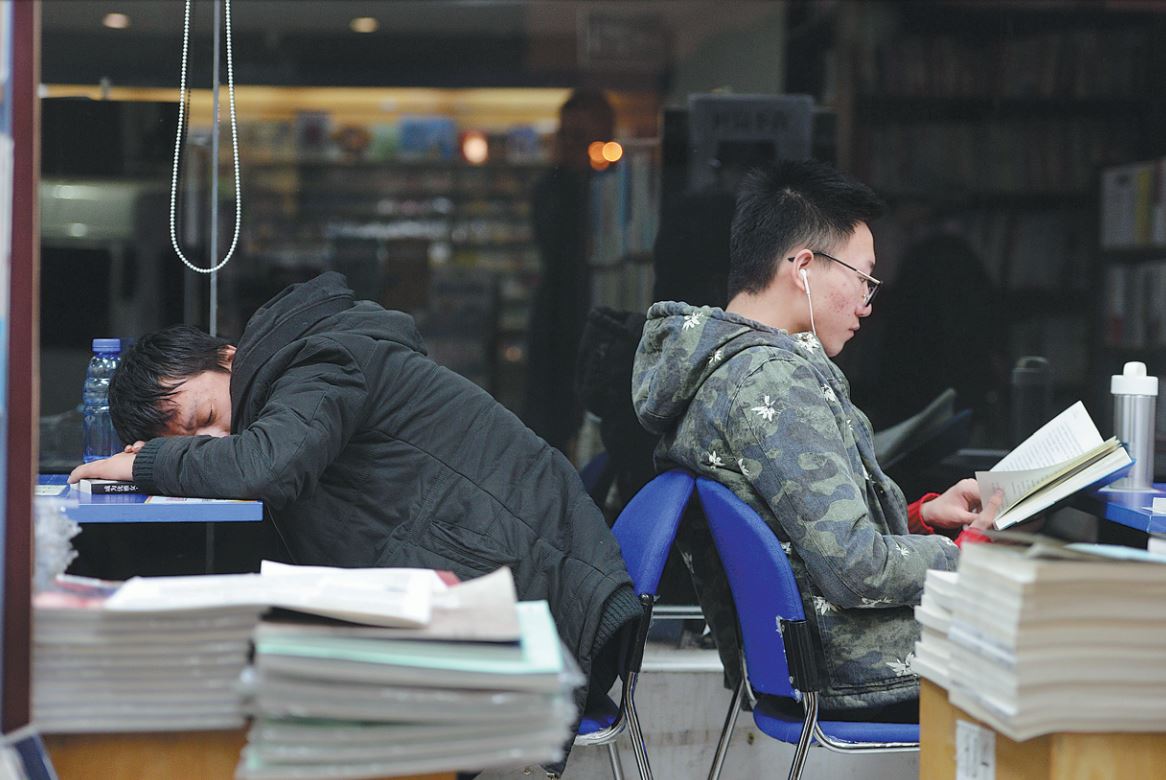 Market grows as people spend more to help them get a better night's rest
It's 2 am and Zhou Xin, a 29-year-old game developer in Beijing, is experiencing another sleepless night. She gets up, sprays a snooze-friendly fragrance on her pillow and takes two melatonin pills to help her sleep.
Zhou is among the 300 million Chinese people that suffer from sleep disorders. A recent report from the Chinese Sleep Research Society showed that currently, 24.6 percent of Chinese people suffer from sleep disorders, and the sleep quality of 94.1 percent of the public does not meet the healthy standard.
"Sleep disorders not only lower patients' quality of life and result in diseases, but also have an impact on the economy, such as transportation safety and industrial safety. It has now become a severe public health problem," the report said.
China's sleep-aid market is growing, as people are spending increasing amounts of money on products that can help them get a better night's rest. The average annual online sales revenue growth of snooze-friendly products - such as bedding, sleep-monitoring devices and supplements - has surpassed 10 percent, according to the latest report by Shanghai-based research firm CBNData.
The report said that apart from traditional products, consumers from major cities such as Beijing and Shanghai are more interested in new types of sleep aids, including melatonin, enzymes, sprays and smart devices.
And purchase behavior differs according to age. The report found that people aged over 40 are more likely to favor treatment-based remedies - such as natural foods and supplements - while those born in the 1980s want to optimize their sleeping environment, spending big on high-end mattresses, bedding and pillows. In addition, those born in the 1990s tend to buy products such as eye masks and sprays.
As noted in the CBNData report, people are buying sleep aids because they are becoming increasingly aware of their sleep problems. While Chinese people have 7.1 hours of sleep on average every day, 56 percent claim to have experienced vivid dreams, light sleep, and exhaustion and headaches upon waking up.
Fu Xi, operations director of the supplements department at Alibaba's subsidiary T-mall, said that in 2018, the sales revenue from sleep-aid supplements on its platform increased by 300 percent year-on-year, while the growth rate in 2017 surpassed 200 percent. "The consumer group is getting younger, and 60 percent of the consumers of certain supplement brands were born after 1985."
Zhang Bin, director and deputy secretary-general of the Chinese Sleep Research Society, conservatively estimated that China's current sleep-aid market has reached more than 100 billion yuan ($14.6 billion).
"The industry has shifted from the medical sector to ordinary families, and has realized long-term development. Sleep is fundamental to people's health, which is a good reason to pay attention to it. Although the industry got off to a slow start, it hasn't fallen behind in terms of mobile portals and smart terminal technology. With the advancement of technological innovation, the downstream industry will develop smoothly. In addition, wearable sleep detection equipment and remote intervention products will be popular in the future," he said.
Market insiders said that as the process of China's urbanization accelerates, high-quality sleep has become a must. The sleep-aid industry is a blue ocean of the health industry, and obtaining early market share gives companies an advantage, they said.
Sun Tao, director of the Zhonghe Yajiankang Service Center in Beijing, said that "in the past, the public attached little attention to sleep problems, and high-quality sleep has now become a luxury for many people. The sleep-aid industry has shifted from merely a medical concept to an industry combining sleep assessing equipment, bedding, physical treatment, sound intervention software and sleep courses. The industry has become an essential part of China's future health industry."
Promising as the future is, many problems still remain. Zhang said that currently there are physical stores such as sleep experience venues and shared sleeping cabins that have gained popularity, and the industry still has huge growth potential. However, as the industry emerged relatively late, and there has been rising public concern about sleep issues in recent years, the industry threshold is relatively low, and standards need to be improved.
He said that physical stores are a breakthrough point for the development of the industry, and superior ones will survive and inferior ones will disappear. In the current environment, which encourages entrepreneurship and innovation, startups are offered more opportunities, and they will boost the development of the industry.
"Operators of these physical sleep-aid stores should consider whether their ideas will be accepted by the public and whether they have an advantage in the market in order to establish a good business model.
"Snooze-friendly bedding has an innate advantage that it fits human feelings and hotels are a good promotion channel for it, where consumers are offered a better sleep environment. Market share is easy to seize this way," Zhang added.