Hit Japanese film 'Spirited Away' released on the mainland
Share - WeChat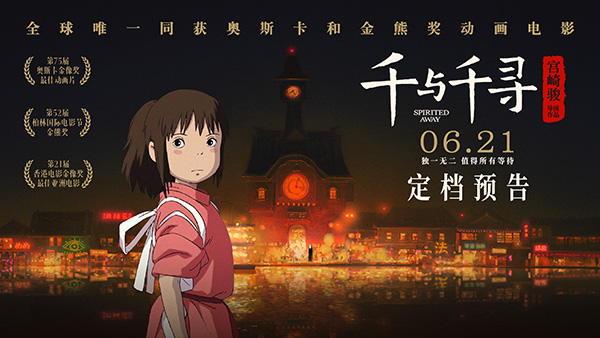 Japanese filmmaker Hayao Miyazaki's Oscar-winning anime film Spirited Away has just been released across Chinese mainland.
The movie came out in 2001, but it was not screened widely on mainland before.
Spirited Away, the all time highest-grossing film in Japan, has won a number of awards, including sharing the Golden Bear with Bloody Sunday at the 52nd Berlin Film Festival in 2002.
In addition to the original Japanese version, an all-star cast-dubbed Mandarin version has also been released.
A-list actress Zhou Dongyu, a best actress winner at Taiwan's Golden Horse awards, lends her voice to the 10-year-old protagonist Chihiro Ogino.
And there are four other celebrities who have done voiceovers for the film -- Jing Boran playing Haku; actor Peng Yuchang as No-Face; director Tian Zhuangzhuang as Kamaji and actress Wang Lin in two roles of Yubaba and Zeniba.
Test screenings for Spirited Away were done over June 15 and 17, and nearly 97 percent of the seats were sold out on June 15.