Chinese rose takes root in success story
Share - WeChat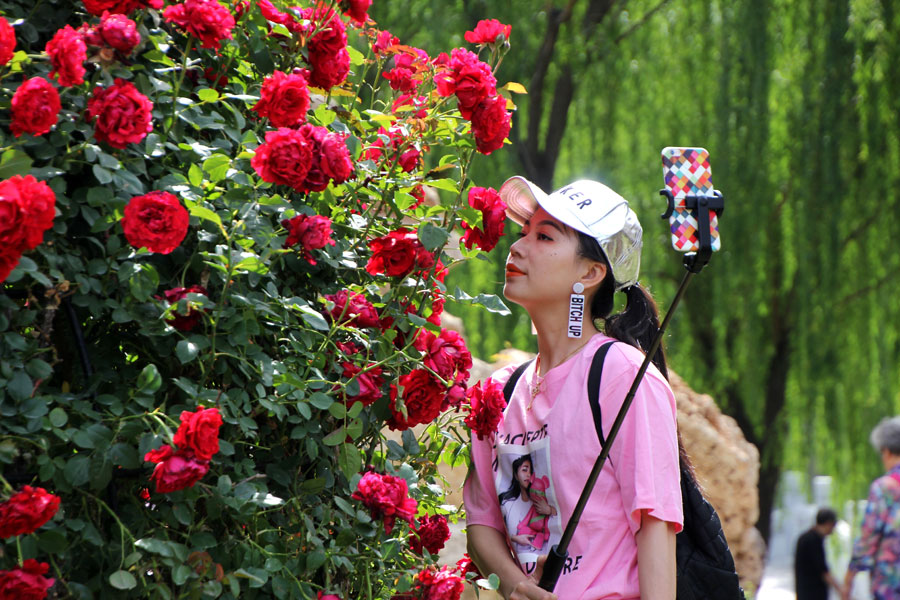 Plants blossom for more than 200 days a year
Chinese rose plants lining the roads always are a welcome sight for Ye Jiaxing, 32, when she returns from a business trip and takes a taxi home from Beijing Capital International Airport.

Like many Beijing natives, Ye feels deeply connected to the city, regardless of where she is, and the roses in full bloom always make her feel less tired and reassure her that she has arrived home.
Chinese roses, which bloom for more than 200 days a year, are easy to overlook. When spring arrives, they form a colorful sight, especially along Beijing's Third, Fourth and Fifth ring roads, and in other parts of the city.
The roses, in a variety of colors, are planted along 250 kilometers of the city's roads.
Zhao Shiwei, chief engineer of the Beijing Institute of Landscape Architecture, said planting Chinese roses along Beijing's ring roads began in 2003, when the city set out to improve street landscaping.
"These multicolored climbing roses, like vines, can also be seen on ring road medians," Zhao said.
In 1987, the Chinese rose was chosen as the flower to represent Beijing. Three years later, when the city began preparations for hosting the 1990 Asian Games - the first large-scale international sports event staged in the People's Republic of China - large quantities of floribunda roses were planted along the roads, according to Zhao.
However, these flowers, a type of Chinese rose with multiple heads and which bloom for a long time each year, are easily affected by the wind and vehicle exhaust emissions because the plants are relatively short and the flowers are near to the ground.
"After hundreds of experiments, we concluded that climbing roses were the best choice to plant along ring roads in Beijing," Zhao said.
These roses have been planted on stands on many road dividers along the city's ring roads.