CATL grows business into e-bike sector
Share - WeChat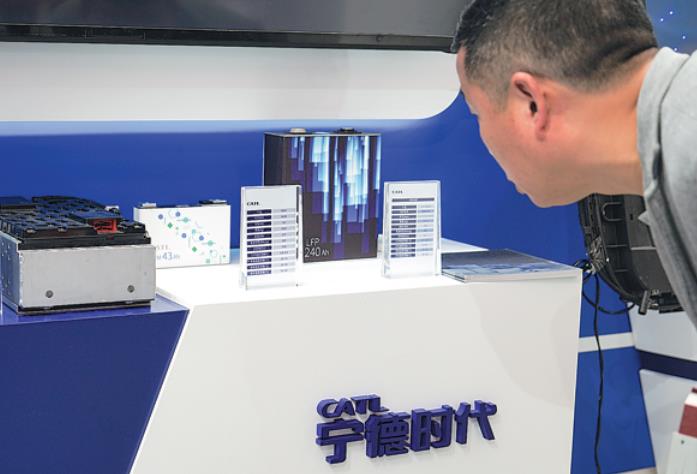 CATL, the world's largest power battery producer, has started to diversify its sources of revenue as rivals are quickly catching up and the new energy vehicle market has shown signs of slowing down.
According to a statement on Wednesday, CATL is teaming up with fintech firm Ant Financial Services and Alibaba-backed bike-sharing startup Hellobike to invest 1 billion yuan ($144.60 million) to establish an electric bicycle battery joint venture.
The joint venture plans to set up a network of storage units allowing riders to pick up charged batteries on the go.
"We've defined the battery-swapping service as a long-term, basic energy source for society, just like gas stations," said Hellobike's Chief Executive Yang Lei.
China now has over 250 million e-bikes, the three companies said in a statement.
The partnership shows CATL's eagerness to diversify its business as the car market has become sluggish.
Statistics from the China Association of Automobile Manufacturers show new energy vehicle sales in May stood at 100,400, a mere 1.8 percent growth year-on-year.
The growth rate was 18.1 percent in April and 85.4 percent in March.
Some analysts say the situation may continue to deteriorate for a while as China is cutting the subsidies and will stop the financial stimuli altogether by the end of 2020.
CATL, which held a 41 percent share of the Chinese market for power batteries in 2018, is seeing its profit growth rate fall as well.
Profits slowed from 1,609 percent in 2015 to 206 percent in 2016 to 36 percent in 2017. In 2018, the profit fell 7.7 percent year-on-year from 2017.
To making things worse, international battery makers are starting to make their foray into the world's largest new energy vehicle market.
LG Chem, the world's fourth largest battery maker, announced Thursday its plans to build a $188 million joint venture with Chinese carmaker Geely to produce and sell batteries for new energy vehicles.
Construction of the joint venture will kick off later this year.
When completed by the end of 2021, it is expected to have an annual production capacity of 10 GWh, and the batteries would be installed on Geely's vehicles from 2022.
Geely President and CEO An Conghui said this joint venture further strengthens the carmaker's position as a leader in new energy vehicles.
Geely has a joint venture with CATL as well, but Yale Zhang, managing director of Shanghai-based consulting firm Automotive Foresight, said the joint venture with LG Chem will prevent Geely's over-reliance on CATL and drive down battery costs as well.
The South Korean company said it would also pursue joint ventures with other carmakers.
"Through the joint venture, LG Chem has secured a stable structure to provide batteries for electric vehicles in the Chinese market," the company said in a statement.
Analysts said as soon as there are new and reasonable choices, it is inevitable that some of CATL's current customers will start to do business with other battery makers as well to prevent putting all their eggs in one basket.
Chinese battery makers are revving up their counterattack. BYD, which comes second only to CATL, is partnering with local carmakers, including Changan Auto, to build battery joint ventures.
According to the Economic Observer newspaper, BYD is planning to expand its annual production capacity to 60 GWh by 2020, surpassing CATL's 54 GWh capacity.
Analysts said CATL's lead will continue for a while to come, but it's clear the company will face more pressure than before and so it follows that the company expands its business into other sectors.
CATL is also exploring overseas opportunities.
According to Reuters, CATL will build its first European battery cell factory in Erfurt, Germany, starting production in 2021.