Young Chinese Artist builds her Xanadu Palace in Manhattan East Village
Share - WeChat In studio #135, 122CC, East Village, under a spring drizzle, artist Nandan Sam He's solo show "Xanadu Palace", curated by Zi Lin and Dandi Gu, opened to public.
A considerable crowd of viewers has been attracted to the site and found themselves wandering through the canvass maze with blowing wind, evoking a visit to a Mongolian yurt.
Xanadu was the palace in Karakorum burned down by Kublai Khan in 1277 as a gesture of victory in the civil war with his brother. The palace was where Kublai Khan was born and grew up, so the destruction should have been painful for him, but he never said anything about it for the historical record.
Artist Nandan Sam He and curators Zi Lin and Dandi Gu agree that Kublai Kahn's silence is the epitome of everyone's farewell to childhood and its memories.
Nandan Sam He treats her solo show "Xanadu Palace" as a fertile attempt to resurrect what's forever lost from childhood. "Home" leaves us in both dimensions of time and space. No matter where we grown up, it becomes a very different place from the one we were once familiar with. Thus we all become the exiled, the abandoned and the homeless.
For Nandan Sam He, this wandering and inability to return evoke her interest in the way that the Manhattan homeless build their night shelters with cardboard for sleep. She uses cardboard as her primary material and each of her works is a shelter, a physical simulation of our mental state as we wander away from childhood.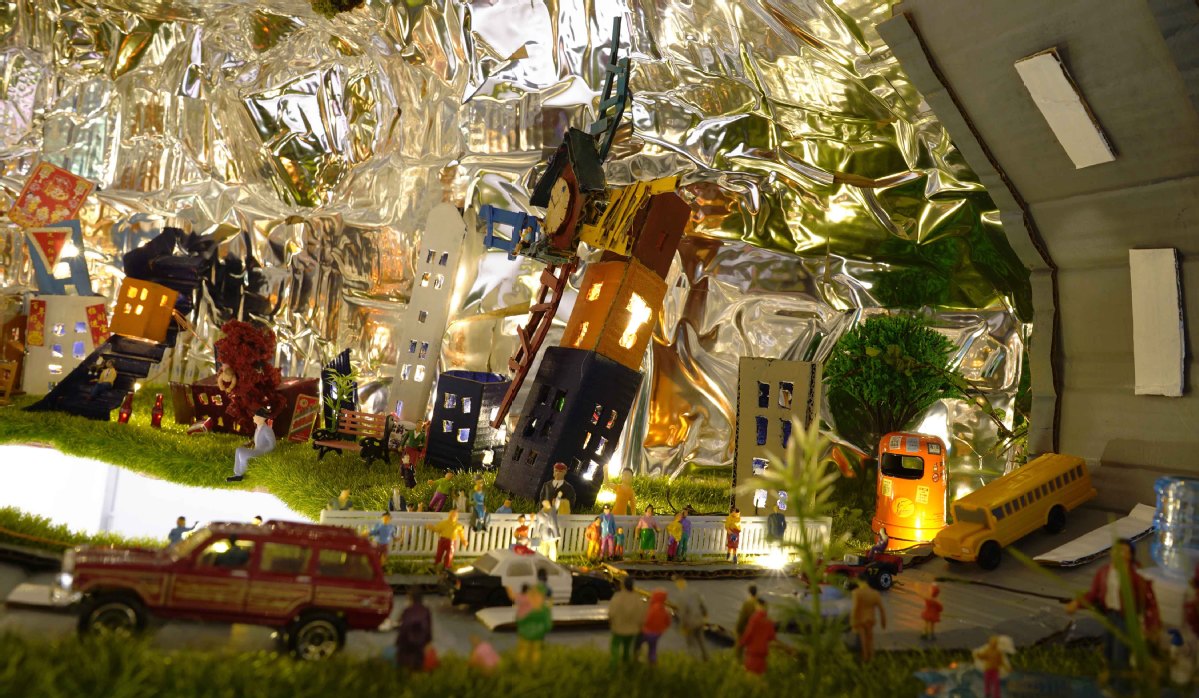 Nandan Sam He's art shortens the distance between the viewer and the homeland of their memories. By building miniature urban landscapes, these works transform viewers into giants. This shortening can also be a painful reminder that the viewers have become giants forever, remote towering observers, and no longer the childlike, imaginary inhabitants of the miniature cities.
Nandan Sam He was born in Guang Dong, China, in 1991. She is a multimedia artist whose work mainly shifts between interactive sculpture, and mixed media video/animation installation. By creating tension in a small space, her work gravitates toward an immersive voyage that explores the contemporary self and reveals an irrational order of a hyper-normalized social structure.
She earned an MFA from Mount Royal School of Interdisciplinary Art. Her work has been exhibited in Yui Gallery, New York; Novado Gallery, New Jersey; Elsewhere studio, Colorado; Institute of Contemporary Art, Baltimore; Maryland federation of art, Washington; Walter Otero Contemporary Art Gallery, San Juan, Puerto Rico, and elsewhere. She is the co-founder of Chameleon Gallery and now lives and works in New York.
Curator Zi Lin and Dandi Gu are a curatorial team based in New York under the name of Metropolitan Art Gallery Association, which is a non-profit focusing on curatorial events, art and cultural exchanges.
This article is sponsored by Metropolitan Art Gallery Association www.magany.org