Demand for AI virtual anchors set to increase
Share - WeChat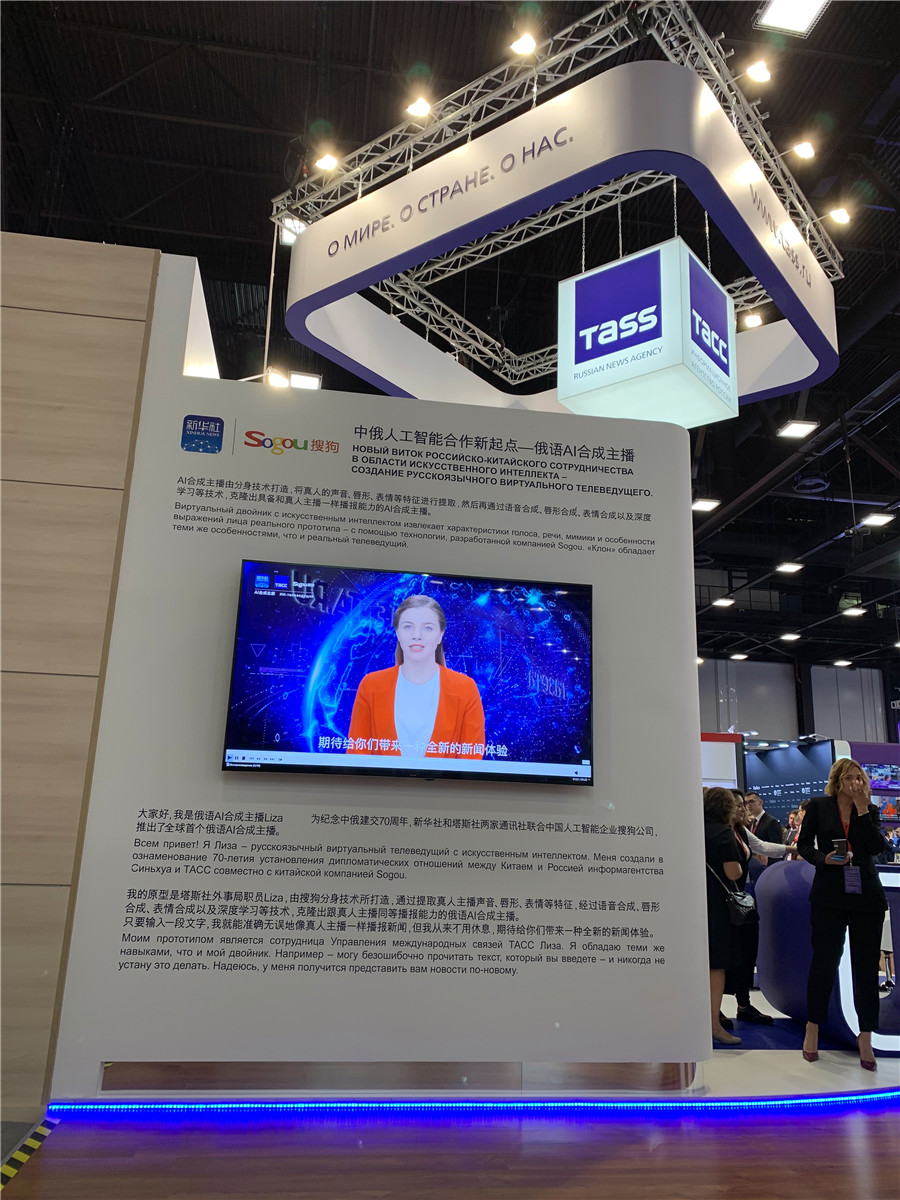 AI virtual anchors - the world's first virtual human hosts produced by Chinese tech company Sogou and Xinhua News Agency, will go into mass production with more vivid facial expressions and gestures, to deliver real-time broadcasts for media and audiences from home and abroad, according to Sogou.
Seven months after making their debut at the Fifth World Internet Conference in Wuzhen, Zhejiang province in November, the robotic avatars have already found new jobs at Abu Dhabi Media in the United Arab Emirates in May and Russian news agency ITAR-Tass in early June.
Just like their counterparts at Xinhua, they can broadcast news based on text inputs with the image of a human host. The appropriate mouth movements, pronunciation and intonations, and natural facial expressions make them almost indistinguishable from real people. The only difference is that they speak Arabic or Russian languages instead of Chinese, according to Wang Yanfeng, general manager of the voice interaction technique center of Sogou.
The new "employee" at Abu Dhabi Media will be ready to report news by the end of 2019 and report on Dubai World Expo in 2020, he said.
Omar bin Sultan Al Olama, the United Arab Emirates' minister of state for artificial intelligence, said the application of AI will bring significant changes to the local media industry and serve the national strategy to build a knowledge-based society and economy.
The world's first Russian-speaking AI news anchor was released at the 23rd St. Petersburg International Economic Forum, held from June 6 to 8, by Xinhua, ITAR-Tass and Sogou.
Elizaveta Zelenskaya, international relations expert at ITARTass, whose image and voice were used to create the AI anchor, said she read news and shot videos with diversified emotions - such as joy and sadness, according to a report by Cankaoxiaoxi, a Chinese newspaper.
"I have seen the AI anchor. It's much like me, only with a different makeup and hairstyle," she said.
Wang said: "The AI virtual anchors can largely improve the efficiency of media companies, because they can work 24/7. All you need to do is to input the text and video background."
According to Sogou, the two AI broadcasters - a male and a female - at Xinhua, by now, have produced more than 5,100 news bulletins with 13,000 minutes of work time. They have worked at major events in China, such as Spring Festival and the first China International Import Expo.
"AI hosts are just at the beginning stage. Most people think of it as something cool. Now they can only report news, but not TV programs, because they don't have rich emotions," he said.
Wang added the AI virtual anchors will not steal jobs from humans. "Just like virtual interpreters, the aim is to let AI quickly learn the skills of experts, whose number is often limited, and provide professional services to people in need."
The company is also talking with related authorities to introduce AI virtual anchors to county-level media in China where it is sometimes hard to find a top-level broadcaster, according to Wang.
The company is working on mass production of Sogou "avatars" in more fields, such as finance, medical care and education. More virtual images will be seen in posts like customer services, doctors and teachers.
Now it only takes a day to collect the video and audio resources of a human and create a vivid image based on videos no longer than a few hours.
AI anchors will also learn more facial expressions of humans and report news with emotions if needed by recognizing and reacting to key words in the text. The stress and rhythm of speech will be improved to make it more humanlike, he said.