Key achievements since SCO Qingdao summit
Share - WeChat Editor's Note: The 19th meeting of the Council of Heads of State of the Shanghai Cooperation Organization (SCO) will be held in the capital city of Kyrgyzstan, Bishkek, from June 13 to 14.
The SCO is a permanent intergovernmental international organization, the creation of which was announced in 2001 in Shanghai by Kazakhstan, China, Kyrgyzstan, Russia, Tajikistan and Uzbekistan. The organization has expanded its membership to eight countries with India and Pakistan joining as full members in 2017 at a summit in Kazakhstan.
The SCO's main goals are: promoting their effective cooperation in politics, trade, the economy, technology and culture; making joint efforts to maintain and ensure peace, security and stability in the region; and moving towards the establishment of a democratic, fair and rational new international political and economic order.
Let's review what has been achieved since last year's SCO Qingdao Summit.
Politics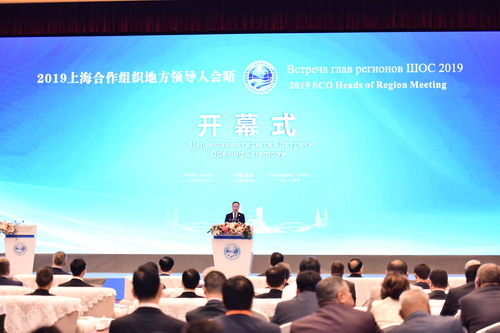 The 2019 Shanghai Cooperation Organization Heads of Region Meeting opened in southwest China's Chongqing on May 15, 2019.
Chinese delegates and more than 130 overseas delegates from member states of China, Kazakhstan, Kyrgyzstan, Russia, Tajikistan, Uzbekistan and Pakistan, and observer states of Afghanistan, Belarus, Iran, and Mongolia attended the meeting.
Sherali Saidamir Jonon, deputy secretary-general of the SCO Secretariat, said the meeting was expected to advance dialogue and deepen exchange between cities in commerce, trade, culture and tourism.
The theme of the meeting, sponsored by the Chongqing Municipal People's Government and the SCO Secretariat, was "Upholding Openness and Inclusiveness for New Opportunities of the SCO Regional Cooperation".