Miss Fresh eyes $14b in revenue by 2021
Share - WeChat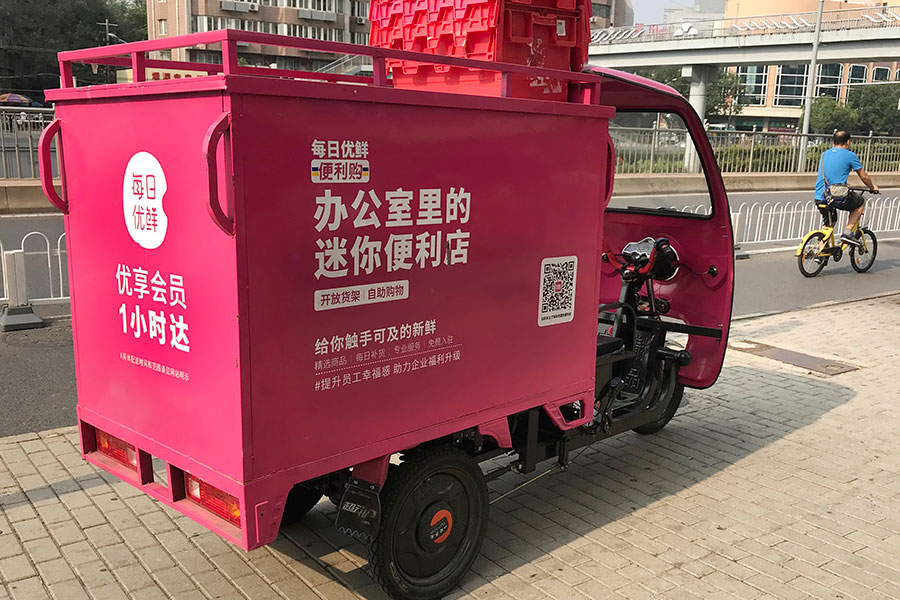 Chinese fresh food startup Miss Fresh announced on Thursday its plan to ring up 100 billion yuan ($14 billion) in revenue by 2021, making no secret of its desire to compete strongly against rival platforms backed by other major tech giants such as Alibaba Group's Hema Store and JD's Daojia.
Xu Zheng, founder and CEO of Miss Fresh, said the company is confident of gaining momentum over the next three years based on its 1,500 front-end warehouses in 20 cities across the country.
"One of our future priorities is to boost our front-end warehouse, which is vital in determining competitiveness for online fresh food platforms," Xu explained.
Xu said the company's front-end warehouses, which are located close to shoppers' communities and neighborhoods, would now be able to deliver 3,000 types of products such as fresh fruit, seafood, shampoo, tissue paper and fresh coffee within an hour.
Though he did not reveal their current sales revenue, industry insiders said the goal is big compared with its archrival Hema Store's 14 billion yuan of revenue in 2018 and will deal a blow to the nation's crowded fresh food segment where leading internet heavyweights have all entered the market.
Founded in 2014, Miss Fresh is a mobile e-commerce platform that offers online sales and delivery of fresh produce. It raised $450 million in September last year from investors including Tencent Holdings Ltd and US investment bank Goldman Sachs.
The move also marks an intensifying battle between two major Chinese tech conglomerates: Tencent and Alibaba.
Alibaba has invested heavily in its Hema store while Tencent is a major stake holder in Miss Fresh.
Tencent announced the same day its deepening partnership with Miss Fresh in smart retailing, in which Tencent will help to target more potential customers by leveraging its big data based on its all-in-one app WeChat.
Tian Jiangxue, deputy head of the smart retail division at Tencent, noted that over the past year-and-a-half, Tencent's Mini-Program has helped Miss Fresh to increase gross merchandise volume by four times and reduce costs by 30 percent.
Market consultancy ASKCI Consulting Co said the market size of the country's online fresh food industry hit over 210 billion yuan last year, up 49.93 percent year-on-year.
Miss Fresh, Hema Store and Dingdong Maicai topped all other fresh produce e-commerce platforms in terms of monthly-active users, gaining 6.81 million, 4.02 million and 818,000 users in the first quarter of this year respectively, statistics from TrustData showed.