Snacks continue to be on the upswing in Chinese market
Share - WeChat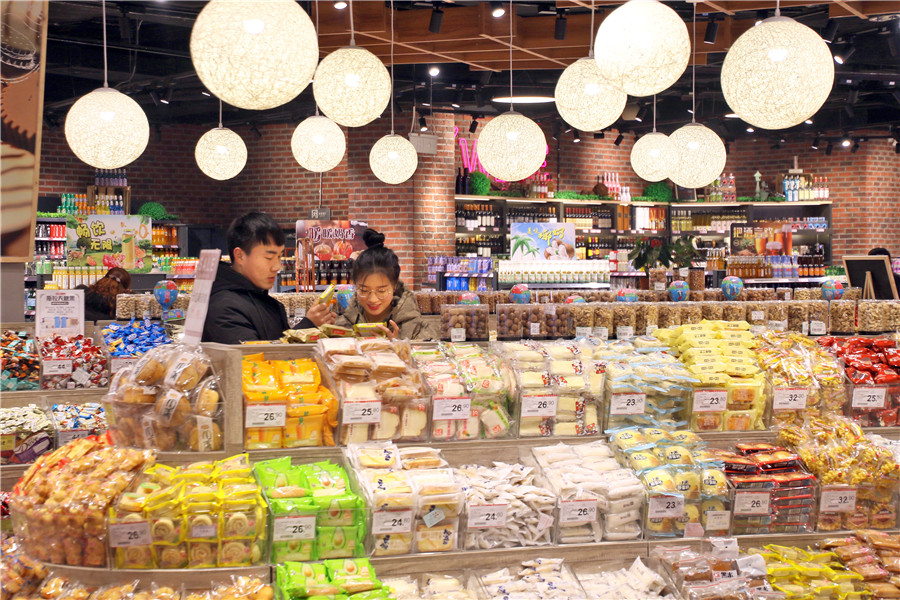 The snack industry is entering the fast growth lane in China, with the combination of consumption upgrades and new distribution channels set to create an industry with an estimated output value of 3 trillion yuan ($433 billion) in 2020, a new industry report said.
According to the Snack Report released by the Circulation Industry Promotion Center, an affiliate of the Ministry of Commerce, the snack industry has already reached an output value in excess of 2.2 trillion yuan in China.
The report shows that the snack industry grew from 424 billion yuan in 2006 to 2.2 trillion yuan in 2016, a growth rate of 422 percent.
The report shows that consumers love buying healthy and tasty snacks. Natural food, whole grain, sugar-free and additive-free have become key words when selecting snack foods. The major consumer group for snack foods is young people aged between 20 and 30.
The report also found that most snacks were produced in East and Central China, with most of the brands originating from Guangdong and Fujian provinces as well as Shanghai municipality.
For example, top snack producer Bestore, based in Wuhan, central China, has about 2,100 stores covering 13 provinces and 95 cities. Bestore owns 12 categories covering over 90 product lines and 1,200 products, including nuts, seafood snacks, meat snacks, roasted seeds, red jujube fruit, preserved plums and fruit and instant vegetable snacks.
According to Mintel Group, a market research company, China is also the largest consumer of salty snacks. Mintel estimated that the country consumed about 5.5 million tons of snacks, followed by 3.7 million tons in the United States and 1.3 million tons in India and 582,000 tons in Japan, and 557,000 in Mexico.
Mintel also found that China leads the innovations in the salty snack sector and had 11 percent of the total new salty snacks in the world in 2018. The US was ranked second at 8 percent, followed by India at 7 percent and Indonesia and Japan at 5 percent.
"China is leading the global snack industry's development," said Marcia Mogelonsky, director of insight for the Mintel Food and Beverage unit.
Innovations in flavors are the key driver for pushing the snack industry forward and Asian consumers are more interested in salty snacks. Mintel's research shows that nearly 50 percent of the urban consumers in China have developed an interest for exotic flavors such as salty and sweet snacks.
Amid fierce competition, brands have to develop products that are bold and surprising to stand out. Exploration into different flavors tends to make products more interesting, especially when bringing new and exotic elements to consumers, said Mogelonsky.
Developing high-end products is the key to the success of Bestore in the market, Yang Hongchun, founder and chairman of Bestore, said earlier this year.
For example, spicy lotus roots, a popular snack developed from a local Hubei province cuisine, have sourced lotus roots that are planted in water at a depth of 20 centimeters and use organic fertilizer.
E-commerce has enhanced the snack penetration in the country, with snacks taking up 30 percent of online food sales, according to the Snack Report by the Ministry of Commerce.
Three Squirrels, a seven-year-old snack producer founded in Wuhu city of Anhui province, has built its nut empire quickly by selling online. It was ranked the top food seller on Alibaba's Tmall for seven consecutive years and has since expanded offline to more than 100 retail stores and teamed up with about 380,000 offline convenience stores.
The company realized sales of more than 7 billion yuan last year and plans to get publicly listed on the Shenzhen Stock Exchange later this month.