Consumers complain as price of fruit soars to a five-year high
Share - WeChat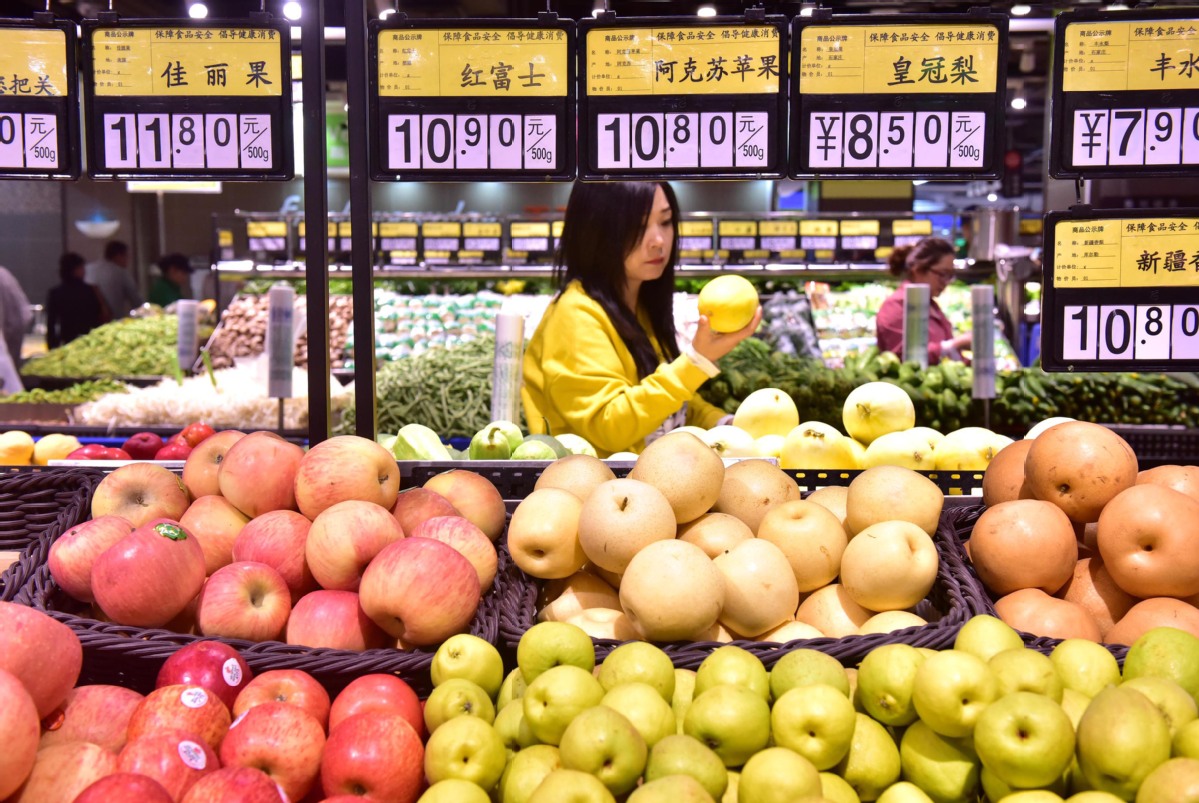 Changing lifestyles and crop failures have resulted in sharp rise in cost of year-round items. Zhang Yangfei reports.
In recent years, Chinese consumers have used the term "cherry freedom" to describe a person's ability to purchase expensive imported cherries without a second thought. Now, though, many are expressing concerns that they may be losing their total "fruit freedom" after sharp rises in the prices of many commonplace fruits, including apples, pears and peaches.
Many users of Weibo, a Twitterlike social media platform, said they were "shocked" by this year's "skyrocketing" fruit prices, and were worried that they would no longer be able to afford the commodity. Some said the rising cost had made them reluctant to peel fruit, as they didn't want to waste even the smallest part.
According to the Ministry of Agriculture and Rural Affairs, the average price of seven common fruits-Fuji apples, Kyoho grapes, pears, pineapples, bananas, watermelons and tangerines-from May 20 to 26 was 7.93 yuan ($1.15) per kilogram, compared with 5.53 yuan during the same week last year.
The data also show that the price has risen by about 38 percent from the first week of the year.
Zhou Yiran, from Nanjing, Jiangsu province, said she felt "angry" that grapes now cost about 20 yuan a box. "I buy grapes at least two to three times a week. They are a 'life necessity' for me, so I had never actually paid attention to the exact price before. But a small box of grapes used to cost about 12 yuan, now it's closer to 20 yuan," she said.
Han Xu from Beijing said: "I paid 16.80 yuan for two peaches. I really doubt they were made by fairies in heaven."
A member of staff at Guoxiang Siyi, a chain fruit store in Beijing, said the price surge has mainly affected year-round items.
"The price of seasonal fruit, such as cherries, hasn't changed much-it's mainly the year-round ones, especially apples. For example, we used to sell lower-end apples at 10 yuan per 1.5 kilograms, but this year we are selling them for 7 yuan per 500 grams," she said.
In the store, Fuji apples from Yantai, Shandong province, are priced at 14.80 yuan per 500 grams, while Xinjiang Aksu sweetheart apples are 16.80 yuan and peaches from Chengdu, Sichuan province, are 17.80 yuan respectively for the same amount.
"Every kind of fruit is expensive this year. There were bad frosts last year and the yield was badly affected," said Zhang Yuanhua, a grower who owns an orchard in Beijing's Pinggu district.
Song Qinghui, an economist with Qinghui, a think tank in Shenzhen, Guangdong province, said the sharp rise in the price of apples is mainly due to a cold spell that hit northern areas of China at the end of October and severely damaged crop yields.
"It led to unbalanced supply and demand for apples," he said, adding that apple production in the west of the country fell by nearly 50 percent, and some areas of Shaanxi province, the country's top apple-growing region, saw production fall by 80 percent.