Xi and Putin build achievable future
Share - WeChat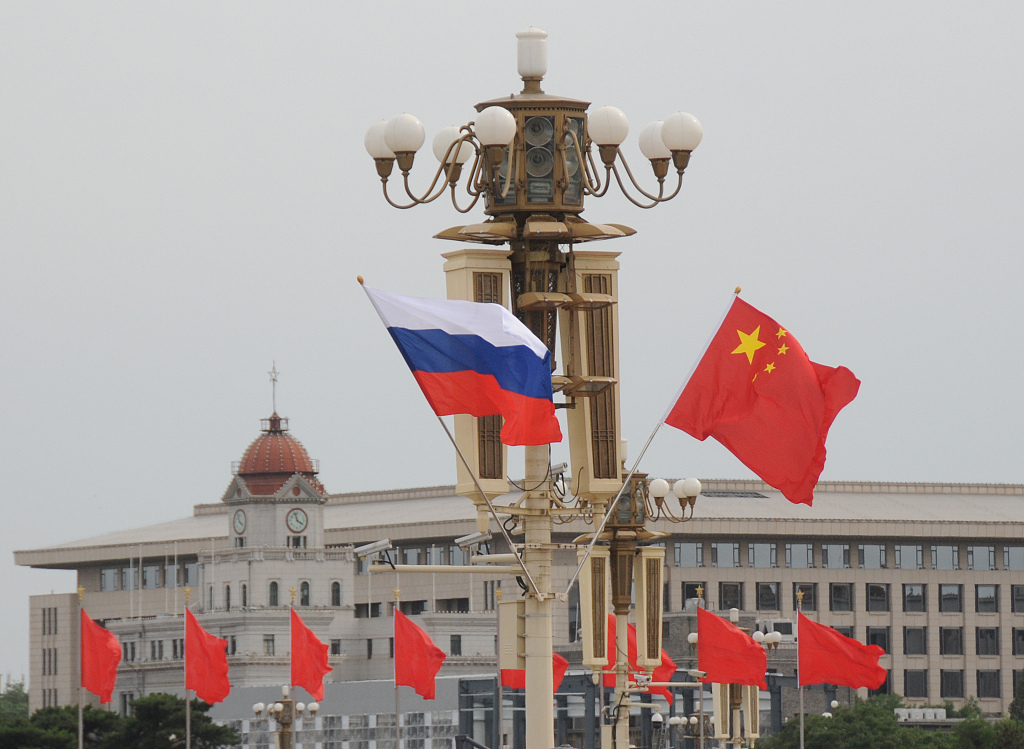 It is fascinating to contrast the serious, systematic and methodical deepening of ties between Moscow and Beijing achieved this past week between President Xi Jinping and Russian President Vladimir Putin in St. Petersburg with the sentimental and infantile posturing of Western leaders at their latest D-Day anniversary commemoration in Normandy, France.
The Western leaders desperately tried to ignore and paper over the ongoing disintegration of the European Union, with voters rejecting the arrogance of unrestrained free trade, open borders and liberal internationalism in the United Kingdom, Italy, Hungary and France while the province of Catalonia threatens to secede from Spain.
By contrast, Xi and Putin looked not to a romantic fantasy of the far past, but to building a solid, achievable future. They strengthened their already profound strategic friendship and cooperation-ludicrously ignored by the Western media and bizarrely denied even by most US and UK strategic "experts" who should know better.
Moving trade ties out of the dollar
The two leaders have also made solid progress toward moving their strong and rapidly growing trade relations out of the dollar.
Even the global environment appears to bless the prospect of deeper Sino-Russian economic cooperation. Climate change is already making it far easier for the two countries to develop mutual beneficial infrastructure links across Siberia and Eurasia.
US President Donald Trump's self-destructive new tariffs on $200 billion of Chinese goods will backfire disastrously. The loss of those Chinese exports will dramatically boost US inflation. It will also accelerate bilateral trade between Russia and China, already running at an impressive $100 billion a year.
Also, Trump's new tariffs will further encourage Chinese companies to heavily invest in Russia, especially in its energy and communications sectors as their backdoor into European markets.
US trade and financial policies are now more unpredictable and disruptive than they have been since the Great Depression. The EU is becoming unstable and unpredictable too because of political instability and the populist backlash generated by unlimited immigration.
Sino-Russian partnership not a threat to others
Xi and Putin have made clear the Sino-Russian partnership is not about threatening other countries either militarily or economically. Still, there are other, immense strategic and financial implications to what they are doing.
Sino-Russian cooperation is being accelerated by increasingly dangerous and reckless policies from the US toward both countries-and toward other countries and issues including Venezuela, Iran, Syria and the global oil markets.
It would be easy but misleading to blame all these problems on the current US president. In truth, they were already developing alarmingly under the previous administration.
Xi and Putin are now trying to contain the damage, maintain stability and improve the economic growth prospects of their countries, which have been simultaneously targeted by US sanctions and trade war.
US policies threatening global economic order
Far from championing and upholding the economic order and preserving international peace, the policies flowing from Washington increasingly threaten Beijing and Moscow. Xi and Putin have therefore been forced to expand cooperation, in order to insulate their own economies and peoples from the consequences.
But Russian-Chinese partnership will not necessarily divide the world into two opposing blocs of "East" and "West". For Western European countries want to maintain good diplomatic and economic relations with China. They certainly do not want to kowtow to Washington in its insistence that they all scrap high-tech cooperation with major Chinese enterprises, especially Huawei with its unrivalled 5G resources and expertise.
Therefore, Western European countries, led by Italy and Germany are already starting to defy Washington's demand that they toe the line on such controversies. The UK, for long the US' most loyal "enforcer" in Europe, is now literally disintegrating from the self-inflicted bizarre escapade of Brexit. A restive Scotland and increasingly self-assertive Ireland will be only too willing to embrace increasing Chinese investments as the UK disintegrates.
There is nothing sudden or new about the emerging China-Russia partnership. It has been developing over the past two decades.
Deepening friendship is not a secret
The friendship and global policy partnership between Xi and Putin, too, have been no secret and would astonish only the willfully blind. Both leaders have preferred to expand trade ties and other cooperation slowly and realistically rather than make the kind of sweeping claims and blustering boasts that successive US administrations have been so fond of making since the end of the Cold War.
The draft of bilateral commercial agreements that the presidents of China and Russia signed will propel Eurasian and global development over the coming decade. The meetings in St. Petersburg were therefore a triumph of constructive realism and bode well for the future security and prosperity of Eurasia.
The same can certainly not be said about the empty posturing of the Western allies at the D-Day anniversary-shamefully freezing out Russia and China which suffered so much more in World War II than any of them. The West indulged in empty and even facial displays of moral superiority backed by no solid achievements for their own peoples whatsoever. Xi and Putin eschewed worthless rhetoric and let their solid achievements speak for them. The contrast was clear.
The author is a senior fellow at the American University in Moscow. The views don't necessarily represent those of China Daily.
Most Viewed in 24 Hours
China Views