Love at first bite: Yangmei is a delicious taste of summer fun
Share - WeChat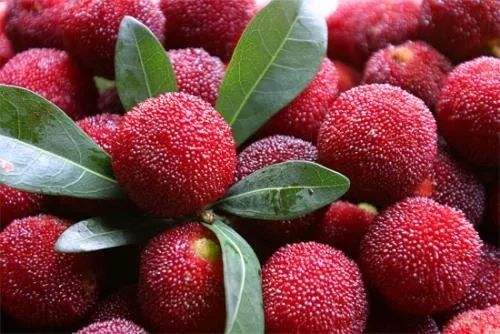 Never mind the harsh humidity, the relentless sunshine or anyone complaining of unbearably hot summers in China. Who has time to worry about that in June, a month that, for me, is inextricably entwined with the arrival of what I consider the country's most enchanting fruit-yangmei, also known as the waxberry or Chinese bayberry.
This uniquely summer indulgence grows primarily in China, with much of the fruit produced in my husband Jun's home province of Zhejiang. If you've never tried the juicy goodness of yangmei, imagine a mouthwatering, sweet-tart mix of pomegranate, strawberry and cranberry flavors, packed together into a cherry-sized sphere with a curiously bumpy surface and, when fully ripe, the deep burgundy color of a fine red wine. It's a little piece of ecstasy that will dance across your taste buds and probably dribble onto the table or your summer clothes. But you won't even care about the mess because it tastes so amazing.
Yangmei, which has been used in traditional Chinese remedies for more than 2,000 years, also has high medicinal value. The first time a Chinese friend brought a bag of the fruit to my apartment, she told me, "Yangmei saves your life," a popular saying I would come to hear echoed by many others, including my father-in-law. Studies have shown that yangmei provides a rich source of antioxidants such as vitamin C, and may be useful for tackling inflammation, diarrhea, intestinal ailments, cancer and even diabetes. It's no wonder people have dubbed it a superfruit.
No matter your reasons for eating yangmei, chances are you might end up just like me-in love at first bite. Consuming the fruit is now a yearly ritual for me and my husband, and every mouthful brings with it sweet memories of summer days.
I'm reminded of weekends in June, when the roadside fruit stands in rural Hangzhou suddenly had the power to slow down passers-by, including us, at the sight of tantalizing rows of green mesh baskets piled high with yangmei. I would watch my husband go through his usual ritual for buying the fruit, from tasting one for himself to selecting each and every berry by hand with a discerning eye for freshness. And after arriving home, it didn't matter what needed to get done-the first order of business would always be washing up a heaping bowl of yangmei to relish for the moment.
I also recall how my mother-in-law once shared with me the most beautiful secret for any connoisseur of the fruit-that anyone could pick yangmei for free in the trees near her house.
Sure enough, one late afternoon she walked me through her rural village to see the grove beside the public auditorium, where branches were studded with ripe clusters of yangmei that, in my eyes, appeared like delicious jewels. Even though my mother-in-law dismissed them with a grimace as "too sour", in the coming days she would leave on the dinner table huge baskets of yangmei she had collected and urge me to eat more.
Someday, I hope to introduce my family in the United States to the wonders of yangmei. But for now, I'll savor this special fruit, which makes the month of June, with all its heat waves and humidity, a little more ambrosial.
Most Viewed in 24 Hours
China Views