Mainland apps taste success overseas
Share - WeChat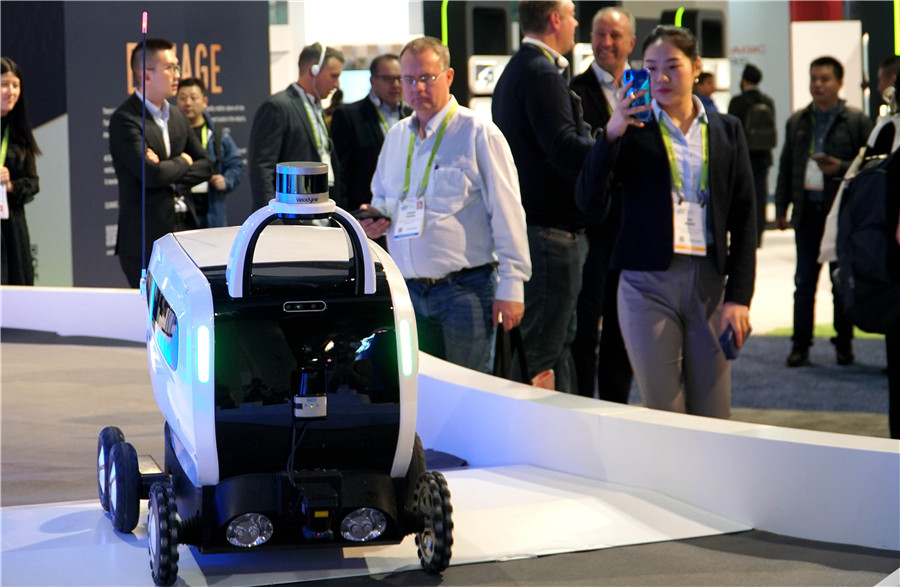 Chinese apps are tasting success in emerging markets globally as leading domestic internet firms are expanding their footprint overseas, with a particular focus on economies participating in the Belt and Road Initiative.
Chinese mobile app publishers have gained momentum in Asian economies with user bases expanding significantly in areas like e-commerce, social media and entertainment, according to mobile analytics company App Annie.
BRI countries and regions accounted for 64 percent of downloads of Chinese apps outside China last year, up 58 percent.
A Cheetah Global Lab report also suggested Chinese app publishers are exploiting opportunities to beef up their overseas presence, especially in BRI-related economies.
"The popularity of smartphones worldwide and the rising demographic dividends of emerging internet sectors in high-population regions such as Brazil, India and Southeast Asia will offer unprecedented business chances," the report noted.
Chinese on-demand service platform Meituan is a shining example. With increasing number of Chinese tourists visiting BRI-related countries and regions, Meituan connects Chinese spending power with local merchants.
Meituan, whose businesses span food delivery, hotel bookings, travel, entertainment ticketing and ride-sharing, is helping foreign merchants in such sectors to attract Chinese tourists, which directly helped increase its revenue.
Also, the Chinese app is leveraging advanced technologies including big data to help merchants in BRI economies in analyzing their operations and bolster their competitiveness.
By mid-April, Meituan covered 4.23 million merchants in 380 cities in countries and regions participating in the BRI, according to company data.
"As China's demographic dividend is disappearing gradually, increasing number of Chinese firms are seeking opportunities in the global markets, especially the emerging markets with huge growth potential," said Duan Wei, founder and chief executive officer of Mobvista, a leading Chinese mobile marketing platform.
"Games and tools were among the most popular app categories in the overseas markets in the past. But now, we're seeing more apps generating revenue by offering content."
Vigo Video, the overseas version of Chinese short video app Huoshan Video, has topped Brazil and Indonesia's Google Play software store in terms of downloads, three months after taking its offerings outside of China.
This follows Tik Tok, an overseas iteration of short video app Douyin of Beijing-based Bytedance Technology Co Ltd. It has tasted success in Thailand and Japan quickly after its forays into those markets.
Bytedance data showed it has enrolled over 100 million content creators across Southeast Asia, Europe and the United States.
Ma Shicong, a new media analyst at consultancy Analysys, said Southeast Asia is a gold mine for Chinese short video apps, thanks to a massive number of local young people who are eager to exploit the era of mobile internet.
"Short video is also proving to be the next global trend in terms of mobile entertainment services. This can be good for Chinese players as they are already strong in technologies, including artificial intelligence and big data," Ma said.
In terms of online mobile payments, Ant Financial, the online payment subsidiary of Alibaba Group, has also gained traction in BRI-related countries and regions.
"China has already succeeded in e-commerce and digital economy. Such experiences can be replicated in BRI economies," said Jing Xiandong, Ant Financial's executive chairman.
By now, the Chinese platform has cooperated with Paytm in India, Kakao Pay in South Korea, Dana in Indonesia and Easypaisa in Pakistan to serve users with its app in those foreign markets.
While Chinese apps are gaining traction in overseas markets, a string of challenges remain to be tackled, said Dai Bin, App Annie's country director for China.
"Short video apps, for instance, have to innovate to meet the growing demand for fresh forms of entertainment in those countries. Also, they need to transcend cultural barriers."
Dai said it is not easy to enter a new foreign market. Localization is very important for those apps to facilitate their services.
"Chinese providers are expected to differentiate themselves from apps in those emerging markets to succeed. Newcomers should also avoid countries and regions that are already dominated by others who reached there earlier."