Great Wall Motor sets up its first auto plant in Russia
Share - WeChat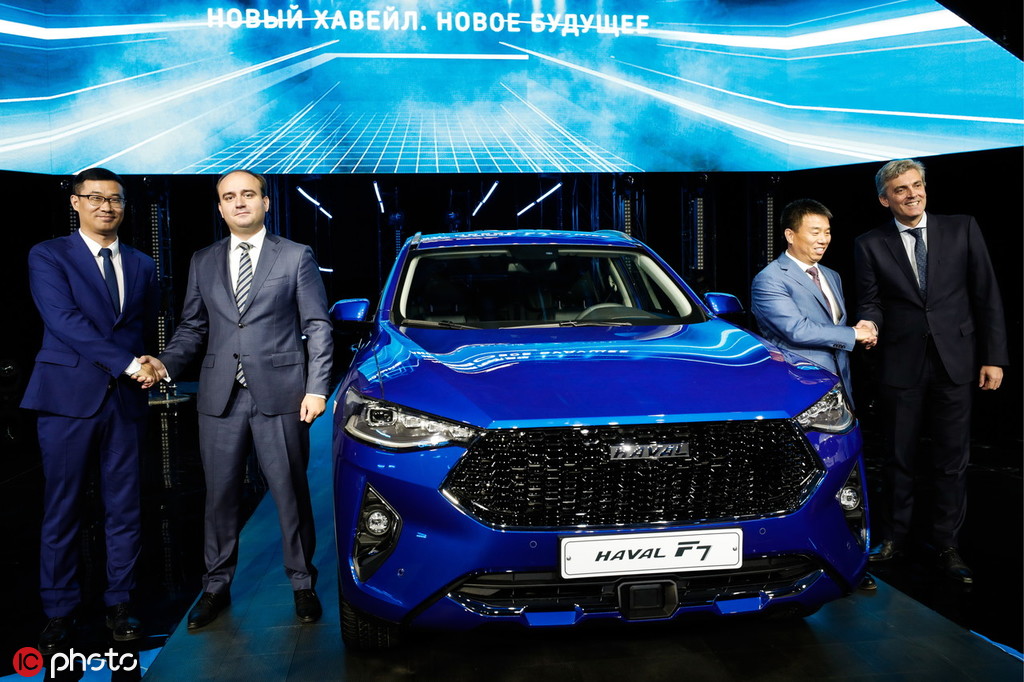 Chinese carmakers are stepping up forays into overseas markets in the hope of increasing sales and bolstering their image amid fierce competition at home.
Great Wall Motor, which has built a plant in Russia to make Haval SUVs, rolled out the first car from its Russian production line on Wednesday.
The plant, covering 230 hectares in Tula-an industrial town 193 kilometers south of Moscow-was put into operation in April.
Wei Jianjun, founder and chairman of Great Wall Motor, said the plant maintained the highest standard in the industry during construction and it is Haval's first overseas manufacturing facility.
"Going global is an inevitable trend for Chinese brands. Haval must go out of China to become a globally competitive brand and a leading SUV brand around the globe," said Wei.
Wei has set an ambitious goal for Haval: to scale up its annual sales to 2 million units in five years and to become the No 1 SUV brand in the world.
According to Wei, Haval SUVs are the cornerstone of Great Wall Motor, accounting for around 73 percent of sales last year.
Haval's accumulated sales have reached 5 million units, making it the most popular SUV brand for nine years in China.
"The Haval plant in Russia is one of the most important parts of Great Wall Motor's overseas strategy, and it starts a new era for Chinese carmakers to sell their technology and standards to foreign markets," Wei said.
The local government, in the meantime, paid a lot of attention to the construction of the Haval plant, said Zhang Junxue, general director of Haval Motor Manufacturing Russia Company.
Zhang said total investment for the plant in Tula exceeded $500 million, and production capacity of the manufacturing lines will be 80,000 annually.
"The plant is the largest industrial project in Tula," Zhang said. "And the local community is also welcoming the project because the plant realized zero emissions by using environment-friendly paints and a system of waste burning."
Zhang said Great Wall Motor signed the agreement with the Tula government in 2014, when Russian authorities actively responded and supported the China-proposed Belt and Road Initiative.
"Thanks to the fine relations between China and Russia, our investment was able to take some policy advantages and risks were largely reduced," Zhang said.
Zhang told China Daily that he is looking forward to President Xi Jinping's visit to Russia. He said the frequent visits by leaders of the two countries to each other and their good personal relationship will lead to the strengthening of the Sino-Russian comprehensive strategic partnership of coordination.
"Haval will maintain our determination of expanding our overseas market, and has the confidence in the development of the Russian market," Zhang said.
"For Great Wall Motor, the main battlefield is the global market," said the company's president Wang Fengying.
"Thus, we have made a global development strategy, sped up planning internationally and expanded investment in the overseas markets," she said, adding that the automaker has already sold its products to more than 50 countries and regions.
Wang noted the Chinese auto industry has closed its gap with the world's leading carmakers, especially in terms of intelligent driving, connected vehicle technology and new energy vehicles.
Technologies such as connected car technology and self-driving technology have already reached world-class levels, she said.