Sino-Russian ties can only get stronger in these uncertain times
Share - WeChat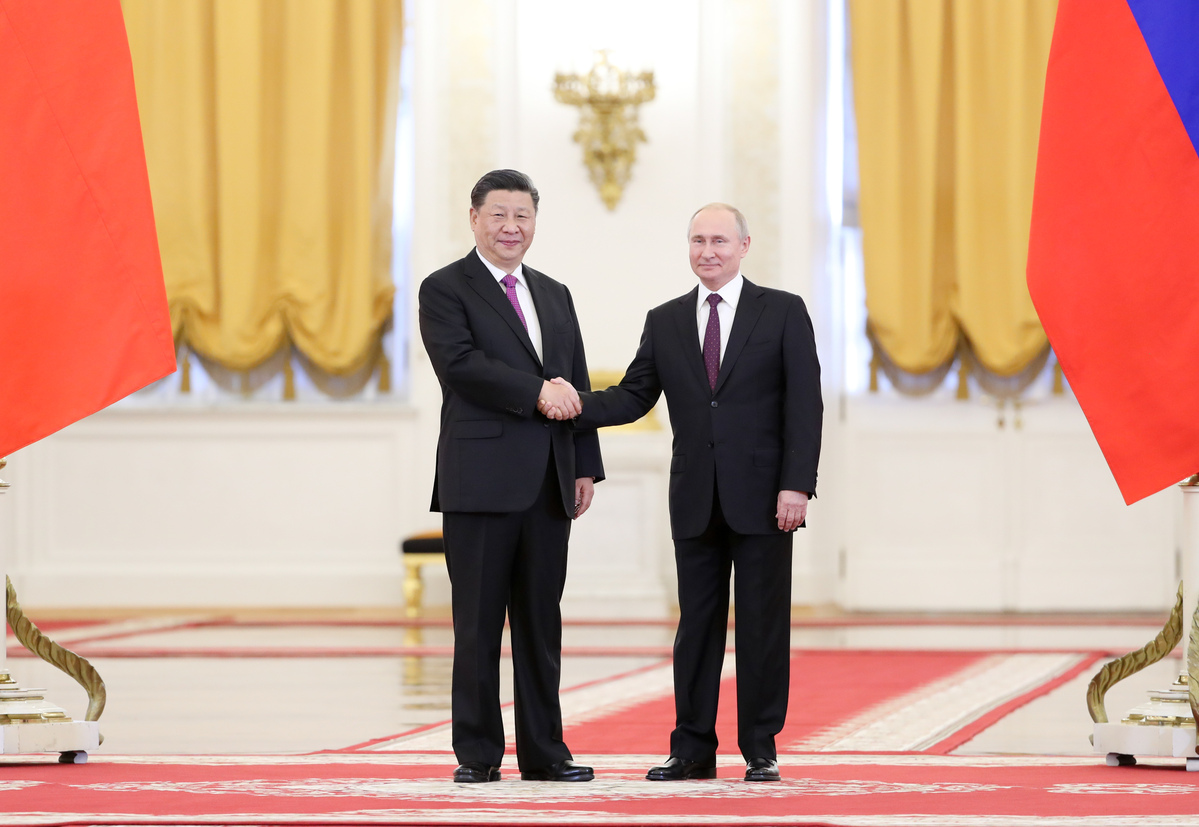 This year marks the 70th anniversary of the establishment of Moscow-Beijing diplomatic ties. Over the years, especially in the past 30 years, the two sides have learned to not allow ideological differences to affect their relations and instead build a bilateral partnership-as opposed to an alliance-based on equality, mutual trust, win-win cooperation, and to maintain cooperation without interfering in each other's internal affairs.
At a time when people are seeking peace, development, and win-win cooperation, China and Russia, thanks to their mutually beneficial partnership, will play an increasingly important role in international relations and help to resolve global issues. There is enough reason to believe that Sino-Russian cooperation in fields such as the economy, technology, culture, military and diplomacy will deepen, and sound coordination will be established between the Chinaproposed Belt and Road Initiative and the Russia-proposed Eurasian Economic Union.
That the Belt and Road Initiative is inclusive in nature will help it to align with the EEU, which is also aimed at promoting inclusive development.
The Belt and Road Initiative's focus is on improving cross-border infrastructure connectivity to promote trade and investment, and technological cooperation, so as to strengthen regional development and stability. By aligning the EEU with the Belt and Road Initiative and cooperating with the Asian Infrastructure Investment Bank, Russia can overcome many of the difficulties it faces because of the sanctions imposed on it by Western powers.
In fact, by using the Belt and Road Initiative and the EEU to deepen cooperation with more countries, China and Russia can generate more economic benefits.
The Belt and Road Initiative has already become a new driver of economic growth for Eurasian countries. The initiative is also set to drive forward Sino-Russian energy cooperation, which has already advanced from traditional trade in energy to joint investment in the energy sector. For example, in the $26.9 billion liquefied natural gas (LNG) project on the Yamal Peninsula in the Arctic Circle, PetroChina holds a 20 percent stake and the Silk Road Fund a 9.9 percent stake. The Yamal project shipped LNG to China through the Arctic passage for the first time in July last year, and its third production line was put into service in December, one year ahead of schedule.
Besides, Russia's Vankor is also a major oil supplier to northeastern China. In 2018, China accounted for more than 84 percent of Russia's overall oil export to Asia, an increase of 24.1 percentage points.
On Nov 29, 2018, nearly 90 representatives from energy, finance and information companies attended the China-Russia energy business forum to review the investment environment, discuss the prospects of deepening technological development and strengthening cooperation in the fields of oil, gas, electricity, coal, new energy and energy equipment.
China and Russia established a strategic partnership in 1996 based on equality and mutual trust. China has also finalized such partnerships with more than 80 countries. And by creating trouble for global free trade and resorting to trade protectionism, the United States is unwittingly strengthening the Sino-Russian strategic partnership.
US historian Immanuel Wallerstein, based on historical trends, has said that the Netherlands was the world's leading power in the 17th century, Great Britain in the 19th century and the US in the 20th century. Many believe this trend suggests China will be a world-class power in the 21st century. Perhaps perturbed by this conclusion, the US has been trying to drive a wedge between Beijing and Moscow and to check China's peaceful rise.
However, China and Russia remain committed to strengthening mutual trust, deepening cooperation and boosting coordination between the Belt and Road Initiative and the EEU apart from working closely to promote regional peace, security and development through organizations such as the Shanghai Cooperation Organization.
The author is a professor at the China Center for Contemporary World Studies.
The views don't necessarily represent those of China Daily.
Most Viewed in 24 Hours
China Views